City living has its benefits but greenery – well that's one advantage of living in the country. With more houses being built in urban areas, cities are at risk of living up to their 'concrete jungle' label. Swapping your average back-of-the-house garden for a rooftop garden could be the answer.
Whenever I've heard it mentioned, there seems to be an impression that this is one for the artists amongst us.
But if you think about it, it makes perfect sense. With minimal living space, why let a flat roof go to waste?
Taking your garden upwards will reduce the carbon footprint of your property and it can even help to regulate its temperature. Heat will be reduced during the summer months and the extra material will act as added insulation during the winter season. Not only that, your roof will last twice as long as the material protects the waterproofing membrane from UV light.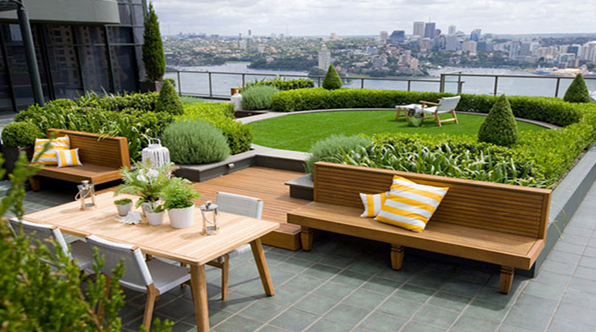 Sold? Your next step is to look up the rules and regulations tied to your home with your local planning and building control department. In most cases, a green roof is fine for an existing building but it's worth double checking.
If you get the green light, consult an architect or contractor to find out how much weight your building can hold. Your plants will be bearing down upon a single surface so it's important that it won't buckle under their weight! Your average 'intensive' roof should support 80-150 pounds of vegetation per square foot.
Whether yours would come first, second or third in a strength contest, it's a good idea to keep the garden as light as possible. Using Styrofoam peanuts for your drainage instead of rocks will shed weight as will using lightweight potting soil.
The higher up you go, the windier the garden will become. While you can't do anything about the height, you can add a few trellises to act as windbreakers and help you to read your book in peace!
Stepping up will give you the view while removing you from view – what could be more perfect?