The home hot tub is the mark of luxury relaxation. A quick internet search for the terms 'ensuite hot tub' and 'ensuite Jacuzzi' bring up pages full of boutique hotels, penthouses, romantic log cabins and charming ski chalets. There's something to be said for being able to relax in bubbling hot water, preferably with a partner or friends. But with new bathing trends popping up from time to time (bathtubs in bedrooms, anyone?), is there still a place for the home hot tub?
It seems so. In April last year, home hot tubs made the news headlines throughout England, when Lloyds Insurance released survey statistics revealing that one in ten of us owns an outdoor hot tub in the UK. That amounts to around 2.6 million of us in total, however Nick Clamp, owner of What Spa? thinks that the figure was highly inflated and that the true amount, "is probably nearer to 300,000". Whether you're persuaded by the 2.6 million or the far fewer 300,000, one thing's for certain – the hot tub shows no sign of slowing down. As Nick says, the figure "is growing all the time".
I have to admit, I'm in the 300,000 camp. I don't know anybody who owns a garden hot tub and only one person who owns an indoor hot tub – in the ensuite of their master bedroom. It could be something to do with their cost, which averages out at £10,000 and ranges from £3,000 and £13,000 depending on which extra features you choose to incorporate, along with a £10-40 a month running cost.
To understand the fate of the home hot tub, you need to grasp the terminology. Strictly speaking, Jacuzzi and hot tub are one and the same. Both terms now describe tubs of hot water which use jets of forced air to produce currents and bubbles. The first known hot tub was said to be that built by an ancient Persian king named Phraortes in 600 B.C. (designed to imitate hot springs), but in 1968, Roy Jacuzzi marketed the world's first successful whirlpool spa which he called the Roman. It was so well received that the Jacuzzi company is now often mistaken for the products themselves – we may have bought a hot tub but we say that we've bought a Jacuzzi. What we should be saying is hot tub or spa where hot tub refers to the traditional wooden barrel tub placed in the garden and spa refers to a hot bath which has a lumber skirting (in products dating from the 1990s onwards) and an acrylic shell casing and can be positioned anywhere inside or outside of the home.
The magic formula
The key to the hot tubs' success has always revolved around them satisfying on three different levels:
1) They're well known for their therapeutic qualities. In fact, the Jacuzzi company first brought them to the attention of the mass public after designing them for the son of Candido Jacuzzi, who suffered from arthritis since birth.
2) They're positioned as the ideal form of relaxation and have developed in line with our entertainment preferences to stay relevant – think in-built music speakers and pop-up television screens.
3) They cater to our obsession with cleanliness which dates back to the Roman period when there were three types of baths: baths at home (balnea), private baths (balnea privata), and public baths (balnea publica). The task of bathing was so deep-rooted that the Romans built their own baths at mineral and thermal springs in the lands that they had just conquered during the period. The power of hot water has also long been appreciated in Asian countries. In Japan, they bathe in wooden tubs called ofuro and have a saying known as "Mizu-no-Kokoro', meaning Mind Like Water which refers to being happy and at peace. It's likely that British and American soldiers visiting Japan in World War Two were influenced by the customs of the country.
The future – the differing popularity between indoor and outdoor
This is where things get interesting. While we have no way of seeing into the future, it would be no surprise to me if indoor hot tubs went out of favour quicker than outdoor tubs, explaining the results of Lloyds' survey and the opinion of What Spa? owner, Nick Clamp. We may still be buying into the hot tub phenomenon in our hunt for luxury but that doesn't necessarily mean that we'll use them frequently once installed and indoor tubs disappoint on a higher level. Why? Because they have more disadvantages.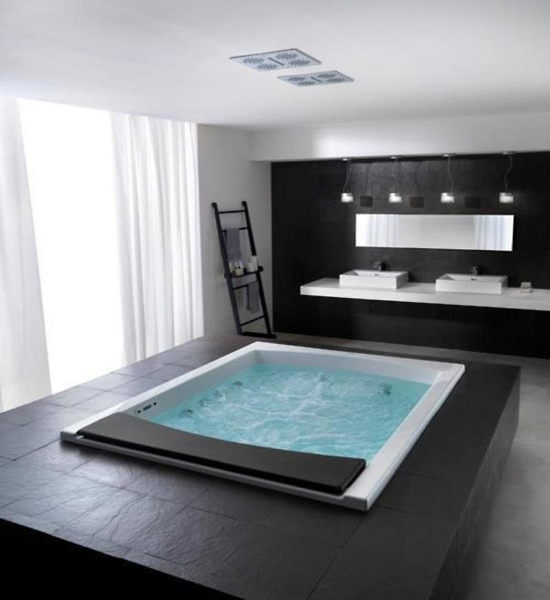 The frequent cleaning (albeit with different products), the noise of the powered jets and the overflowing hazard of bubble bath products are just as irritating no matter if you've opted for an indoor or outdoor model. The same goes for having to pay out for faulty parts once the warranty has run out (the tubs themselves last for 20 years). However, the risk of bathroom mould thanks to the heat and moisture that's generated, the time and amount of water needed to fill the tub every time you want to use it and the inability to shave or wash your hair in your own bathroom without the need for extra cleaning if it's your only bathtub – are all extra problems specific to indoor models. You've gained privacy but made a few sacrifices along the way!
The question is, is the hot tub really worth it and has the novelty worn off yet for the 2.6 million or 300,000 hot tub owners in the UK?
Does your opinion of the hot tub change depending on whether you're considering an indoor or outdoor model? Perhaps you see the hot tub as the space-friendly alternative to a large swimming pool or simply see it as? Let us know your opinion by commenting below or getting in touch on Twitter!
Looking for tradesmen you can trust to install your new hot tub? Post your job on Rated People and up to three tradesmen will get in touch to quote on your job. You'll be able to view their individual profiles, complete with previous customer recommendations, to help you decide who to hire.