Advice
The Future Proof Home: energy efficient building
What if I told you that a chic and tasteful home could showcase thermal efficient building and combine energy saving initiatives in the UK property market? I'll be the first to admit that it sounds like a tall order but that's exactly what this year's Future Proof Home claimed to offer when I visited its plot at the Ideal Home Show this year. My attention was captured from the get-go and I had to take a look inside to find out more…
With the potential to be run at zero energy cost, the home can generate money from the energy that it produces. Passive technologies reduce thermal leakage with the effect of keeping as much heat inside the home as possible. 240mm wool insulation is built into closed panels, providing a layer which is warm in the winter and cool in the summer. Triple glazed argon windows trap natural heat while joints between building sections complement the array of energy saving techniques by providing an airtight seal against the elements. Speak to building company, Trivselhus-by-Esh, and they'll talk of their 'Climate Shield', a unique system which helps to regulate the temperature and acts as a building envelope, wrapping around the property itself.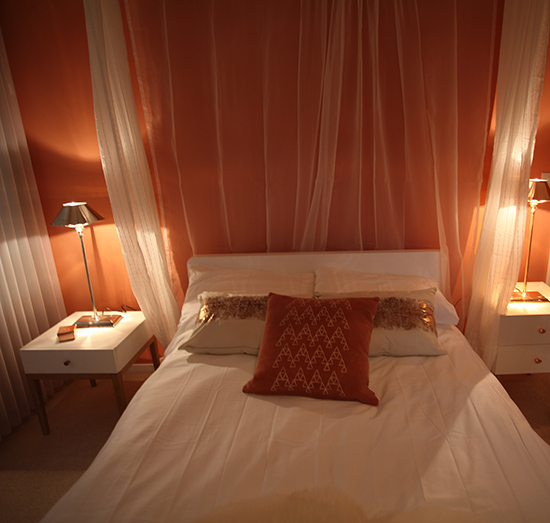 Of course, when you step inside, there's no way of knowing that you're inside a super-efficient environment. To the likes of you and I, the Future Proof Home is simply a well-designed property, with plenty of light and up-to-the-minute decoration.
At its heart is an open plan kitchen, leading through to a dining room and living area. Warm and subtle neutrals have been layered to create a welcoming, lived-in room and Dulux's Absolute White light and space range has been used to maximise on light and, you've guessed it, open up the space.
A study doubles up as a bedroom and has a very monochromatic, industrial vibe aided by a copper and marble floor light from Marks and Spencer. To help counteract the inevitable cool air that comes with sophistication, are sheepskin rugs which add instant warmth. I'm a big fan of the subtle introduction of patterns to add interest – just check out those cushions!
Finishing off the ground floor is the WC, leading out to a sauna, provided by Helo. Take things up a level and you'll find a master en-suite with modern, hexagon tiling and blush effect wallpaper.
Next to that is another bedroom which really capitalises on the home's Scandinavian style, thanks to the choice of Tianna furniture from Marks and Spencer. As if that wasn't enough, the home also boasts another bathroom and two more bedrooms (including a children's room), cementing its status as a well-thought-out family abode.