Advice
The gadget zone: form over function
Kitchen gadgets can be divided into two camps – the quirky, cutting-edge ones that are pointless, or the ones that actually are useful and will save you both time and trouble (enter the mini processor).
In this Gadget Zone post we've lined up the good, with the bad and uglies. There's plenty of ideas on the market but not all of them tickle our fancy.
The classic citrus squeezer, Juicy Salif, designed by Philippe Starck for Alessi might be the nicest kitchen gadget around, but is it useful? Probably not. I can imagine lemon juice splashing everywhere but in the glass placed below. Come to think of it, it's a risk I'm willing to take. Form over function this time.
My initial response to these onion goggles is, "seriously?". They are not exactly a D&G design and does anyone suffer that much from chopping onions? Anti-fog lenses and comfortable seal foam are the selling points of this must-have. I think I'll pass.
This is one of those gadgets that in theory are great, but in reality you probably won't get much use of. Unless you're a massive strawb fan. The Oxo Strawberry Huller pierces and scoops and leaves the strawberry ready to be eaten in one quick move.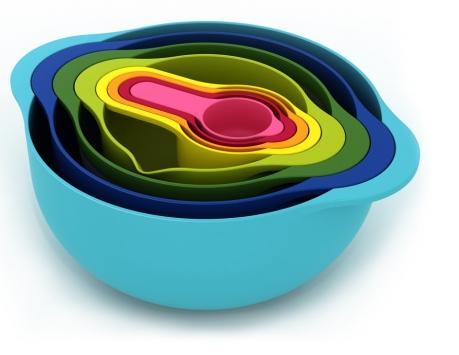 I have a friend who swears by Joseph Joseph and wants to acquire the whole range. They're fun, colourful and perfect for crammed kitchen with little storage space. The Nest 8™ preparation bowl set can be stacked on top each other and includes measuring spoons and mixing bowls.
The Cuisipro Spray Pump is a winner in my eyes. Fill up with vinegar to flavour salads, water for misting herbs, and olive oil for baking tins and trays – and spray away. The design is sleek and appealing too, and you won't have to deal with grease running down your fingers. Sold.
It certainly looks like the epitome of a kitchen gadget (the pointless ones), but at least it battles with a great dilemma: how to avoid the stench on your hands when you're chopping garlic. With The Garlic Zoom X™ you pop the garlic cloves in the cylinder, and then you start rolling. How long it lasts and how effective it is, we can't tell you, but we do know it's dishwasher safe.
Jamie Oliver'sFinger Guard is another great concept, which will prevent bleeding knuckles and chopped off finger tips when you're slicing and dicing. It does't matter if you're left or right handed when using this little tool and the hinged designs makes it device comfortable to use. Or so they claim.
What's your favourite kitchen gadget? Write on our Facebook page and share the kitchen gadget love!
We've shown you the kitchen gadget of today, and if you want to refurbish your kitchen too, we can also show you the top quality, local kitchen specialists. Post your job for free and up to three tradesmen will get in touch with a quote, so you can choose the best one.