Advice
The Ideal Home Show at Christmas 2011
It's time to prepare for the run-up to Christmas, so what better way to kick off the festive season than attending the Ideal Home Show at Christmas? The first-of-its-kind event boasted advent calendars, furniture, gadgets, Laurence Llewelyn-Bowen, mince pies and surprisingly, plenty of gardening stalls.
Entering Earl's Court Exhibition Centre was a bit like stepping into a Winter Wonderland. Christmas trees with tinsel, fake snow and festive food greeted visitors; the only one missing was Santa and his reindeers. Laurence Llewelyn-Bowen replaced the big man in the red suit (sadly not literally) and talked about how to spruce up your Christmas decorations. Other guests shared their knowledge about wreath making, home entertaining and eco Christmas trees.
There were plenty of stalls with really inspiring products, some Chrismassy and some not so Chrismassy. These are the top 5 stalls we particularly liked.
1.The Colour Flooring Company
Customise your floor after your favourite colour. The Colour Flooring Company stocks the colours of the rainbow (nearly), which means your kitchen floor can transform into green or any other exotic colour you haven't managed to find elsewhere. The affordable vinyl floor comes in at £19 a square metre and is 100% recyclable.
2. Urban Allotments
Urban Allotments is the go-to site if you want to grow your own. Plants and seeds, pots and troughs are stocked in the online shop along with the hanging sky plants that can be seen to the right of the image above. Soil won't drip because of the clever design and they will make a kitchen look considerably cooler.
3. Ardor and Abode
Scented gingerbread candles and creative advent calendars were only some of the perfect Christmas decorations to get from Ardor and Abode. Other stylish items in stock: decorative tins, nativity sets, table decorations, lampshade, ribbons and paintings; the (wish) list goes on.
4. Pad Home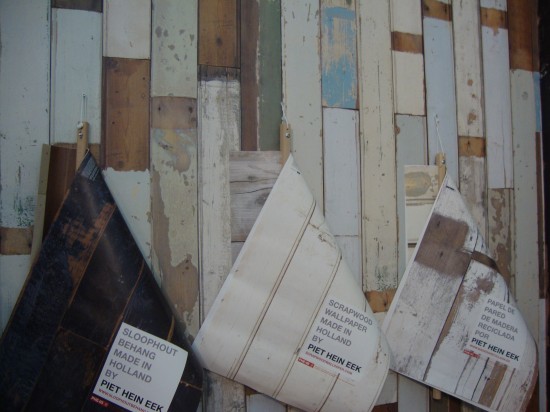 The most design-forward stall in the entire hall must've been Pad Home. Suppliers of Piet Hein Eek's scrapwood wallpaper, the award-winning Flux chair and sleek, minimalist clocks from Leff, the company is still nascent, but has successfully managed to beat the recession. No wonder with such a stylish stable of designers.
5. The Little Tree Company
The Little Tree Company had a lovely stall with DIY Christmas decorations and Christmas trees. We liked that you could rent pot grown and pruned Christmas trees and then have the choice to either return it come New Year's or keep it growing for next Christmas. That's both eco and pocket-friendly.
Do you feel inspired to take on the ho-ho-holidays now? If the gutters are full of leaves, the carpet needs to be cleaned, and the garden sorted out, post your job on RatedPeople.com and put your feet up. Up to three quality, local tradesmen will get in touch to quote, read their previous customer ratings and pick the right tradesman for you.