The garden gnome, with its red pointy hat and mischievous face is the Marmite of the horticultural world.
This year, the RHS Chelsea Flower Show made headlines when it lifted a ban on gnomes in its show gardens for the first time since 2009. As a spokeswoman told the BBC, "There's no animosity towards gnomes. There has always been a ban on brightly coloured mythical creatures because we want horticulture to be the main feature of the display".
But there are plenty of reasons to suggest otherwise. IKEA's latest campaign is titled, 'Say No To Gnomes' and shows a couple being confronted by gnomes as they try to get rid of the old ornaments in their garden. Peter Wright, IKEA's Marketing Manager for the UK, explained that they wanted to demonstrate "the ultimate embodiment of everything that's tired and dreary about British gardens – the garden gnome." The poor creatures are kicked across the garden, thrown against a fence and smashed to pieces by a fierce jet of water.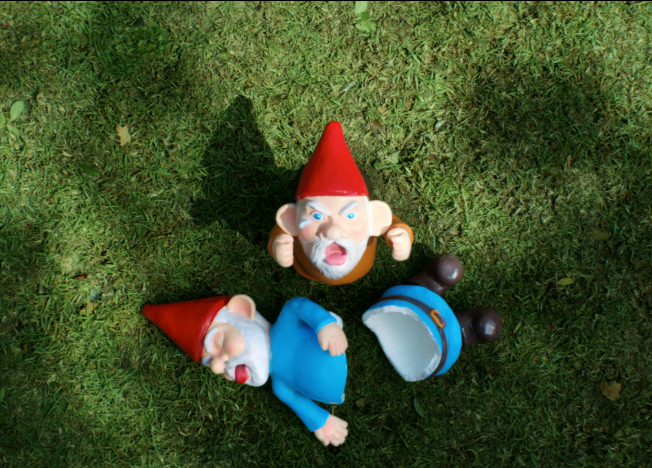 Image Source: IKEA via Facebook
But… times are changing! The Advertising Standards Authority received 50 complaints that the advert was offensive, frightening and violent and Homebase have introduced a new range of the creatures following the lifting of the Chelsea ban. Could it be that the gnomes are making a comeback?
Over the last 11 years, they've slipped in and out of the limelight, since the release of Amelie in 2001. In the film, Audrey Tautou tricks her father into following his dream to tour the world by stealing his gnome and having a flight attendant send pictures of it in different countries. The kidnapping of gnomes became a running joke and travel website Travelocity focused its whole 2003 campaign around the idea of the roaming gnome. While the kidnapping seems a little harsh, we did love Gnomeo and Juliet in 2011 and International Gnome Day was introduced in 2002 as 21st June…
They are ever present but we just can't seem to make up our minds about them.
Ask any celebrity and the key to staying relevant is to reinvent yourself. The gnome is no longer just the male dwarf-like creature in a red hat. He might be female and he may even be a meerkat or another popular animal. He won't be porcelain or made from terracotta clay either. You're much more likely to come across a resin gnome today.
I can't help thinking that the change in materials has shaped the way we see them. Back in 1847, when the first gnomes were shipped to the UK from Germany, the handpainted creatures were expensive pieces of art that only the wealthy could afford. Sir Charles Isham bought 21 and the oldest gnome, Lampy, is worth £2 million today. Yet, there's still this overriding view that they're tacky and cheap, especially in garden circles. Is it the resin that's to blame?
I doubt we'll ever know but I've got to admit, I'm edging towards the loathe camp. I'm not offended by a well dressed gnome standing (or hiding) in a plant pot but they will never be my favourite garden accessory.
Image Source: National Geographic
Still, they are said to bring good luck after all…
Do you love or loathe the garden gnome? Have you got any in your own garden? Let us know your thoughts by messaging us on Facebook or sending us a tweet.