Bi-folding doors have become incredibly popular in the last few years. They can dramatically change the feel of a space, offering extra light to kitchens, dining rooms and lounge areas while adding welcome monetary value to your property. A well thought out, neatly executed doorway can even become a focal point of its own, not only transforming living areas but also creating them.
All that said, bi folding doors come with a hefty price tag. The cost of materials and installation averages between £1300 and £1600 per linear metre, depending on the space they'll be fitted into. That may seem dear, but it's well worth investing in good quality, workable doors – as a statement feature, bi folding doors should look good and work smoothly to ensure maximum effect.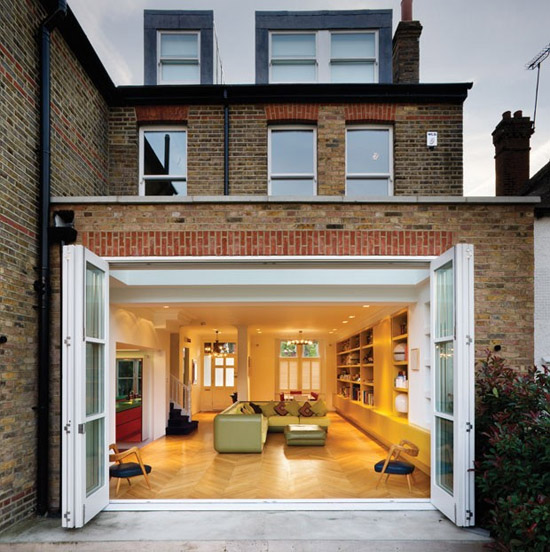 Frame the question
Every set of bi folding doors is different. They are bespoke structures that can be changed depending on your mood and the weather outside. But getting the right set of doors, whether it's a traditional bi-fold door, a number of door frames or a more modern 'multifold' (odd numbered) set of frames, is tricky business.
Don't underestimate the amount of variables on offer: doors can be opened from left to right and vice versa, at 90 degree angles, inwards and outwards, upwards and down. There's simply a world of options and making the wrong decision can result in an awkward door frame that takes up, rather than offers up, more space. Paying an architect or bi-fold specialist to see your property and discuss maximising space is crucial.
Open the door
There's consensus in the industry that aluminium doors are the way to go. Two benefits put them a cut above the rest: their weight and their strength. Bi-folding doors should be easy to push open and close so that homeowners can create a new outside-inside living space whenever they want. Lightweight aluminium frames are perfect for this because they're light enough to slide, without picking up a sweat, and they keep their narrow frames snug and out of the way.
Though they're a moveable feature, aluminium doors also offer a sturdiness and reassuring level of protection from winds and wetness. An added bonus is the durable powder coating that most retailers provide with aluminium doors. The coating comes in a wide range of colours, so that your doors can fit right in with the colour and look of your home. You can even give them a wood-like appearance if you want a more classic look.
Go British
There are two reasons to go British when it comes to choosing manufacturers. The first is (of course!) good old British weather. Choosing a brand of doors that is certified compliant by BFRC (British Fenestration Ratings Council) means that your doors will be better suited to weather storms and you'll meet building and thermal regulations – saving you a potential headache later.
Going British also makes things easier. With an average lead time of four to six weeks, getting bi-folding doors installed can literally leave a hole in your life for a month. By choosing doors produced in the UK, you can reduce construction time and ensure easy replaceability should anything go wrong.
Image source: Adore Your Place
Stay safe
You may think that bi-folding doors – essentially a wall of folding glass – may not be the safest option when it comes to burglars, but it's actually a lot harder to break in, or through, these doors than commonly assumed. The highest quality glass is triple glazed, great for reducing heat loss, and incredibly tough.
The door frames are safe structures too, providing you go with at least a five point multi-locking system, though most manufacturers will tell you to go with an eight point system. Internally beaded frames, high-security hinges, solid cast security handles and anti-drill key cylinders give homeowners that extra level of reassurance.
Children are a particular concern when it comes to bi folding doors, especially once they've learnt how to open and close them and want to do so all day long. If you have toddlers and young ones around the house, finger-safe gaskets should be an obvious choice for protecting anyone's digits from getting squeezed. Better yet, magnets on lead doors stop them from slamming shut and roller systems at the bottom can also be encased.
Ready to get bi folding doors installed in your home? Post a job to find a qualified and vetted builder that you can trust with Rated People.