Francis Ford Coppola's, The Godfather is arguably one of the best films of all time, having made close to £150million at the box office worldwide. After the original release in 1972, a second film was made, both of which were planned for a re-release by the end of April this year, in order to mark the original film's 40 year anniversary.
The narrative is of course, fantastic but what sticks in my mind is the cinematography – which plays with light and dark to build up the chilling atmosphere. Most of the interiors are cloaked in darkness, with characters moving in and out of the light. Head of the crime family, Don Vito Corleone's (Marlon Brando) face was famously lit from above, casting shadows over his eyes which made him a difficult character to read. On other occasions, he was cast entirely in darkness.
To create that overall sense of darkness and foreboding, the furniture was often dark too – with an array of brown boxy office chairs and a long, dark wooden table making a big impression in the family's dining room. It's a strong, powerful look that speaks of masculinity and wealth. Living in such a dark property isn't practical in reality, but there's no reason why we can't take a leaf out of The Godfather's book and build strength into our homes.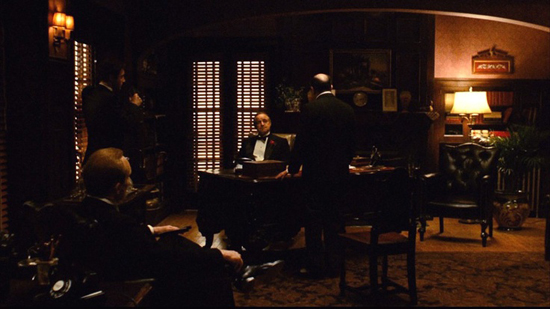 Here's how to create your own (less scary) masculine space.
Stick to a limited colour range
Brown, black and grey are your staple colours, yet you should also embrace white to stop your home from resembling a cave and create high contrast. Dark flooring and painted walls will work wonders. A black wall is unusual and daring, therefore it's guaranteed to make a big impression on your visitors. It can make a small room feel even smaller however, so if you're planning on using it, make sure that you counteract it with wall art.
Swap the bedside photo
Bedside photos lend themselves to sentimentality, which doesn't go hand in hand with the strength and resilience that your home should exhibit. Swap them for one giant mounted piece of wall art or a series of smaller mounted wall art, demonstrating that you're cultured and worldly wise in the process.
Play with texture
The masculine room combines all manner of textures from leather, to wood and soft nylon rugs and throws. A leather sofa is inevitable, or at least a faux leather copy, as is metal whether that's via the stand of a floor lamp or the arms of an office chair mounted on wheels. Glass windows are often left without curtains or blinds and are, instead simply outlined with a black frame to highlight their function and keep your focus on the interior space in hand.
Copy the industrial style
Industrial interior design embraces sharp lines and simple architecture. Practicality is key, where everything has a job to do and the object in its basic form is respected. Unpainted brick walls, plain glass windows in full view and exposed pipes are the norm. Concrete floors are hugely popular too, as are their wooden counterparts.
The jewellery of the house comes with its metals yet stainless steel, iron and aluminium replace gold and silver to stop rooms from becoming artificially bright and cheerful. One idea could see you install stainless steel countertops in your kitchen. It's a popular material because not only is it cold visually and literally, it's easy to clean, hygienic, waterproof and heat-resistant – as well as being cost-effective at £48-54 per square foot. No matter which metal you choose, you're aiming for a largely cold look here to toughen up the space.
Work with wood
The combination of cool metals and dark colours can make a masculine home look sorry for itself. No matter which style you favour, it's always important to create warmth wherever you can, without going overboard. If you have a fireplace installed, you have the benefit of a natural glow, yet if not, you can create your own warmth by adding wood into the mix. Industrial styled homes take inspiration from large warehouse designs so open plan properties are better suited to the look, where there is more space to work with. In a larger room, adding visual warmth is of utmost importance. Wooden office and dining tables carry off wood well as do coffee tables and chests of drawers.
Choose unfussy furniture
Geometric shapes with clean lines are the order of the day, with all manner of boxy armchairs and tall backed chairs stealing the limelight. The windows hint at the approach which the furniture choices, including round leg rests and largely square beds, continue. Artwork is in classic square or rectangular frames and tables provide straight, neat edges.
Avoid pattern
I say avoid pattern but not necessarily completely. Patterns work well in masculine interiors as long as they're large and unfussy. Small, detailed patterns provide too much of a distraction in a home that should look effortlessly put-together. For this reason, they work best on the floor via rugs, where they aren't in too prominent a position. Introducing patterns via feature walls for example, would undo all your hard work in honing the look.
Don't clutter
Less is more, therefore make sure that you have plenty of free space around your sofa, bed and other items of furniture. Also, be careful not to decorate your walls too aggressively. Stick to one wall as a rule of thumb. You're aiming for a minimalist look where furniture is streamlined and strong.
Cupboards without doorknobs or handles are ideal and all of the furniture should be arranged symmetrically so that the room feels strong and resilient.
If you need help from a painter/decorator to help you perfect your home design, post your job and up to three tradesmen will get in touch to quote. Browse their profile pages, with ratings and recommendations, to help you decide who to hire.