When it comes to styling our homes, over 31% of us have looked to television as our muse, according to a poll by MORE TH>N Home Insurance. It's not surprising when you think that part of television's appeal is the escapist entertainment that it brings. Who hasn't swooned over Downton Abbey's towers and the luxurious Made In Chelsea tv apartment designs?
You would think then that our ideal interior would be the stately home of Downton's Countess and Earl of Grantham (Elizabeth McGovern and Hugh Bonneville) – something large that exudes wealth through bespoke chandeliers and silk damask wallpaper. Any time there's the option of a castle-like interior, we seem to grab at it – maybe it's something to do with the fairytale stories that we've grown up with.
Image Source: Chameleon Interiors
This time, however, we've changed our minds and opted for something much smaller in size. The surprise ideal interior is Carrie Bradshaw's Sex and the City apartment, with over 45% of us wishing that we lived in her New York City residence. It's her walk-in wardrobe that we desire the most (45%), followed by her extensive floor-to-ceiling bookcase (38%) and flowing white curtains (30%).
It just goes to show that as properties are getting smaller, we're becoming inspired by those within-reach demonstrations of interior design. Carrie's apartment may be small but it's still stylish and we're taking note of those little tips and tricks as we look to spruce up our own spaces. Not only are they fun and fresh, they're practical too as they give us plenty of clever storage solutions. If there's little room to build out, then building upwards with shelving and cupboards is perfect. Likewise, white curtains will open up the space, giving the impression of a much larger living area.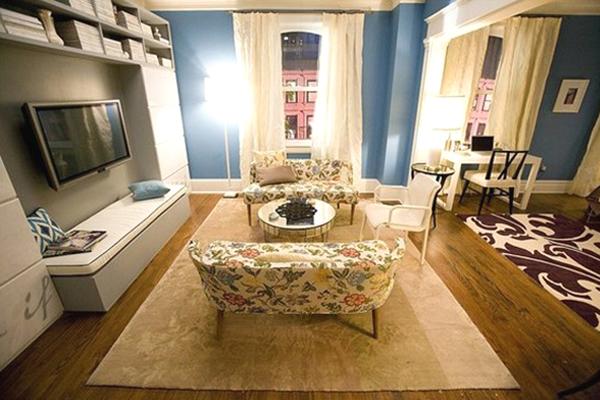 We're so taken with the improvements that we're prepared to spend upwards of £530,716 copying the look, compared to a much lower £360,500 to give it that Downton touch. Perhaps this time we've realised that we just might need to move homes to authentically recreate the spacious appeal of the Downton residence – leaving it lagging behind in 7th position.
If we can't have Carrie's home, we're happy to settle on Mad Men's Don Draper's instead. It's typically 1960's, with its burnt orange colour scheme complemented by rich wooden tones. We wouldn't mind a shag pile rug as homeliness tops our list of priorities and the best way to capture that is by stocking up on soft fabrics from the floor up! If you haven't got warmth, you'll suffer on personality, so it's no wonder that Don's apartment is in favour.
And as for third choice? The bronze medal goes to Friends' Monica Geller with her West Village apartment. Again, there's a rug that adds personality and plenty of statement lighting in the open plan space. The cream sofas have a slouchy, almost bohemian appeal and that's carried through with the bold, purple colour choice for the walls. The cushions are often clown-like as a direct result of the colour clashing combinations and these together with the shelving accessories and old-fashioned, verging on gaudy curtains combines to create a quirky, one of a kind look. The kind of low maintenance, I-just-threw-this-together-effortlessly look that we wish we could emulate.
I only wonder whether the house will topple the apartment on next year's ideal interior list…
For help redecorating, post a job on Rated People in our Painter / Decorator category to receive quotes from our qualified and trusted tradesmen.