Russia is a hot topic thanks to the 2014 Winter Olympics in Sochi. Our newspapers and television screens have been filled with images of the opening ceremony where one of the five Olympic rings failed to appear from a snowflake suspended from the ceiling. The world's largest country is in the spotlight and it's led me to delve a little deeper into Russian interior design.
If you're unfamiliar with Russian interior design, chances are you're building up an image of Russian doll accessories and bright accent colours in reds, oranges and blues. An oriental style rug may line the floor or a wall and you may also be picturing a heavy use of wood. You wouldn't be wrong but there's more to Russian interior design than meets the eye.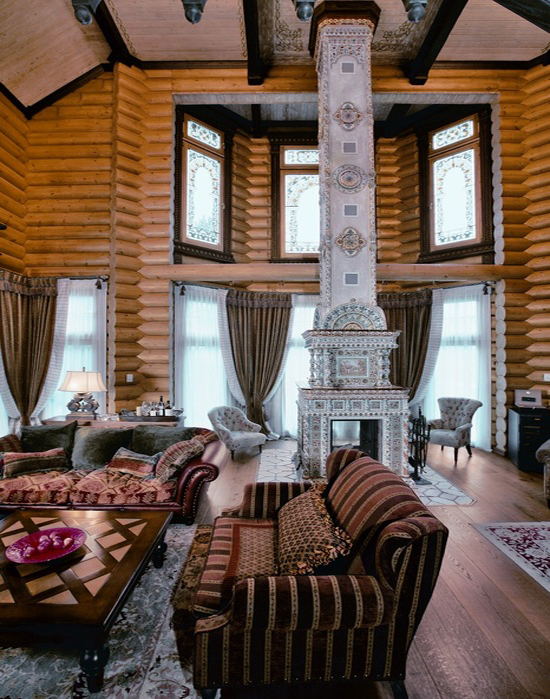 To begin with, according to an academic report on urban households in Russia, 70-75% of Russians live in apartments rather than houses. 5% live in a duplex and the 20% that reside in houses are most commonly found in country villages where they're made of wood. Look at the modern Russian apartment and you could easily mistake it for American or English. There's no set style to follow and you would be more likely to not find ethnic rugs or Russian dolls on display as you would be to find them.
What unites modern city properties is their love of white. White walls, white doors and white chairs – you name it. Wooden objects fill kitchen shelves and floorboards and you'll find the white colour scheme made more interesting by injections of grey, brown and black. There aren't any rules – a grey table, grey radiators, black and cream stools and a dark brown wooden table in an open plan kitchen diner setup could easily be swapped for a cold, grey floor, sideboard and a black refrigerator in the kitchen of another property that leans towards the industrial style.
There's no singular Russian "look" adopted throughout the country however, and that's likely as a result of the country's vastness, spanning from the European continent across all of Asia. It comes then as no surprise that Asian or Oriental influences are often matched with European elements in home design. I've handpicked two of them to share with you below. While it would be fair to say that they're a little exaggerated in their approach, they have a strong connection to their country that's worth celebrating. Let me know what you think of them by commenting or getting in touch on Twitter!
Denis Perestoronin's city apartment
Denis Perestoronin, an antiques dealer with a passion for Russian architecture, brought the traditional country home into his city apartment – being sure to remain as loyal to Russia's roots as possible.
His library features a cabinet decorated with the warm combination of red, brown, dark green and cream, so often found in bold, ethnic designs. There's a strong leaning towards culture and handcrafts, from the design on the cabinet to the decorative wooden chair and framed tapestry photo that sits just above it on the wall. He may have chosen to shun the more modern wooden beamed flooring but the parquet floor brings two different shades of the material together via a unique criss-crossed pattern.
Step into the kitchen and you can get a sense of Russian history. The cupboard doors and the panelling on the adjoining doors depict geometric Khokhloma folk art, again in those rich reds, creams, greens and browns – only this time blue and a rusty orange have been added to the mix, making that connection between the tiles on the back wall and the cupboards.
In the hallway, spinning wheel parts dating back to the 18th century hang on the wall while the bedroom has a wooden ceiling re-assembled from an old village home. The stone ornament on the windowsill is typical of one you might find within a 17th century Russian building.
While wood is used heavily throughout the apartment, the owner hasn't shyed away from other elements of Russian design, by incorporating coloured mosaic tiles in both the bedroom and living room in shades of green and blue. The tiled stove is especially common and it wouldn't look out of place in a Moroccan home. You might have also noticed that white, so routinely found in the modern apartment, pops up on the bricked living room wall as well as on the hallway wall and the tiny amount of space present above the kitchen cupboards.
ArtMixer's St Petersburg apartment
If you needed persuading that Denis has perfected the Russian look, you need look no further than Ukrainian designer ArtMixer's Russian Siberian home scheme for a St Petersburg apartment. Again, various shades of wood are used extensively alongside ceramic tiles to replicate the look of the traditional country "isba" property, complete with walls consisting of tree trunks.
This time though, you'll find the tiles on the floor, adding an Oriental touch. Despite their different location, the same colours re-surface in the tiled prints. What makes this home unique is the floral folk art designs being depicted on the dining room ceiling.
What do you think of the traditional Russian country style? Were you as surprised as me that there's such a difference between the "white" modern apartment and country styled interior?
Feeling inspired by Russian interior design and influence? Get expert advice from one of our qualified and approved painters and decorators to give your home a new lease of life.