WAGs like to flock and nest in close proximity to one another. Football clubs may be spread across the UK, but if you're a WAG it's crucial to stay within the WAG-approved perimeters to maintain WAG-exclusivity status.
Footballers are renowned for their huge salaries, but it's the WAGs who make it their vocation to spend these millions. When you're a footballer's wife you don't compare share portfolios or hedge fund investments, it's all about who's got the biggest house in the best postcode.
Source: Justwagsnews
The ultimate WAG hotspot, according to Zoopla's recent survey, with easy access to multiple premiership football clubs, is Oxshott in Surrey. This village is home to famous players and their families, including John Terry and Obi Mikel. The average house price in this village is around 1.4m; Zoopla's Nick Leeming said, "To buy in Oxshott you'd need a Premier League salary."
Hampstead is a close second due to its proximity to Arsenal. This trendy village is spot-on for the London-based Premier League WAGS, while the Chelsea stronghold of Cobham is a close contender in third place.
The wives who haven't reached the Premier League or the premier wage packet, are flocking to areas such as Formby, Wilmslow and Knutsford, spending around 1/4 million on their WAG-pads.
The top 10 postcodes in the WAG-tastic property price league
1. Oxshott, Surrey – average price £1,405,016 – John Terry, Jamie and Louise Redknapp, Didier Drogba, John Obi Mikel
2. Hampstead, north London – average price £875,317 – Robin Van Persie, Marouane Chamakh, Andrei Arshavin
3. Cobham, Surrey – average price £784,879 – Michael Essien, Damien Duff, Andy Johnson
4. Esher, Surrey – average price £717,747 – Frank Lampard and Christine Bleakley, Gary and Michelle Lineker, Ashley Cole
5. Prestbury, Cheshire – average price £642,129 – Wayne and Colleen Rooney, Michael Carrick, Carlos Tevez
6. Weybridge, Surrey – average price £631,530 – Peter Crouch and Abbey Clancy, Petr Cech
7. Little Aston, West Midlands – average price £564,578 – Stephen Ireland, Gabriel Agbonlahor
8. Hale, Cheshire – average price £520,387 – Nemanja Vidic, Emile Heskey, Sylvain Distin
9. Alderley Edge, Cheshire – average price £461,758 – Rio Ferdinand, Gareth Barry, Joe Hart, Dimitar Berbatov
10. Chigwell, Essex – average price £431,024 – Jermaine Defoe, David Bentley
Times are tough for WAGS nowadays, the credit crunch has hit even them. Becoming a WAG was once a good career choice, but as normal people struggle to make ends meet these women's spending has come under scrutiny. The WAG-lash was inevitable as these women flaunt their mega wealth with outrageously sized houses and handbags.
The price of WAG-cess revealed
Coleen and Wayne Rooney live in a neo-Georgian mega mansion in Cheshire worth over £11million.
They pulled down the 1930's house that originally stood on the plot and built their 6 bedroom – all with en-suites – mansion. The couple are reported to have spent 50k on turfing their garden and 30k on their CCTV security system, presumably to stop us getting a look inside to find out how much they've spent on the furnishings!
Source: VirginMedia
Alex Curran and Steven Gerrard are the proud owners of a £3million+ house in the Merseyside suburb of Freshfield. Steven's new gym hasn't been popular with locals who have described it as "Asda in the middle of a beauty spot". The gym is so large and out of place in this sleepy suburb that it even has a different postcode to the main house – now that's what we call a designer postcode!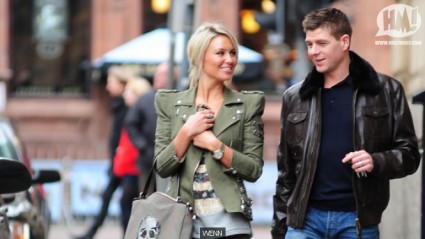 Source: Holy Moly
The ex-WAG Cheryl and her ex-husband Ashley Cole have been separating their property portfolio, of £12+, since their split. You wouldn't expect anything less from the ultimate WAG-pad of Cheryl and Ashley: they shared a house in the number 1 Premier League WAG hotspot of Oxshott, ironically named Hurtmore House.
Source: Cheryl-net
You may not have a Premier League budget, but if you post your home improvement job on RatedPeople.com we'll put you in contact with up to 3 quality, local tradesmen, who will help you make your home improvement job a reality – whatever your budget. Read the tradesmens' reviews and ratings online and select the right one for your job. After your tradesman has completed your home improvement job, don't forget to rate him.