Advice
Wild new wallpaper designs
Long gone are the days when only egg shell-coloured wallpaper were on trend. Now, a feature wall in a stand out pattern is as common as reality shows. It's difficult to be brave however, there are so many questions to take into consideration when opting for an unconventional wallpaper. How long will I like this? What is my budget? Will this fit in with the rest of my house?
Sometimes it can be good to let go and try something new. Unless you have your eyes set on a high end wallpaper, chances are that you can find a fun option without having to empty your wallet too much. And it will definitely spice up the rest of your interior.
Bespoke wallpaper
This wallpaper is great for a kids' room, because of the flexibility of painting the empty frames yourself. Put photos, draw sketches or stick notes on the wall, and customise it to your liking.
Animalistic wallpaper
Cat fans take note. This feline pattern works best on broken walls and with the rest of the room in a harmonious colour scheme. No paintings needed on this wall!
Trompe l'oeil wallpaper
There are no limits to what sorts of motifs can feature in wallpaper designs. If you can't afford a fully stocked library, this book look will confuse and amuse. Trompe l'oeil is both playful and practical.
Similarly, if romance and old school glamour is your thing, a bedroom wall with love letters can give the desired days-gone-by effect.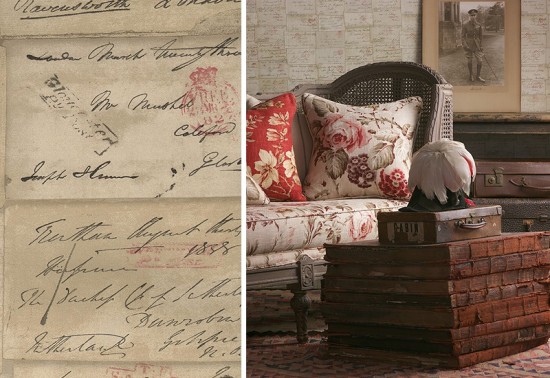 Kitsch wallpaper
With a modern twist, Dutch company Pip Studio make wallpapers with big flowers and cheerful colours. With its intense imagery and bright colours, it has Asian, Victorian and kitsch elements mixed into on Not for the faint of heart and best paired with vintage furniture as seen below. Definitely a summer house wallpaper candidate.
Modern wallpaper
It doesn't get much more symmetrical and geometrical with this wallpaper in rockabilly blue. Reminiscent of 1960's design it will complement minimalist furniture such as Danish and Italian styles. Don't let it clash with classic decor.
If you need to decorate your walls but don't know a good painter/decorator, post your job for free on RatedPeople.com. We have plenty of specialised tradesmen who can help hang your desired wallpaper. Up to three tradesmen will get in touch to quote for your job, read their previous customer ratings and pick the one who is right for you.