Gardens are synonymous with summer: warm days of lounging on fresh green grass with an iced drink or two. Come wintertime, they become a place of neglect as deckchairs gather cobwebs in sheds and leaves lazily decay into the ground.
This is a shame, because with the right amount of planning and some careful execution, the winter garden can be an absolute delight, a place to take a bracing stroll or a welcome pause when all the warmth and festivities inside become too much.
Image source: Better Homes and Gardens
It may seem that the garden doesn't have much to offer when it's cold, but that's exactly the aesthetic to pursue. Embracing the barren, and accentuating winter's slight bounties, can create a striking, stripped-back effect. In December, punctuating barebones gardens with a Christmas decoration or two gives the outdoors a hint of warmth.
It may be chilly, but wrap up and head out into the fresh air: winter landscapes are new territory worth exploring.
Nature's way
Nature may be on pause during winter, but some plants do come out to play. Those that do should be placed near doorways, paths and patios to immediately catch the eye.
Image source: East of England National Trust
Berries are one of winter's best harvests: evergreen holly, crabapple and bayberry shrubs and American cranberrybush all keep their fruit through winter, adding bright specks of colour to a lifeless landscape. They also provide food for birds, bringing activity, and can be snipped and used indoors for festive decorations.
Compliment sight with smell. Near doorways, plant winter-flowering shrubs that give off fresh scents, background aromas that create a lovely and wintery outdoor richness. Jacqueline Postill, honeysuckle, wintersweet, viburnum, witch hazel and Christmas Box have a pleasant smell that will travel a good few metres if grown well.
Meanwhile, keep conifers, that traditional winter staple, tall, shaped and at the back of the garden. They'll ignite and glint in the low sunshine and cast long, moody shadows over a lawn or patio.
Image source: Guardian
Of all the wintery looks worth pursuing, bark is best. Solid, cracked, dark yet somehow reassuring, bark should be on display to create brilliant silhouettes against winter's clear blue sky. Twigs, branches and trunks must be exposed and in focus, not blocked out of sight by other less dramatic plants. Some trees simply have better barks than others: birch, dogwoods and maples are textured and coloured and grow in fantastical shapes.
Winter wonderland
Objects and structures found outdoors in the garden should also be reconstituted into a winter landscape.
Summer gardening tools can be turned into cold-looking containers for winter plants and decorations. Fill wheelbarrows with earth then plant mini-conifers or push in branches of bushes bursting with berries. Stuff the bottom of buckets with outdoor fairy lights, and then slide in tall twigs, boughs and branches to create an illuminated bush.
Image source: The Enchanted Home
Similar to winter trees, wooden structures should also be left exposed. Gates, trellises and benches, if clean and well kept, augment the barebones aura in a winter garden while giving the eye something interesting to rest on. If wood has become worn and weary over the summer, a good buff can turn hardscape into a visual focal point. Paths similarly benefit from a winter clean.
Finally, a bird feeder brings welcome flurries of life when everything feels so still. No longer the reserve of ornithology buffs, bird feeders have become stylish ornaments that are good for urban wildlife. Tall, wooden feeders catch low sunlight and should be placed in an easy-to-see spot that isn't cluttered. They encourage colourful birds to come and compliment a winter landscape.
Image source: mint in the middle
Christmas night
Working with winter plants and existing garden items makes for a striking landscape but adding a few decorations finishes off the perfect Christmas picture. The golden rule is understatement; keep additions to a minimum, a garden littered with glitzy tat is no friend.
Decorations are best saved for one tree. A striking birch, for example, can be made even more special by hanging plain or coloured glass baubles from it. Anymore will result in overkill, so concentrate effort in one place. Similarly, lights should be used sparingly for greater effect: drenching a tree and its beautiful bark in a strong glow loses its natural austerity in winter. Hanging candles in glass or candleholders filled with electric lights are better options.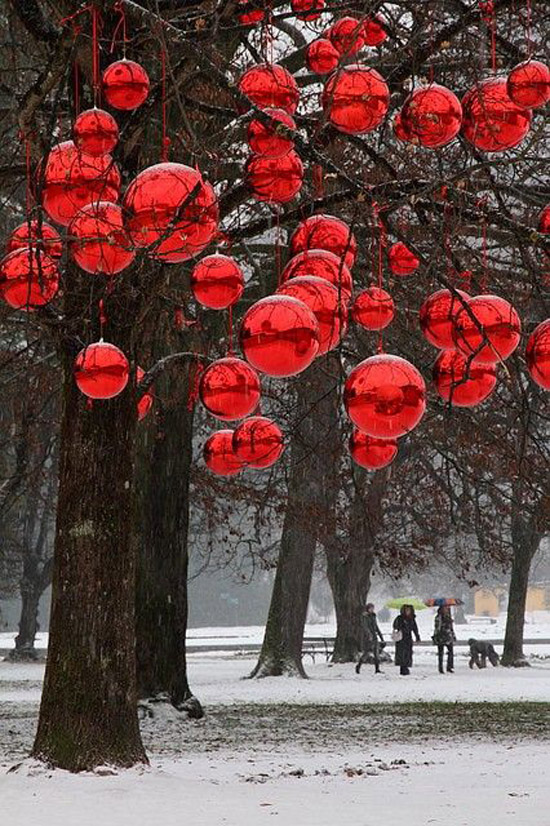 Image source: ZsaZsa Bellagio
Turning plants from the garden into outdoor decorations helps produce an overall, complete look. Use boughs and branches filled with berries to make wreaths to place on doors, to hang off trees or as arranged decorations rising up from well-placed water cans. Making indoor decorations from plants outside also creates a seamless uniformity between winter landscape and living space.
Once Christmas is over, head out into the garden once more. Before the tide of spring comes, take stock of the garden while it's relatively empty. Assess damage, gaps in the landscape and if there are any unused spaces. Winter is the perfect time to go and stock up on gardening materials while they're discounted, so use this time to prepare for the months ahead.