The bathroom is both the trickiest room in the home to get right and one of the most important. It won't matter too much if your living room is looking a bit messy, but a neglected bathroom never goes down well with visitors.
While it's a private area, it's also a room which will be used by your whole family. So, balancing the needs and wants of your family unit and creating a space where you are all comfortable spending time is essential.
The most common mistake is falling into the trap of decorating a bathroom to your personal taste. Often this means purchasing items like the hot pink vanity unit on show in Elle Decor.

Image Source: Elle Decor
While it is no doubt a brilliantly bold feminine look, we bet that it wouldn't go down quite so well in a mixed gender household!
Add a budget to the mix and suddenly the task seems impossible. But it's easy enough to achieve once you know how.  Take a look at some of our top budget bathroom decorating ideas for inspiration!
Opt for utilitarian: banish extra accessories
You don't need to go overboard with accessories in the bathroom. This is a room with one particular function – to bathe. So don't worry about buying those pretty floating lights and candles. Instead, pay attention to stylish soap dishes and bathroom storage. It's smart changes like these which will keep your home budget friendly.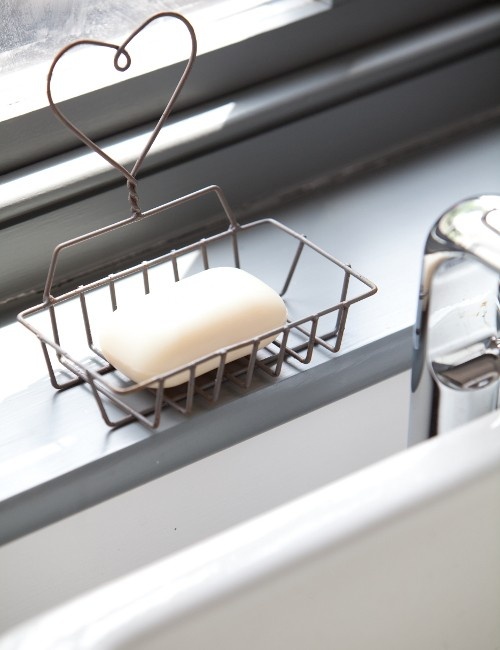 Image Source: Pinterest

Image Source: Pottery Barn
Swap your pedestal basin
In keeping with the utilitarian theme, swap your pedestal basin for a vanity unit with a counter top (fitted into the hole in the worktop) or under slung (fitted under the hole in the worktop) basin. The pedestal is an expensive buy and as it offers no storage space, it's highly impractical.  It's also one of the most contemporary bathroom updates. Who knew that the latest trends could be kinder to your bank balance than a more traditional bathroom must-have?

Image Source: Home Designing
Pick timeless materials
For the keen cost-cutter, the ceramic bowl is ideal. More unusual materials such as cultured marble or copper may look attractive but they don't have the same timeless appeal as ceramic. It's a matter of personal taste but you may end up spending more money replacing your unit at a future date.
Do minimal tiling
When it comes to tiling, be picky. Instead of tiling your whole bathroom, choose one wall to update. Two of the most common areas are the wall behind your shower or bath and the wall housing your basin. For a cheap but chic bathroom refresh, decorate with a single strip of mosaic tiles. They come in a range of colours, so you can be sure of finding a design to match your chosen colour scheme.
Image Source: Victorian Plumbing
Bathroom improvements aside from minimal accessorising require a skilled bathroom specialist to complete the work to a high standard. Rest assured knowing that your job is in safe, qualified hands by finding your bathroom specialist on Rated People today.