We're constantly working to make our site as simple and easy to use. Here we keep a simple list of website and service improvements as we make them.
If you ever have any questions on what we're working on, contact us at [email protected] – we want to hear what's working for you and what can be improved.
---
01/09/2016
New filtering and sorting on Trades app
Our new filters and sorting options make it quicker to get to the job leads you're interested in. They're available on Android now and are coming to iOS very soon – watch this space!
You can now filter your leads by:
Timing – based on when the homeowner wants the work completed (e.g. urgently, within 2 days, etc).
Hiring stage – based on the homeowner being ready to hire, needing a quote for insurance purposes or at the planning stage.
Budget – set a minimum and/or maximum budget range for job leads. This is based on the homeowner's own assessment of how much the work should cost.
Just head to the 'Filters' tab to choose the leads you want to see in your leads list.
You can now sort your leads by:
Price – choose which job leads you see first, ordering them by the price you'll pay.
Just head to the 'Date' tab to view the sorting options available.
If you don't have the app downloaded yet, just head to the Google Play store for Android or the iTunes store for iOS.
---
07/06/2016
We've had some work done
The scaffolding's down on our new look and we hope you like what we've done with the place.
A clean logo and a fresh design are just the start – the website is clearer and easier to use, plus our mobile apps have had a major update.
Updated apps
Our app has a new name, a new icon, improved design and additional features. It's all as a direct result of listening to the people who use it most – you.
Check out the new features
Finding work on-the-go is even easier with the quick-buy buttons. You can also search for job leads by reference number as well as filter by those where you'll be 1st to buy.
More good news – we've re-introduced our report-a-lead feature for our subscribers.
If for any reason the homeowner isn't contactable, we'll credit your account back so you can spend that money on winning other work. To qualify, you need to meet a few conditions, but we've made the process as easy as possible.
13/01/2016
New lead credit request process
Lead credit refunds are here! If the customer doesn't respond to your calls or allow you to quote, we've put new measures in place to enable you to report the job lead and request lead credit when you're eligible. Head to our FAQ page to find out more!
---
12/06/2015
New and Improved Profile Editor
Make your profile stand out and showcase the best of your business with our brand new profile editor. Our new and improved platform comes with a host of new extras that will make updating your profile page a doddle – find out more!
---
03/02/2015
New Year, New Partnership Offers
Two new partnerships have been added to our member benefit programme to kick off this year. Now all Rated People members can get 50% off QuickBooks Online Simple Start and 15% off bespoke website design by SoleTrader. Find out more on our Member Benefits page here.
---
22/12/2014
Help Homeowners Post Better Leads
We know that homeowners post some pretty funny job leads sometimes. 'Build an extension for £1,000' … that's just not going to fly. So we're trying out a new feature where you can feed back to us the reason why you delete a lead from your list. Right now we're just measuring your responses, but soon we'll use this feedback to tell homeowners what's wrong with their job posting and encourage them to change it. Start participating now by clicking the green bar at the top of your lead list page and delete the leads you don't want.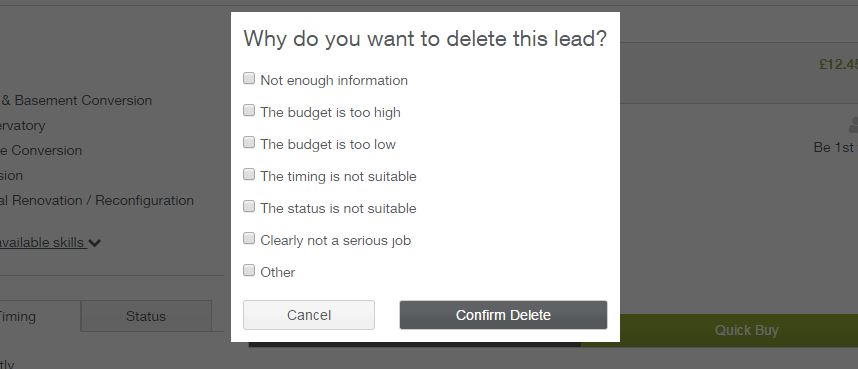 ---
11/12/2014
Introducing: Featured Leads
You asked, we listened. Now homeowners can pay to have their leads featured on Rated People. Look out for leads in your lead list and alerts that are marked as 'Featured Leads' for leads where you know the homeowner is serious and needs to get the work done.
---
11/11/2014
Filtered leads coming soon – try it now!
In the next enhancement to our lead viewing and sorting features, we've now added the ability to filter your lead list down to the leads that interest you most. You can filter by job skill, timing, status, budget, leads with pictures and whether or not you would be first to buy! Take a look and try it out now by clicking the green bar at the top of your lead list page.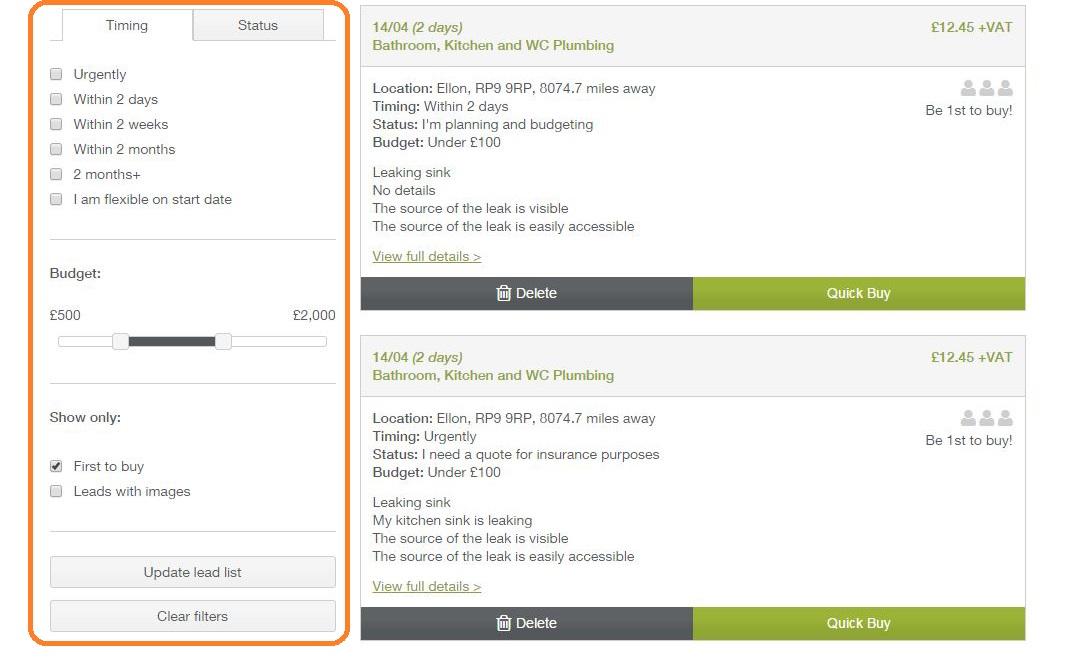 ---
24/10/2014
Major updates coming soon – check out our sneak peek now!
You've probably noticed that we've been promoting our new lead viewing and sorting features. We've been working tirelessly to give your Rated People experience a long overdue refresh. The updates will give you more info on each lead and make it easier for you to find the leads you want to buy. There's still a lot of work left moving everything into the new experience, but click the 'try it now' bar at the top of your Rated People screen for a sneak peek. Our first release features a new design, the ability to sort your leads and 'quick' buy and delete buttons: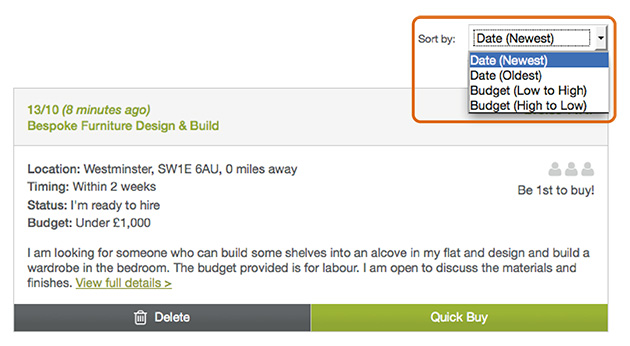 ---
01/10/2014
More information on updated leads
Tired of seeing leads re-posted or updated and not sure what the difference was? So are we. A little enhancement was made to updated leads so that now you can know exactly what the homeowner changed when they re-posted their job. Was it the description? The timing? The budget? Read the first line of the updated lead and now you'll know!
---
01/10/2014
New Everreach partnership
A new partnership has been added to our member benefit programme. Now all Rated People members can get 2 months free of Everreach phone service when you set up a UK local or national business number. Find out more here: https://everreach.co.uk/offers/ratedpeople.
---
17/09/2014
No more $&@£* job descriptions
We're constantly working to improve both the manual and automated screening of leads in the system. This release saw the addition of a new table of expletives and other unsavoury terminology to help better filter out spurious leads before they reach your account.
---
13/08/2014
We're Now Showing Lead Timing and Status
It's come up in several surveys and discussions we've had with you that knowing when the homeowner would like the job done and where exactly they are in the decision-process would be really helpful. We're very happy to say that this information is now shared on nearly all of your leads! (We still need to get the questions added to the mobile app and a couple partner forms, but there's very few of those)
Just look for:
*************************************
*************************************
Timing:
Status:
*************************************
*************************************
at the bottom of your leads for this super-valuable information!
---
11/07/2014
Before a Homeowner Posts, They Now See a 'Warning' Pop-Up Box
We know that not being able to contact customers has been a big issue for you, so we've been doing a lot of work lately to try and get homeowners to behave better and take your calls. So we made a couple BIG changes to our job posting form:
First, we added extra fields to the Contact Details page to make homeowners enter their phone and email twice. We also turned off 'copy & paste' so that they have to type it out and the two have to match. This should dramatically cut down on the number of incorrect contact details entered by mistake.
Then we put a big 'warning' pop-up box before they hit submit outlining some important points such as 'Our tradesmen pay to quote' and 'You need to be prepared to take their calls'. Now all homeowners must stop, read and acknowledge this box before they can submit their job.
These changes should go a long way in improving the quality of leads and contact information you receive and we hope you're already seeing a difference. We've got a couple more ideas up our sleeves too, so keep an eye out in the coming months. In the meantime, here's what the pop-up looks like:
---
16/04/2014
We've made it easier for you to benefit from our Annual Membership Offers
You've probably heard or encountered our annual plan offers by now. (If not, check them out – they're great and can save you quite a bit of cash on your lead purchases)
Well, this year we've made it easier for you to take up one of these great offers. We've reduced the requirements so that all you need to be eligible for one of our annual plans is at least one rating with an overall ratings score of four stars or more. So go on, save some money!
---
16/04/2014
Your Lead List Is Now Featured As Numbered Pages
With over 10,000 leads getting posted to the site each week, we know your lead list can get a little long. Now, instead of having to scroll and re-load the lead list page indefinitely, we've separated the leads into convenient pages for you. You'll also find that when you view a lead's detail page and you go back to the lead list, you won't lose your place and will go right back where you were in the list. Just a little thing we hope makes your life easier!
---
16/02/2014
Introducing: Member Benefits
Being a Rated People tradesman now comes with added perks. Our business development team has been hard at work securing deals with quality partners to bring you savings on things like insurance, business stationery, fuel cards, new vans and more. New deals will become available all the time, so check back often to see what's new. Just click 'Member Benefits' from the main navigation when you're logged in to Rated People.
---