No matter whether you're browsing Rated People on mobile or desktop, we've added new features and enhanced our layout to make it a whole lot easier and quicker to get to the job leads that you want. Read on to find out what we've done and how you can try them out!
Improved design
We know that it's a pain adapting to different mobile and desktop layouts. That's why we've made design consistent across the board. Now, your mobile view is similar to your desktop view, making it easier than ever to get to the leads that interest you.
To make things clearer, you'll also spot new order icons (shaped like people) that let you know whether you're the first, second or third to buy a job lead and a camera icon to tell you when a homeowner has added photos to their job post using our mobile app. The number to the left of the icon will reflect how many photos are available to view. No icon means that there aren't any photos added to the job lead that you're currently looking at.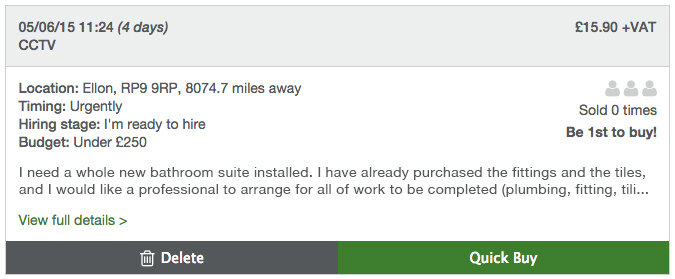 Don't worry, featured posts won't get lost in the crowd. From now on, every post where a homeowner has paid to feature their job will be outlined in orange and described in bold as a 'Featured Lead' right above the header. It's big and it's bold; in other words, it's hard to miss!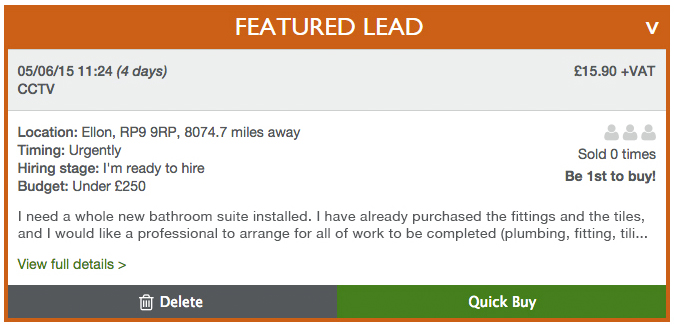 Brand new sorting and filtering
Sometimes you'll want to see the most recent leads straight away and get in there quickly to quote. Other times, you might want to browse older, unpurchased leads where there's a high chance of you winning the work. We're now giving you the option to choose between the two and change the order of how you see job leads. If you're more concerned about price, you can sort by high or low instead, helping you to stick to a budget and top up work as needed.
Once you've sorted your job leads, it's time to filter them. You can see them all and leave the filtering off, or choose to see only the job leads that you're really interested in at that time. Pick the services that the job would require, the timing that the homeowner would like the jobs done and the budgets that they've selected. You can also choose to see only featured leads or job leads where you'll be the first to buy.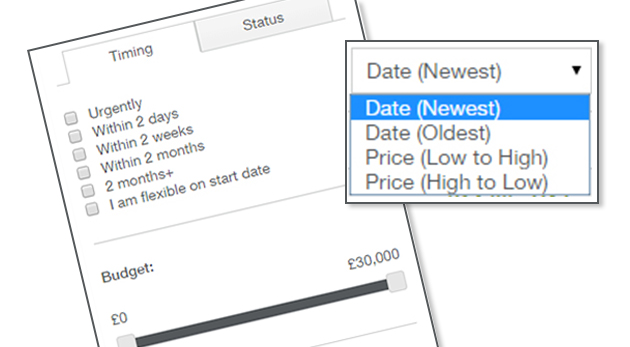 Quick buy option
We've simplified the process to make buying a job lead even easier than before. If you see one you're interested in, just hit our brand new 'Quick Buy' button. No need to click through to the full details page before you snap it up.
Deleting leads
If you don't like the look of a lead, you have the option to delete it from your list. We know that the quality of a job lead is important to you and we're committed to educating homeowners as much as we can about how to post a good job lead. Now you can help us to do that. When you delete a job lead from your list, we'll prompt you to select a reason for why you no longer wish to see the lead. We'll collect all feedback that we receive and use it to work on improving the job leads that come through our system.
More job lead details
We've added a time stamp to your job leads so a quick glance at the header will tell you straight up how fresh in the system it is. Along with the date, price and the type of job, we've made it easier to decide whether you're interested in a lead.
To help you keep track of the leads you've bought, we've added more information to your Purchased Leads page. We'll now tell you how many times a job lead was sold, whether you were the first, second, or third to buy and the price you paid for it. To find this information, just click the 'View full details' link next to a job lead.
To try out the new features, just click the link in the green banner at the top of your screen once you're logged in:

If you're using a mobile view, click the 'Try new features' tab under your 'Notifications' section.