Recently, the government announced the new Green Homes Grant as part of its new £3 billion package of green measures. From September 2020, homeowners and landlords in England will be able to get a voucher worth up to £5,000 (or £10,000 for low-income households) to cover up to two-thirds of the cost of installing green home improvements.
By making eco-friendly improvements, you could save up to £300 a year on your bills and help cut carbon emissions. Here are 8 of the top energy-efficient jobs that you could get done through the scheme.
1. Energy-efficient doors
A draughty room is not only uncomfortable to sit in, but it can push your energy bills up as you're likely to turn up the heating to feel more comfortable indoors. Energy-efficient doors offer great thermal insulation, keeping warm air in and preventing too much cold air from working its way inside.
Energy-efficient doors are compliant with the latest Part L building regulation, which contains strict requirements relating to the conservation of fuel and energy. So, you can be reassured that your door is expert approved. A door fitter can find the best energy-efficient door for your home.
2. Solar panels
Solar energy is a renewable energy source, which is great for the environment as it doesn't use fossil fuels. Solar panels capture the sun's energy and convert it into electricity for your home.
In the UK, solar panels are becoming more popular amongst homeowners – there are now 1 million 'solar houses' across the nation! You don't need to have sunny weather all year around for solar panels to work. They still work on cloudy days, too. However, solar panels won't work to the best of their ability when they're obstructed by trees, so keep this in mind when you're deciding where to put them.
Furthermore, solar panels that are tilted at 15° or more can be cleaned by rain, according to the Energy Saving Trust, which improves their performance.
Most houses operate on solar power during the day, then they switch to using electricity at night, so you're cutting down on your total electricity use.
Once installed by a vetted heating engineer, solar panels last at least 25 years, making them a great investment.
3. Double and triple glazing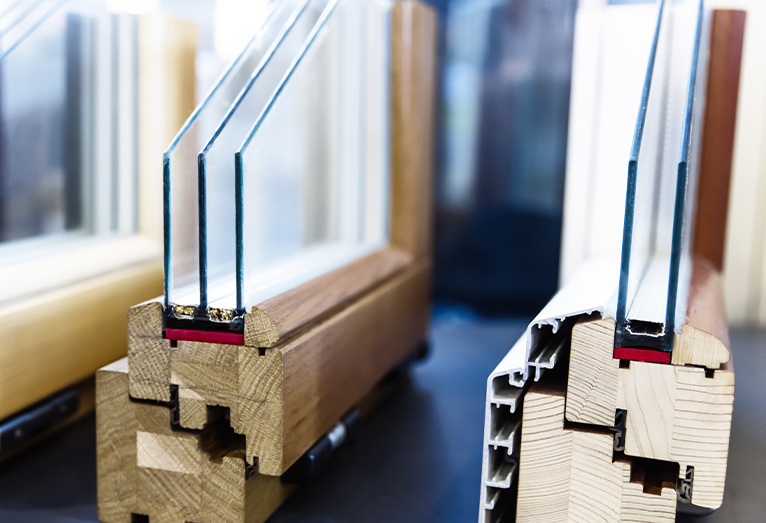 Double glazing is one of the UK's most popular types of window, whilst triple glazing is also becoming more sought-after. Double glazed windows are made up of two panes of glass and triple glazed windows have three. Each pane of glass is separated by a gap of insulating air, which reduces the amount of heat that escapes from your house.
The key benefits for both styles are:
Less heat loss – all new or replacement uPVC, timber or aluminium windows are required to have a minimum Window Energy Rating of 'C'.
Reduced noise pollution, as they're more soundproof than single glazing.
Increased home security – they're thicker than single glazing, so are harder to break.
Double glazing or triple glazing?
Double glazing can be more effective in the areas of a house that are most exposed to the sun, so triple glazing is best used in the shadier areas of the house. Double glazing is cheaper to install yet triple glazing offers better savings on your heating bills over time, so you could be best off having a combination of both. A window fitter can advise you on this.
4. Insulation
One third of all heat lost in homes goes through walls, and a quarter escapes through the roof. By installing insulation, you can save energy and reduce your heating bill.
Wall insulation
If you're interested in wall insulation, then you'll want to find out what type of walls you have. There are two types of wall:
Cavity walls, made up of two walls with a gap between them (the cavity). These are usually found in houses built after the 1990s.
Solid walls, which have no cavity. These are typically found in houses built before the 1920s.
Wall insulation only takes around two hours to install, and you should be able to make back the cost of installation in five years at most, through your annual energy bill savings.
Roof or loft insulation
Roof/loft insulation is effective for 40 years and can cut your carbon dioxide output by up to 1,030 kg for each of those years. It creates a barrier, stopping heat that rises from the lower levels of your house from escaping.
Insulation also improves your home's energy performance rating, which has a positive effect on its value when it's time to sell. A specialist tradesman will be able to fit the best type of insulation for your home and budget.
Applications for the Green Homes Grant open in September. In the meantime, tradespeople can advise you on the best eco home improvements for your home and give you an idea of costs.
By posting a job on Rated People, you can find a vetted trades business to do the work once applications open, and get the ball rolling with quotes.