It's important to us to have bedrooms that we can relax in. You've got to get the balance right – too minimal and you can end up trying to sleep in a room that feels a bit stark and devoid of personality. If you've stayed in a not so great hotel, you'll know what I mean when I say it's difficult to switch off when you haven't got that cocooning effect. It's not for everyone but if yours could do with an added dose of charm, maybe one of these country bedroom ideas could work for you…
You might be wondering how country and update could ever be used in the same sentence. Don't be scared into thinking that country means over the top florals and crochet bedding. As with any look, there are different degrees of country – from the Taylor Swift to the Dolly Parton of the decorating world.
Country bedroom ideas
Wall decoration
Create calming walls by choosing wallpaper or paint in neutral tones. Green is said to be the perfect colour to re-create a relaxing vibe but it can look dated in a younger person's room – or you just might not like green! Any colour will work in light tones but duck egg blue is a fresher alternative and if you need to soften the look even more, swap any white paint for cream.
If plain walls aren't your cup of tea, add more decoration with floral or bird designs. There's no shortage of wallpaper prints but you could mix it up with stencilled designs too, to make it feel more modern. It's not strictly country with all the frills and prints reminiscent of wallpaper borders, but it's taking the best of country and giving it a fresh twist.
Furniture
I've always dreamed of living in a house with exposed beams. If you're lucky enough to have one already, you're half way there to pulling off the style. Finish up with a wooden bed and furniture in a light shade for a structured, masculine look. If your beams are darker or you're after a more modern finish, then the contemporary New England style of country would be a better choice. Swap the orange meets light brown for white furniture and if a white bed looks too bland in a largely white space, introduce colour with a brass bed. Imagine carrying on the theme of this dining room.
. 
Lighting
Lighting's the easiest part as there isn't one golden rule. Some people prefer an understated pendant but chandeliers can work too, when they're teamed with bedside table lamps in different print patterns. It's the same with bringing in natural light. Blinds are ideal but if you don't want to get rid of your curtains, combine the two and layer up!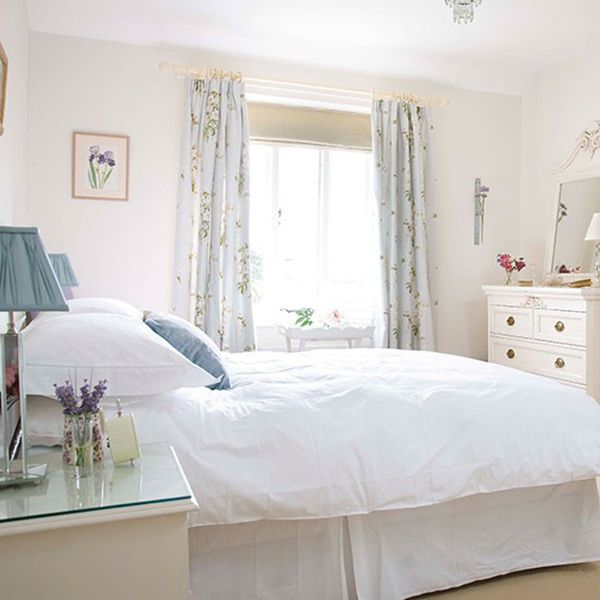 Image Source: Heart Handmade UK
If you need a painter/decorator, we know where to find them.  RatedPeople.com has thousands of quality, local tradesmen, rated by previous customers who post their reviews on the website. Post your job for free and up to 3 tradesmen will get in touch to quote.