Bathrooms, I find, are often one of the most neglected rooms in the house. We spend a small fortune on fixtures and fittings but then pretty much leave it at that. For me, bathrooms should reflect the rest of your space so when you walk into them you won't just find a sink, loo and tub; you'll find maybe a chandelier, a chair, a rug, wallpaper – even art.
Sound a little crazy?
Stay with me– clinical, sterile bathrooms with very little in look utterly space age plus the vibe they give off is exactly that, clinical and uptight – not somewhere I personally want to linger. I've been in the business a long time and the bathrooms that stand out for me are ones that push it – whether that is through colour, wallpaper, accessories, pattern, texture or both, these bathrooms take risks and in so doing they stand out from the crowd, they have an element of the unexpected.
8 Quick bathroom remodel ideas
Below are some quick bathroom remodel ideas in no particular order of importance to up the style ratings in your bathroom if it's feeling a tad neglected.
Going for gold
This trend has been simmering for a while now but this year it's getting huge and whilst I am not an avid follower of trends I do adore this one, especially gold fixtures in a bathroom. Warmer and sexier in feel than their stainless or brushed chrome counter parts, they look fabulous in bathrooms particularly if you play around with some dark inky hues on the walls. You can opt for bright and shiny, or polished and soft, and it's even filtered down to the high street. I brought the sweetest little sink with gold taps from B&Q recently for a song – £60 and I love it!
Wallpaper
Forget all that mumbo jumbo about not being able to paper bathrooms, you absolutely can. In the past there was a problem with humidity but now bathrooms are ventilated well and almost all papers work. Wallpaper is an amazing enhancement to a bathroom because it is so unexpected, it's one of those game changers that elevates the space to a whole other level. What is even more exciting is the choice out there – you can go down the architectural route – tin tiles, concrete, wooden panels; you can go down a pattern route or a colourful route almost anything goes.
Add furniture
Anything like a spare chair, some kind of open plan storage unit will help take away the utilitarian feel of the bathroom and turn it into more of a laid back lair, perfect for relaxing in, hanging out and generally winding down.
Paint
I say it a zillion times a day but the most transformative thing you can do to any room, is change the paint colour. Not in a safe wishy-washy pale way but a ground breaking, daring to be different way. Imagine dark walls, beautiful gold fixtures and you will never ever want to leave. As odd as it sounds, many dark colours have the hugest amount of warmth to them therefore softening and cozying up the room – exactly what you need at the end of the day, of the beginning of one too, for that matter.
Lighting
Just like paint, getting the lighting right is a game changer. The more lights the cooler the space, so as well as recessed considered a chandelier. I have a massive candelabra hanging over my bath, but anything goes – cool wall lights , the odd table lamp, heaps of candles – anything that adds pools of soft warm light makes all the difference in the world.
Knobs and knockers
One of the cheapest things you can do is change your door pulls – it perks up a bathroom no end. I hunt out unusual ones in vintage markets and adore the handles Anthropologie sell.
Accessories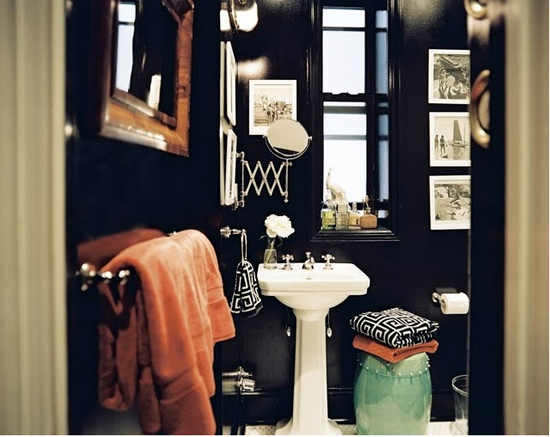 Bathrooms are generally under- accessorised I find, leaving them a little 'Plain Jayne' in feel. Once you start adding layers: candles, art, rugs and stools you completely change the vibe of the space and it will feel a lot more connected to the rest of your house.
Storage is key
Storage is key and fundamental for hiding lotions, potions and all the rest of the stuff that is unattractive to have out on display. Vanities that are wall hung look super sleek. Or go floor to ceiling and paint out the same colour as your walls and then the storage unit just kind if disappears.
Whichever way you go, from traditional to chic, to make bathrooms inviting you almost have to decorate them like you would living rooms. Simple no?
Happy Decorating
Need help with your bathroom makeover? Post a job on Rated People in our bathroom specialist category to receive quotes from our local qualified and trusted tradesmen.