Your home is your retreat from the world. It is where you go to relax, have fun with the people closest to you, and get inspired to take on each challenge that life throws your direction. Modern colour schemes have taken the interior design world by storm, and while you may love the look, you may also be unsure of how to incorporate it into your home and still fit your personality. From the clean lines, unusual patterns and sometimes bold colours, modern can feel confusing and overwhelming.
To get started, we recommend you begin by finding a colour palette that fits your fancy and your personality. Here are a few modern colour schemes to choose from:
Red and Grey – This palette works really well together and is an easy way to add some bright hues without overpowering the space. With a brick red combined with a dull grey your home takes on a comfortable feel with a modern flair. Use this classic modern colour pattern to make a room feel homey but also somewhat grounded. For extra colour, add dark greys and light blues to make it even more natural and dynamic.
Brown and Blue – For another twist on the down home, yet modern colour pairing, try browns and blues. Begin by painting your walls with a light brown or cream colour to keep the room bright. Then, add furniture in brown around the room. Browns range from creams for light accents, to dark chocolate for bold accents. Natural dark brown woods can be used to create a different texture in a very modern way. The best way to blend the brown with the blue is to do so together on one piece. For example, accent pillows should contain both brown and blue colours to truly bring the room together.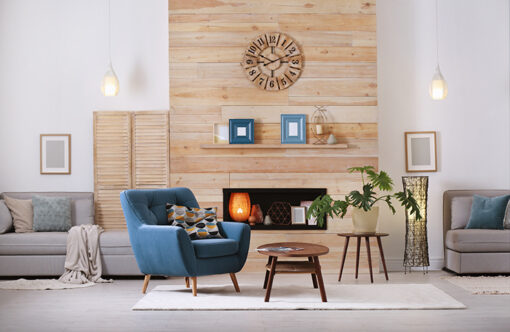 Purple and Green – This colour combination is perfect for the person who loves nature but appreciates luxury. The purple tones lend themselves to creating a modern room filled with royal opulence, while the green tones can be used to incorporate a natural freshness through plants and subtle paint colours. Together, the room has a rich yet comfortable feeling that can easily be filled with different textures from woods, or stone.
Orange and Blue – Together, this colour combination is making a huge comeback in the modern artful world. It takes a bold person to feel confident with the colour orange, but when you do you can easily create a classy modern look filled with just enough uniqueness to make it truly your own. Combine these colours by painting them on different walls or in accent pieces. If you want to use this combination without overpowering a space, do so combined with a neutral dark tone in furniture, such as espresso. This will balance the bright colours and still create a very modern and elegant room.
Black, White and Lime Green – This is one of the most popular colour combinations in modern décor right now and one of the easiest to pull off well for any personality type. With white walls and some black and lime green accents, any room can have a bold look while still staying comfortable. The green is a very strong colour, especially when used with this combination, so it should be used according to your personal preference. Some people like small accent pieces, such as pillows or one or two chairs, while others paint the walls with the bright green colour and use black and white to balance. Regardless of your choice, it is hard to go wrong with this modern colour combination.
When you get ready to decorate your next space, do so with modern style and in colours that fit your personality. While you want to update your home, you still need to feel comfortable and happy in your living space and colour is the first choice in finding a design that will inspire you to feel your best.
Tess Pajaron is part of Open Colleges, Australia's provider of interior design courses. Her background stems from her exposure to their family-owned construction business. She is a lover of minimalist modern designs and architecture. She can be also seen on her social media profile at Google+.
Ready to makeover your walls with a bold, new, modern colour scheme? Get expert advice from one of our qualified and approved painters and decorators to give your home a new lease of life.