I am a little obsessed with colour, even more so at the moment having recently launched a new paint range, not to mention my very next book which is all about colour. Colours come in and go out – one minute army green is the next big thing then before you know it, it has been dropped for avocado (yes it's making a comeback)!
As a designer I have to say I tend to ignore such trends as you can never keep up with them for one and secondly you should only choose colours that you love. My job is to make my clients feel slightly uncomfortable when it comes to selecting colour. Not because I want to cause conflict but more often than not I find we stick to what we know so I aim to push their colour choices, all be it very gently, into a different direction. It goes without saying that if you want to create a truly jaw-on-the-floor abode then you have to take a few risks and one of the biggest but simplest risks that you can take is through colour.
One of the most magical combos is black and gold decor. It has such a cultured regal look and I know it probably sounds super Avant garde but it's so classy and luxurious. We wear it all the time and it's perfect for autumn so why not have some fun with it and create some dazzling results!
Below are five of my tricks for successfully pulling off the black and gold decor colour combo.
Add in other hues
When you colour combine you don't need to just stick to those few colours. You can add in other accents, like a neutral for example, or a pop of colour. I tend to work so that the overall scheme has about 60% of my chosen hues (in this case black and gold decor) then with the remaining 40%, I'll add in something else. You can see from the image that the addition of green accessories elevates this interior to new heights.
Use as an accent
If one or both of these colours scare you on mass, use in small doses. Put, say, gold pillows on a dark sofa, or a gold or black mirror on a wall. Decorating may be all about taking risks but you've got to love the end result otherwise there is no point.
Restrain the amount of gold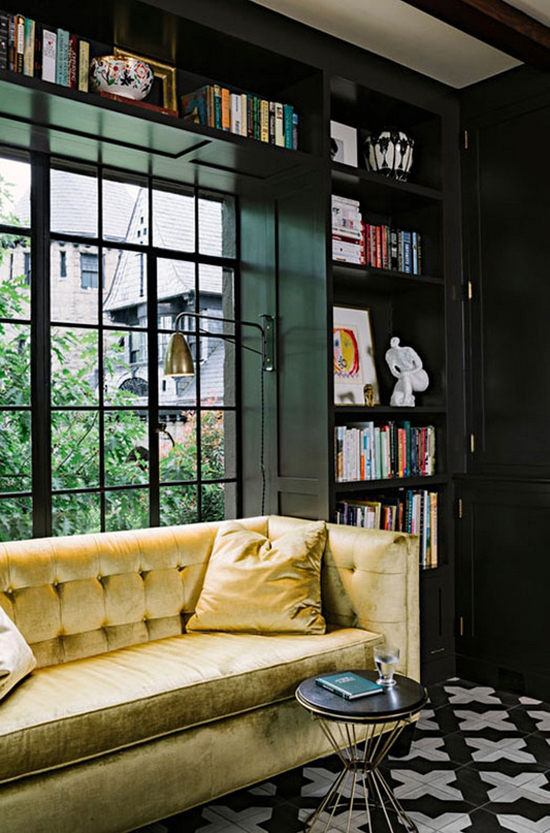 Obviously we don't want to overdo things when it comes to gold (a la Donald Trump) otherwise rooms can feel a little gaudy and we want sophisticated. When you use gold in restraint you'll get exactly that – a beautiful, magical, sophisticated pad!
Bring in some other elements
I do this a lot; introduce the odd rustic, rough piece to offset all the glamour of the gold and black combo. Firstly it makes any space feel less uptight because it creates this incredible kind of tension that makes rooms come alive. Adding roughly hewn heritage pieces tops things off. Of course you don't have to use wood, you can pick a material like brick (see image) or concrete – something that adds an element of rough luxe. If everything is ultra-glam and sleek it can feel a little too contrived. Break it up and add some friction.
Pair with white
Nothing, repeat nothing, looks more classy than a black, white and gold combo. Pure Hollywood!
Happy Decorating and do let me know if you try out this black and gold decor combo. Once you do there is no going back …
Post a job on Rated People to receive quotes on painting and decorating your home from our trusted tradesmen and give your home a black and gold face lift!