Forget resolutions, the best thing you can do in January is tick off some easy tasks that'll make a noticeable difference to your home and garden. Not only will this pay dividends as the days grow longer, a good clear out and clean up makes an invigorating start to the new year. Most small projects won't cost a fortune either, making them perfect for January when budgets can be tight. Try these easy ideas below and let us know how you get on!
Turn your tree into mulch
Christmas trees often end up discarded post-festive season, but they're a great resource for your garden. Instead of sending yours to landfill, turn it into mulch to scatter around the base of trees and shrubs. This will help to prevent soil erosion from heavy rainfall, protect roots, add nutrients, discourage any sneaky weeds, and protect the ground from becoming frozen, too. You can also pop some of the mulch into your composter, but as it takes a while to rot, don't add too much.
Find a professional gardener or landscaping gardener on Rated People.
To turn your tree into mulch, you can either buy or borrow a small shredder, or find a tree surgeon who offers a chipping service. If you're doing the job yourself, be sure to wear safety equipment and shred the branches individually. The trunk may be too chunky to fit into a small machine, so try taking it to your local garden centre to be recycled instead.
Organise your wardrobe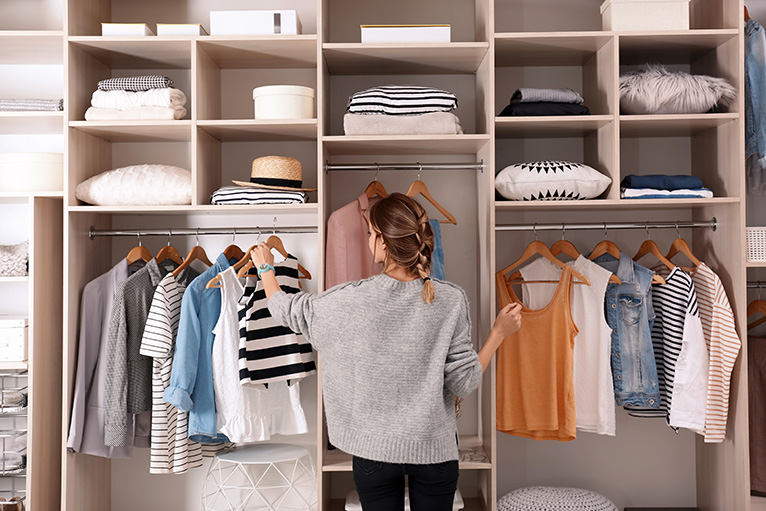 Even if you try to follow a seasonal rotation or have a one-in-one-out policy, it's easy for your wardrobe to get out of control. Add a pile of Christmas gifts to try and fit in and you might find that it's time to overhaul your storage. First, have a quick clear out – there's little point creating extra space for things you don't use or wear. Next, work out what kind of solution you need. It may be that more drawers would be useful or you need additional shelving or hanging space.
While an existing wardrobe can be adapted with organisers, accessory hangers and drawer dividers, a new wardrobe can often be easier to personalise from the start. There's a huge range of flatpack furniture that can be configured to suit, with built-in lighting, sliding doors and multiple rail and shelf choices.
Find a professional handyman to build flatpack furniture or a carpenter to create a bespoke solution for a compact space on Rated People.
Read more: Abigail Ahern's de-cluttering tips
Spruce up your chimney
If you haven't already been firing up your wood-burning stove, you're likely to be doing so in the first few snowy months of the year. It's essential to make sure your chimney is spick and span so that smoke and gases are able to vent away properly. Once the flue has been swept, they'll perform a smoke draught test. If you suspect there might be venting issues or haven't used your stove for more than three years, it's also worth getting a heating engineer to perform an integrity test, which helps locate where cracks or faults in the chimney might be present.
Don't forget to give your stove a thorough clean too – wipe away any soot from the glass, empty the ash pan, check there are no cracks inside and air out for a few hours. If you discover any patches of rust, gently buff these away with a wire brush or steel wool and finish by sweeping away dust.
Hire a professional chimney sweep today and make sure you're ready for the cold weather.
Treat your home to a deep clean
Festive guests often leave behind more than just good tidings, especially in high traffic areas where floors can start to look dingy by January. While you might be able to get by with spot cleaning most of the time, your carpets need a deep clean every so often to bring back their bounce and colour. You can either do this yourself with a domestic carpet cleaner or save yourself some time and get a pro in. Now's a good time of year to do it as a warm home will help floors to dry out faster.
Another place your home might need a deep clean is its windows – plus spotless glass will help maximise the light coming into your home on shorter days. Most cleaners will clean conservatory roofs and skylights, too, which can be tricky to do yourself. They may also be able to clear your gutters of any debris and leaves.
Make sure you reach even the trickiest of spots with the help of a window cleaner.
Never mind New Year, these simple projects will make you feel like you have a brand new home!
Read more: the best way to clean mirrors
---