You can personalise everything from your coffee to your car to suit your needs, so why should your house be any different? Open-plan living offers one option for changing your space but there are several other solutions for reconfiguring your home that can be less drastic. Make your home feel more spacious, hide away clutter and give yourself extra room for the things you enjoy the most – all without sacrificing walls.
Open up a staircase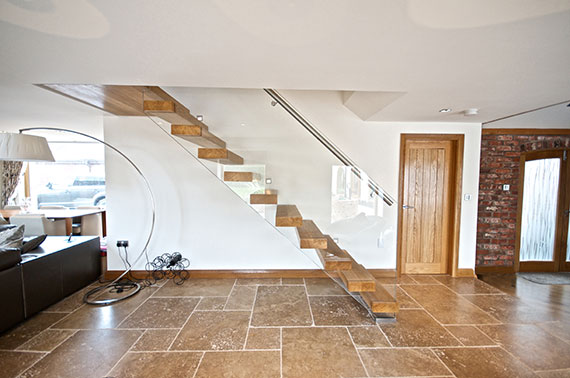 Image source: Bisca
Visual obstructions, such as a chunky wood staircase, can make your home feel dark and cramped, especially if your hallway's small. Instead, think about swapping it for a glass-sided design. Not only will this allow extra light to reflect and be refracted, making the area feel brighter, it'll give the illusion of extra space. Made using laminated or toughened glass panels that can be continuous or framed with wood or metal (often with wooden steps), you can even add recessed lighting for light-time illumination. A specialist staircase designer or carpenter will help you select a design in keeping with the rest of your home.
Install an enclosed porch
Image source: Anglian Home Improvements
While some properties have space for a utility or boot room, what to do with the practical but space-hogging aspects of our homes can be tricky. Built onto the front or side of a house, an enclosed porch is an inexpensive mini extension that can solve your clutter problems. Porches are usually a simple structure of dwarf walls, windows and an exterior door but you can also include lighting and power sockets to make them more functional. Small projects normally fall under permitted development but check the Planning Portal or with your local council first. Good uses for a porch include hanging coats, umbrellas and shoes, storing wood for a stove inside or as a home for a condensing tumbler dryer (though insulate the porch well as some won't work below 5C). A local builder will be able to advise you on what's possible.
Read more: create more space without moving house
Convert a cellar
Image source: London Basement
Unless you're a wine collector, chances are your cellar or basement could be put to much better use than a general store-all junk room. While loft conversions usually end up as bedrooms, converting the space below your floor creates the possibility of an additional room for almost anything you like (and can cost around the same for a basic loft conversion), from a hobby and crafting area to a study or location for a home business. Cellar and basement conversions are also perfect as playrooms or utility rooms. As long as you're not altering the floor height to create more headroom, you're unlikely to need planning permission and a conversion can be finished in just a few weeks. Find more information at The Basement Information Centre or find a builder specialising in basement conversions here.
Add an orangery or sunroom
Image source: Amega
Built using less glass and more brickwork than a conservatory, orangeries and sunrooms have greater scope for year-round use. Sunrooms tend to look more like a traditional extension with a solid roof and large areas of glazing at either side. An orangery usually has a partially glazed roof with a roof lantern and the sides either built of brick with doors and windows within them or some fully glazed walls. The reduced amount of glass means that these additions are more comfortable to spend time in during very sunny days, too. They're both good for using as a second lounge, family room or for dining, yet unlike an open-plan extension, can have glass doors separating them from the main area of the house, giving you extra space only when you need it.
Read more: make the most of existing space without extending