Trending
The Rated People Home Improvement Trends Report: 2021
A guide to this year's biggest trends in renovation and home design
In this year's Home Improvement Trends Report, we start by taking a look back at 2020 to see how the year that no one expected has impacted our relationships with our homes.
From the rise of the home office, to the home improvements buyers now value the most – we've analysed more than 500,000 jobs on Rated People, and spoken to thousands of homeowners across the UK to uncover the renovation and interior design trends that will dominate 2021 and beyond.
Read the full Rated People Home Improvement Trends Report: 2021, and to receive more great home improvement tips and inspiration, sign up to our monthly newsletter – keep scrolling and a form will appear.
If you're looking to sell your home in 2021, or you're just curious about ways to maximise space or update the design – you can find local builders and other tradespeople right here on Rated People. If you enjoy our report, don't forget to share it with friends on Facebook, Twitter or Pinterest.
Home improvement trends 2021
1. The race for space
The pandemic has changed UK homeowners' priorities when it comes to what we want from our homes. Lots of us want to add space to our homes, and jobs such as building an extension, adding bespoke storage and knocking walls down to create an open plan, multi-functional space are amongst the top jobs planned.
Our plans to optimise space aren't limited to our existing properties either; 25% of UK residents want to move to a bigger property in the next year, whilst 29% want to move to a property that has more outdoor space.
Potential buyers are willing to cough up the cash for a home that has the extra space, too. Features promising privacy add the most value to your property, with homeowners expecting to pay around £14,000 more for a self-contained annex. Smaller upgrades are also highly desired – a vegetable patch could get you over £6,000 more for your home.
2. Home is where the home office is
55% of the UK worked from home in 2020, but many of our home office set-ups didn't inspire productivity. 41% of those working from home told us they didn't have a proper desk, and 24% said they were embarrassed by their background on video calls. So, it's no surprise that 38% of us want to improve our home offices in 2021.
The number of 'home office' jobs posted on Rated People more than doubled in 2020 and 43% of UK residents say they plan to work from home more than they did before (even if COVID-19 were to completely disappear), so we're definitely expecting this trend to continue into 2021 and beyond.
When it comes to home office design, our analysis of home offices on Instagram reveals that Scandi styling was increasingly popular in 2020, and neutral colours, house plants and simple furniture are shaping up to be key trends for 2021.
3. Upping the eco
57% of UK residents told us they wanted to be more eco-friendly in 2021 – whether that's recycling more, eating less meat, or making home improvements to make our homes more eco-friendly or more energy-efficient.
Government initiatives such as the Green Homes Grant are helping homeowners to improve their homes in different ways, and in 2020, uPVC windows and doors, roof insulation and solar panel installation were amongst the top 15 eco jobs posted on Rated People. This year, another 4% of the UK say they plan to apply for the Green Homes Grant, to help them complete green upgrades.
3. Gorgeous gardens
Our gardens were a sanctuary for many of us in 2020. 39% of us got more into gardening during lockdown, and 64% of UK residents now say they wouldn't buy a home if it didn't have any outside space.
Many of the top gardening jobs completed in 2020 also made their way onto gardening wish lists for 2021. 47% of UK residents are planning improvements for their gardens this year, and the top jobs that gardeners are keen to tackle are: planting new flowers and trees, creating a vegetable patch; and installing a new shed, fencing or external lighting.
The Rated People Home Improvement Trends Report: 2021
We've analysed over 500,000 jobs posted on Rated People, spoken to thousands of UK homeowners, trawled through Google search data and studied over 100 Instagram posts to deliver the latest home improvement trends right into your hands. From beautiful interiors to innovative renovations, discover some of the best ways to upgrade your home in our new guide.
How to design the perfect home office according to Instagram
But, when it comes to our home office set-ups, it seems many are less than ideal, which could affect our productivity and motivation as well as our overall health and happiness.
Well over a third (38%) of UK residents are planning improvements to the design of their home office this year. So, to provide a unique piece of analytical inspiration, we studied more than 100 of the most stylish and most-liked home office designs on Instagram to discover the core components each of them shared – from the optimum number of houseplants, to the most motivational wall colours, and even the best art to have on the wall.
Recipe for success
To arrive at the perfect formula, we looked at seven key design elements in each image, including: wall colour, floor colour and material; style, features and colour of the desk; chair type, colour and material; the total number of houseplants, type of shelves, and key decorative features such as artwork.
And, the results are in! The formula for the most stylish home office is:
White walls + medium wood bare floorboards + a wooden, writing style desk with no drawers + a white, fabric fixed leg chair + two houseplants + fixed simple shelves + a framed print of the outdoors
The analysis shows the calming aesthetic of Scandi styling is increasingly popular for home office design, with neutral colours, a couple of houseplants and simple furniture shaping up to be key trends for 2021.
White walls
The overwhelming choice for an office wall colour is white – helping to maximise space, and providing a clear and professional backdrop of calm productivity.   
1. White 54%
2. Grey 11%
3. White + colour accent 9%
4. Green  7%
5. Blue 5%
6. Cream 5%
7. Pink  3%  
8. Black 2%  
9. Brick 2%
10. Wood 1%
11. Orange 1%
Medium wood bare floorboards
Wood flooring was the front runner for a work from home space, particularly medium and pale woods. When not simply bare, floorboards were usually paired with a rug.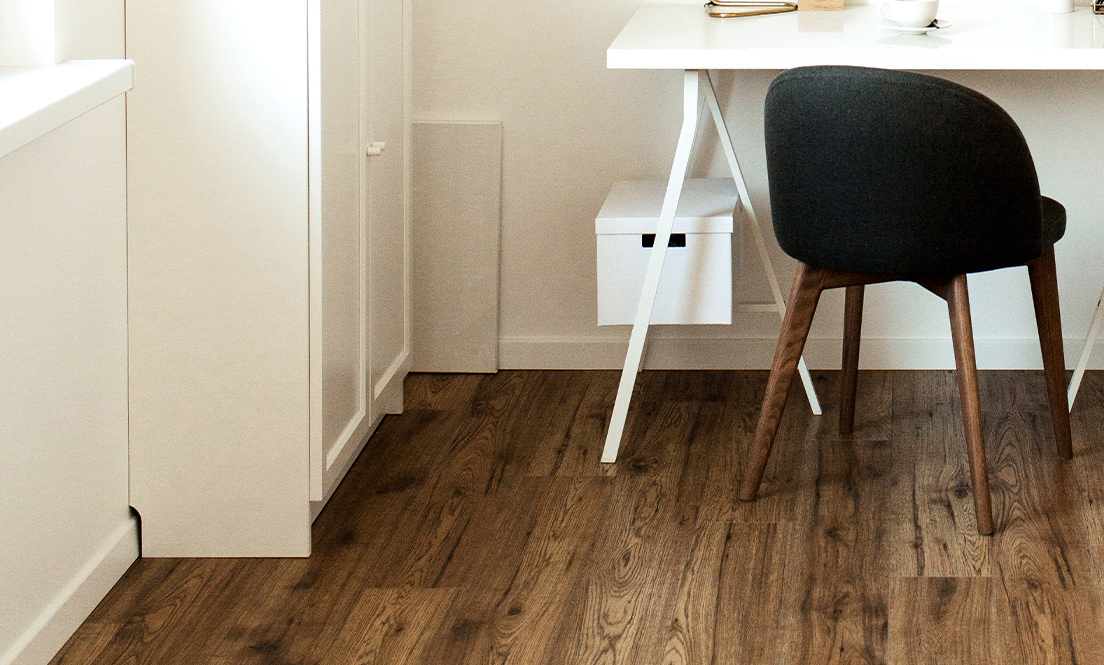 Top floor colours 
1. Medium wood 16% 
2. Grey 14% 
3. Pale wood 14% 
4. White 14% 
5. Dark wood 8% 
6. No floor pictured 8% 
7. Black + white 6% 
8. Brown 4% 
9. Cream 4% 
10. Multi-coloured 4% 
Top floor materials
1. Floorboards 43% 
2. Rug 25% 
3. Carpet 18% 
4. Tiles 9% 
5. Concrete 1% 
A wooden, writing style desk with no drawers
A simple writing desk was the most popular choice – typically with a modern minimalist design.  
1. Writing desk 47%
2. Computer desk 15% 
3. Built-in 13%
4. Floating shelf 10%
5. Table 6%
6. Stand-up 5%
7. Corner unit 3%  
8. Other 1%
White desks were popular but natural materials eventually won out with the most common desks featuring a wooden top, if not all completely wooden.  
1. Wood 44%
2. White 34%
3. Black 10%
4. Brown 6%
5. Grey 4%
6. Pink 2%
7. Clear glass 1%
From drawers on one side to floating shelves, there were a myriad of different design features for desks – mostly incorporating storage. Here are the top 5. 
1. No drawers 23%
2. Thin drawers underneath 11%
3. Drawers on one side 9% 
4. Statement design 6% 
5. Set of drawers underneath 3% 
 A white, fabric fixed leg chair
White executive swivel chairs appeared a lot – and with 39% of chairs having some kind of swivel/free movement design, it showed ergonomics play a big part in home offices. However, fixed chairs were seen even more frequently, particularly fabric ones.  
Top colours  
1. White 21%
2. Black 19%
3. Grey 15%
4. Brown 14%
5. Beige 7%
6. Blue 4%
7. Yellow 4%
8. Pink 3%  
9. Cream 2%
10. Green 2%  
Top materials 
1. Fabric 31% 
2. Leather 27% 
3. Plastic 20% 
4. Wood 9% 
5. No chair featured 6% 
6. Wicker 4% 
7. Metal 2% 
8. Rattan 1% 
Top styles 
1. Fixed 54% 
2. Swivel 27% 
3. Exec Swivel Office Chair 12% 
4. No chair featured 6% 
5. Armchair 2% 
6. Rocking Chair 1% 
Two houseplants
Some offices featured as many as 12! Whilst 28% didn't feature any, another 28% featured three or more house plants, but the average was 2 plants in an office space.
 Fixed simple shelves
Over a third of the Instagram home offices didn't have any shelving units, but those that did opted for simple fixed-to-wall flat shelves.  
1. Fixed to wall 35%
2. No shelves 35% 
3. Built-in cabinetry 20%  
4. Free-standing shelving unit 9%  
 A framed print of the outdoors
The use of artwork and photography was the most popular principal design feature – ranging from outdoor landscapes to block colour geometric prints. A mini trend was the use of pinboards, displaying post it notes, letters and photos.
Easy-to-fix issues that could devalue your home by up to £100k
Alongside classic home improvements like a kitchen refurb or an extension, our research showed the pandemic has led to cleanliness becoming more important than ever to buyers.
If you're looking to sell, a dirty home could now seriously spoil your chances of getting a good offer. 43% of potential buyers say they now wouldn't even arrange a viewing for a property if it looked unclean in the photos, and well over half (61%) say they'd place a lower offer if a property wasn't clean when they viewed it.
There's also a host of other easily fixable issues like scuffed paintwork and overgrown gardens that could lead to buyers reducing their offers. You could lose out on almost £10,000 just by having a messy and cluttered interior, and a dirty bathroom could mean potential buyers would look to pay around £9,000 less than if your bathroom looked sparkly clean.
The top 15 issues most likely to devalue your home in 2021 (and how much they'd knock off)
| | | |
| --- | --- | --- |
| 1 | Signs of damp / mould | £9,571 |
| 2 | Cracks in walls | £9,495 |
| 3 | Mess and clutter inside | £9,290 |
| 4 | Scuffed paintwork and marked walls | £9,254 |
| 5 | No double glazing | £9,144 |
| 6 | Peeling wallpaper | £9,023 |
| 7 | Dirty bathroom | £8,966 |
| 8 | Rubbish / debris in the front garden / in front of the house | £8,963 |
| 9 | Broken / missing fence panels in the garden / outside space | £8,957 |
| 10 | Bad smells inside | £8,947 |
| 11 | Dirty kitchen | £8,882 |
| 12 | Outdated decor | £8,851 |
| 13 | Dirty / stained furnishings, like carpet, curtains and sofas | £8,849 |
| 14 | Overgrown garden | £8,817 |
| 15 | Broken / damaged windows | £8,624 |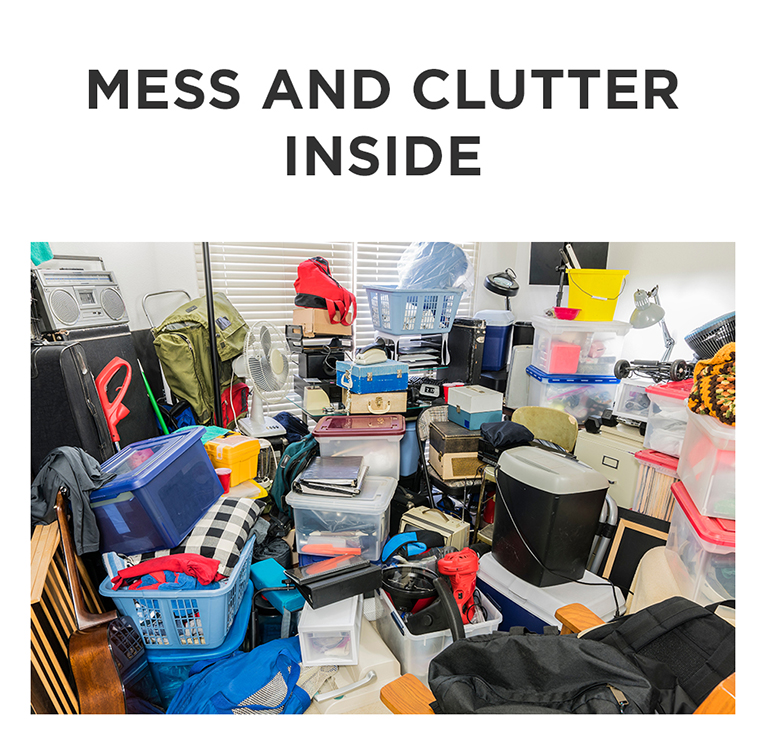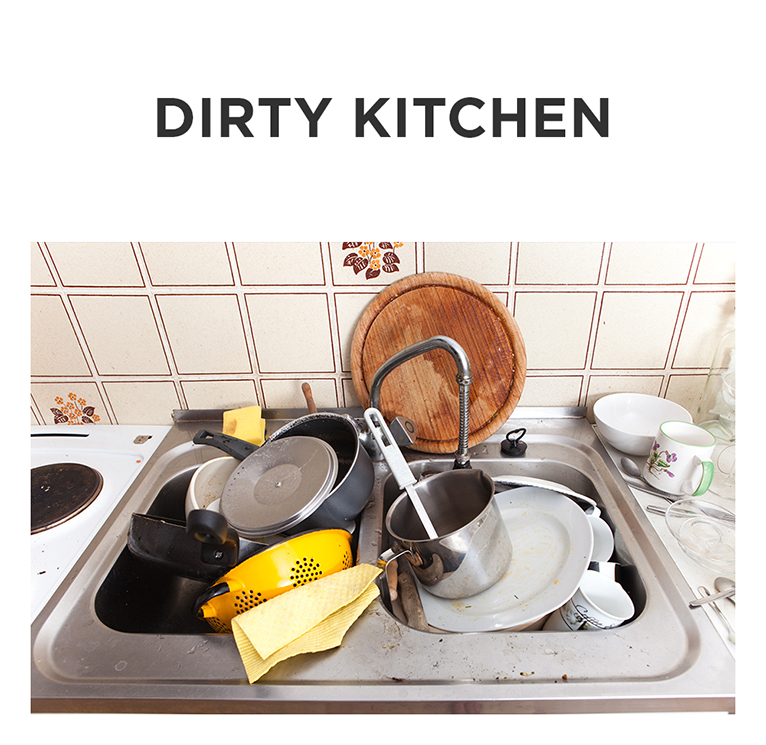 Whilst these issues could knock tens of thousands off your asking price, most of them can easily be fixed in less than 48 hours and without breaking the bank.
So, if you're looking to sell and you're wanting to get a higher offer for your property, here's how to fix all 15 of the issues most likely to devalue your home in 2021.
Signs of damp or mould
If it's a surface issue, then cleaning off the mould using warm water and bleach is a great way to remove the mould and subsequent staining that it can leave behind. Leave to dry overnight and then apply an anti-fungal treatment to prevent future mould growth.
Cracks in walls
For hairline cracks, use 'crack-free ceilings' paint to cover them and stop them coming back. For small unsightly cracks in plaster, often found around doorframes and staircases, use filler and then paint over. For anything bigger, it's best to seek professional advice.
Mess and clutter inside
Mess and clutter can be overwhelming, so we'd recommend you tackle it room by room, starting with the lounge and kitchen. If you're tight for time and have a photographer coming or a viewing happening shortly, focus on clearing surfaces and floorspace, making any beds and opening all the curtains or blinds to allow rooms to look bright, airy and inviting.
Scuffed paintwork and marked walls
A repaint can completely reinvigorate a tired interior, and if you opt for white, it's not only more affordable, but it'll make your home feel bigger, fresher and cleaner, which should entice more buyers and higher offers.
No double glazing
This is one of the few items on the list that doesn't have a quick fix, but could still increase your property value substantially and will keep your heating costs down until you sell. Seeking professional help is best for installing double glazing – find rated window fitters in your area.
Peeling wallpaper
There are two options for sorting this issue – you can either strip the whole wall and repaint it, or hang a different wallpaper for a complete refresh. Alternatively, if you have some of the original wallpaper left, just strip the peeling section, and rehang a new strip to repair the individual section.
Dirty bathroom
We all know that cleaning a bathroom is one of the least glamourous jobs in the house, but considering it can knock almost £9,000 off homebuyer offers, it's well worth doing! To go one step further than shiny taps and clear shower screens, you could also look to replace the silicone around the bath. It's fiddly but it will dramatically upgrade the look of your bathroom if the old one is coming away from the edges or is discoloured.
Rubbish or debris in the front garden
It's a cliché for a good reason – first impressions count. So, if there's rubbish or debris in your front garden, make sorting this a priority before putting your home on the market. Move unsightly bins to the back garden if possible and tidy the space so it looks well-kept and inviting. If you have large amounts of rubbish to clear, you may want to rent a large rubbish container or hire a local removals service to take care of the job for you.
Broken or missing fence panels
This is definitely one of the issues that can appear more labour intensive and costly than it is. Fence panels tend to come in standard sizes so it should be fairly easy to replace damaged or missing ones. A simple toolkit and a friendly helper is all you'll need.
Bad smells inside
Bad smells could be caused by a multitude of things, such as kitchen rubbish or clogged drains. Removing all waste, especially expired food, and cleaning out bins is a good start. Popping a box of baking soda in the fridge will help to absorb any nasty odours in there, and placing a cup of white vinegar in the dishwasher and putting it on a cycle will often do the trick. For washing machines, combining two cups of bleach and a hot water cycle should sort out any washing machine smells. If the odour is coming from your drains, you may need to bring in a drains expert to help locate and unclog them.
Dirty kitchen
Remove everything from the surfaces and wipe them down with anti-bacterial spray to disinfect your kitchen. Make sure you also wipe all cupboard fronts and the front of your fridge door so there are no unsightly splashes of last night's bolognese for buyers to see. Also wipe the oven door and hob, and clean the mesh under the extractor fan so there's no nasty grease on show. When it comes to viewings, remove as much as possible from your surfaces to give the feeling of space and cleanliness.
Outdated décor
A quick and affordable fix to freshen up outdated décor is to paint your walls white and ensure you have no more than 3 complementary colours in each room's colour scheme. Stick to muted colour pallets for a classier and more sophisticated look. Hanging mirrors opposite windows can also help to open up a room and bring in light, which is particularly helpful for when photos are taken. If your carpets look tired and old fashioned, cover them with a rug in each room. You can get some really decent ones for between £50-£100 and they can really make a difference. General rule of thumb is plain rugs for patterned carpets, and vice versa. Berber rugs are very on trend and would instantly update a space.
Dirty, stained furnishings
Luckily, you can find a lot of tried and tested information online about how to treat various stains with simple household items, such as white vinegar, baking soda and bleach. Simply search for your issues, e.g. 'red wine stain on sofa' and the internet should provide a cost-effective and pain-free solution. For anything more stubborn or if you're working with fragile materials, seek professional advice.
Overgrown garden
If you're keen to tackle this yourself, get some decent gardening gloves and some strong secateurs. To give an immediate effect of more space, focus on cutting back overgrown bushes and plants. Remove leaves and debris off patios and lawns, and get the hose out to give walls and patios a clean. To make the outdoor space more inviting, add a handful of potted plants around the perimeter and dress the patio with some outdoor furniture.
Broken or damaged windows
Broken or damaged windows are a real turn-off for most homebuyers, so although it's best to bring in the professionals for this issue, it's something that's well worth investing in. We'd recommend that you find a local window expert who can provide you with a quote to repair or replace your windows – you can arrange a quote through our site and agree on a fair price with a skilled and rated tradesperson.
Home improvements that add the most value post-pandemic
The pandemic has also changed what many buyers are looking for in their next home. Now, there's more emphasis on the need for outdoor space, home offices and home gyms, and our research shows self-contained annexes, summerhouses and open plan living space can add more than £30,000 on to the value of your home.
Understandably, after a year of lockdowns, home improvements that enable outdoor entertaining have massively shot up in popularity. An outdoor cooking area, garden bar, and garden room can now add almost £23,000 onto your asking price.
The top 20 value-adding home improvements in 2021
| | | |
| --- | --- | --- |
| 1 | Self-contained annex | £14,385 |
| 2 | Loft conversion | £12,951 |
| 3 | Kitchen extension to create a large kitchen diner | £11,514 |
| 4 | Newly renovated kitchen | £10,649 |
| 5 | Summerhouse / garden room | £9,188 |
| 6 | Newly renovated bathroom | £9,011 |
| 7 | Garden office (office room, built in the garden) | £9,008 |
| 8 | Walls knocked down to create one open plan living space | £8,999 |
| 9 | Landscaped garden | £8,547 |
| 10 | Walls built to create separate spaces for more flexible living | £8,123 |
| 11 | New driveway | £8,012 |
| 12 | Home gym | £8,004 |
| 13 | Home office (inside the home) | £7,630 |
| 14 | Bespoke storage | £7,409 |
| 15 | New wooden flooring | £7,255 |
| 16 | Outdoor cooking area – BBQ / pizza oven | £6,859 |
| 17 | Garden bar | £6,687 |
| 18 | Home bar (inside the home) | £6,575 |
| 19 | New carpet | £6,396 |
| 20 | Vegetable patch | £6,093 |
So, if you're thinking of ways to improve your home to maximise its value, choose some of the options above, and you may just increase the value of your home by more than £50,000.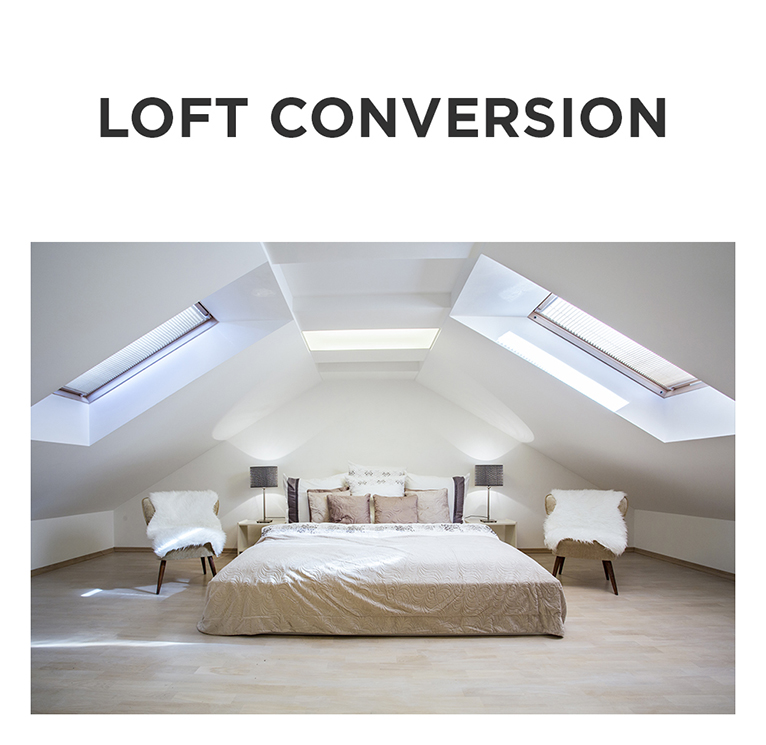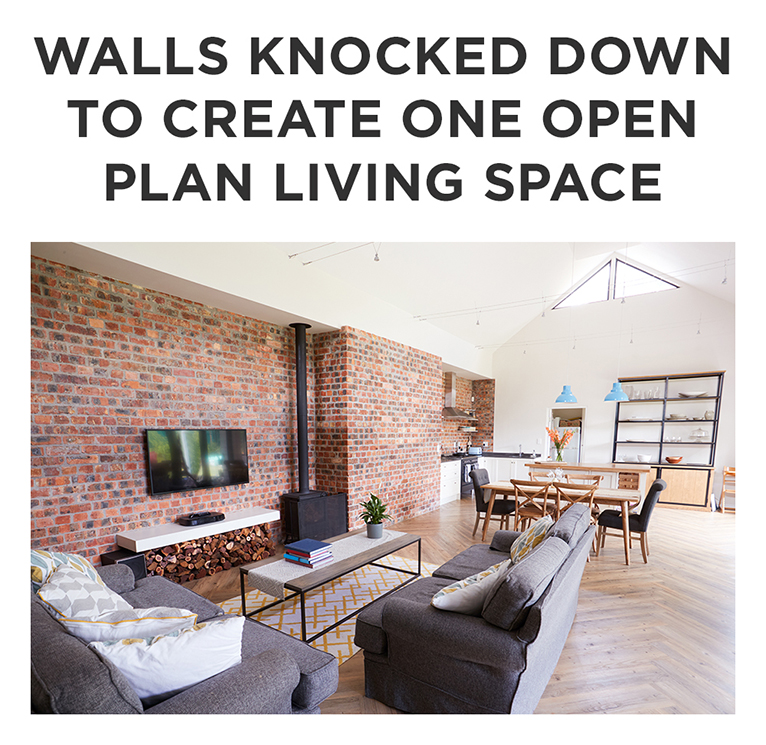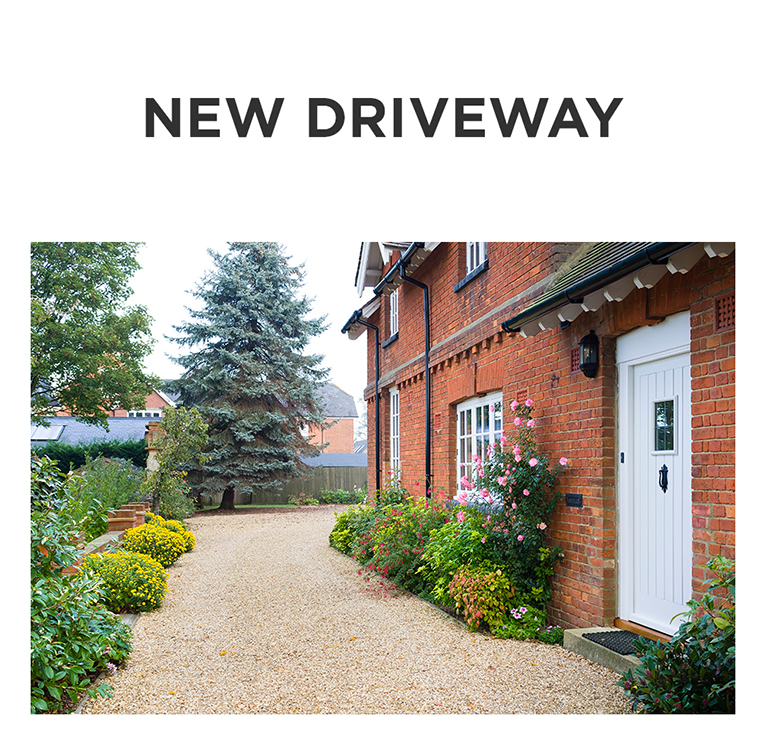 The garden improvements that add the most value to your home
The past year has seen the value of outdoor space increase as demand rises for properties that are better equipped for outdoor living and entertaining.
In fact, UK residents now value outdoor space so highly that 64% wouldn't even consider buying a home that didn't have an outdoor area.
So, if you're looking to sell and want to maximise the value of your outdoor space, or you'd like to transform your own garden to make the most of the great British summer, our trends research uncovered which garden improvements add the most value to your home in 2021.
The garden improvements that add the most value
Outdoor entertaining areas for socially distanced visits, a home office in the garden and garden gyms for home workouts are amongst the most desired post-pandemic outdoor improvements, adding a combined value of almost £15K to your property.
The top 20 most value-adding garden improvements in 2021 (and how much value they'd add):
| | | |
| --- | --- | --- |
| 1 | Swimming pool | £7,707 |
| 2 | Home office garden room | £5,325 |
| 3 | Summerhouse | £5,249 |
| 4 | Gym/studio room in the garden | £5,107 |
| 5 | Bifold doors/French windows to the garden | £4,654 |
| 6 | Outdoor entertaining area | £4,286 |
| 7 | Decked patio | £4,227 |
| 8 | Paved patio | £4,083 |
| 9 | Greenhouse | £3,805 |
| 10 | Mature plants/trees/flowers | £3,716 |
| 11 | Lawned garden | £3,694 |
| 12 | A new shed | £3,595 |
| 13 | Contemporary horizontal slatted fencing | £3,589 |
| 14 | Pond | £3,572 |
| 15 | Astro turf | £3,529 |
| 16 | Kid's treehouse | £3,519 |
| 17 | Water feature | £3,468 |
| 18 | External lighting | £3,419 |
| 19 | Built-in pizza oven | £3,339 |
| 20 | Built-in outdoor BBQ | £3,320 |
Whilst these improvements may take some time and financial investment, people now value outdoor space more than ever before. 44% of Brits said they wouldn't have been able to see their family and friends in the past year if it weren't for their gardens.
In addition, 57% said that having an outdoor space helped them cope through the pandemic, showing the mental health benefits of outdoor space.
The Biggest Garden trends in 2021
By looking at demand for a range of gardening jobs on Rated People, we discovered which garden improvements were increasing in popularity and which are looking like they'll be key trends for 2021.
Swimming pool maintenance requests rose by a staggering 223% in 2020, suggesting that anyone who's lucky enough to have a pool in their back garden was keen to use it in place of a holiday abroad.
Demand for local gardeners and tradespeople to build a garden gym increased by 218%. And when it comes to socialising at home, interest in BBQs increased by 111%, fire pits went up by 92% and wooden decking rose by 77%.
The top 10 garden-related jobs rising in popularity most in 2021 (according to demand for tradespeople on our site)
1. Swimming pool maintenance + 223% (YoY 2019 vs 2020)
2. Garden gym +218%
3. Wooden/metal/wire fencing +143%
4. BBQ +111%
5. Fire pit +92%
6. Sprinkler system +82%
7. Wooden decking +77%
8. Log cabins +74%
9. Summerhouse +73%
10. Playhouse/garden shed +71%
The UK's most 'future-forward' cities
The past year has seen more and more people doing their bit to go green and help prevent climate change, both in their lifestyle choices and decisions about their homes.
We wanted to discover which places in the UK are leading the charge on eco-friendly living; looking at which cities lead the most sustainable lifestyles and have the most energy-efficient, eco-friendly homes.
How homeowners made their homes more eco-friendly in the run up to 2021
Energy-saving home improvements rose significantly in 2020. UK homeowners made a conscious effort to help tackle climate change by reducing their carbon footprint, while also shaving thousands of pounds off their energy bills.
UPVC windows and doors were the most popular eco upgrade, followed by double glazing and living roofs.
Top 10 eco jobs posted to Rated People (ranked by % of total number of eco jobs)
1. UPVC windows and doors – 40%
2. Double glazing – 20%
3. Living roof – 8%
4. Electric underfloor heating – 7%
5. External wall insulation – 4%
6. Thermal insulation – 3%
7. Water underfloor heating – 3%
8. Roof insulation – 2%
9. Cavity wall insulation – 2%
10. Electric car charging point installation – 1%
Future-forward
As part of our research, we also wanted to find out which cities had the most eco-home upgrades and where in the country people lead the most eco-friendly lifestyles.
We scored UK cities against a set of 34 'eco criteria' to do with how eco-friendly homes and lifestyles are around the country – ranging from how many people eat less meat these days, to how many homes have double glazing and extra insulation installed.
The findings show that Edinburgh takes the top spot overall for the UK's most 'future-forward' city, followed by Plymouth and Norwich.
We used a point system to rank cities, based on the percentage of homes that have eco-friendly qualities such as double glazing and solar panels, alongside 'good for the planet' lifestyle factors like recycling, lower meat consumption, and cycling to and from work rather than driving.
UK cities with the most eco-friendly homes
To determine which UK cities have the most energy-efficient homes, we analysed 20 eco-friendly household factors, such as having a smart meter, double glazing and solar panels.
The eco study revealed that Norwich is home to the most eco-friendly properties, followed by Cardiff, Glasgow and Liverpool.
Top cities for each eco home measurement
We also looked at which cities ranked best for our 20 eco-household measurements. The map below shows the top location for each eco upgrade, based on the percentage of locals who had them in their homes.
Energy-efficient double glazing is more common In Glasgow than the rest of the UK, with 72% of homes enjoying the eco upgrade. 38% of Cardiff homes have extra insulation, more than any other city in the UK, whilst Edinburgh is top for smart meters, where 35% of homes have one. Sheffield takes the lead in energy efficient appliances, with 21% upgrading to more efficient models in the past five years.
UK cities with the most sustainable lifestyles
The research also reveals the cities whose residents lead the most sustainable lifestyles, based on 14 eco-measurements such as lower plastic usage, donating used clothes and using eco-friendly household products.
Plymouth was found to be the city with the most sustainable residents, followed by Edinburgh, Southampton, Norwich and Nottingham.
Top cities for each eco lifestyle measurement
We looked at which cities ranked best for each of our 14 eco-lifestyle measurements, from donating clothes to charity, to making their own compost. These are the top locations for each of the 14 eco lifestyle behaviours, based on the percentage of locals exhibiting each.
The environmental benefits of a diet containing less meat has not been lost on Edinburgh's residents, with almost half (46%) saying they eat less meat than they did before.
Meanwhile, 72% of Plymouth residents have reduced their plastic usage, more than any other city in the UK. 52% of Brightonians buy second hand, leading the way for sustainable shopping, whilst those in Bristol are most likely to be part of a tree-planting initiative (22%).
To see all the different eco criteria and how each city compares, see our research here.
---
What are your home improvement goals for 2021? Whether you're planning a big renovation or smaller upgrades, share your ideas with us on our social media:
---
The Rated People Home Improvement Trends Report: 2021
We've analysed over 500,000 jobs posted on Rated People, spoken to thousands of UK homeowners, trawled through Google search data and studied over 100 Instagram posts to deliver the latest home improvement trends right into your hands. From beautiful interiors to innovative renovations, discover some of the best ways to upgrade your home in our new guide.