Great electricians will always be in demand. Whether it's for everyday jobs such as appliance repairs or unique work such as electric car charging point installation, homeowners are always on the lookout for a qualified and reliable electrician.
Maximise your earnings and boost your reputation with our advice on how to become a number 1 electrician, below.
Offer niche services
Set yourself apart from the competition by including new technologies and specialist work in the services you offer. Often, this will help you win work that pays more! Some examples include:
Smart homes: Many homeowners are integrating new technology into their homes, such as smart lighting systems.
Green homes: In The Rated People Home Improvement Trends Report: 2021, we found that 17% of UK homeowners want to get an electric car by 2025. So, demand for electricians that can install home electric car charging points is set to increase.
Keep learning
Qualifications let potential customers know that a trusted industry body has deemed you skilled enough to do your job. This helps establish you as a trustworthy trades business. Once you've secured your initial qualification to get started as an electrician, the learning doesn't stop there. Keep your knowledge topped up on things such as changes to electrical safety standards – a new set of electrical requirements for landlords came into place in April 2021, according to Construction Global, for example.
We've teamed up with Access Training to offer our tradespeople on an annual plan a 20% discount on trades training courses. This includes over 10 electrical courses – find out more on Rated People Member Benefits Premium.
Stay up to date with best practice within the industry
Networking with other electricians and industry stakeholders will help your career progress. When you build long-term relationships with others, you'll:
Boost awareness of your company, which could open up opportunities to get involved in others' projects.
Build up a contact list of people to bounce ideas off.
Learn about the latest industry news. From home automation to eco homes, there's always something new going on.
Get invited to both professional and social events.
The Electrical Contractors' Association (ECA) is the UK's leading trade association for electricians. In 2020, the ECA held 100 virtual meetings and solved 3,400 member queries.
Keep on top of homeowner trends
By being in-the-know about what electrical work homeowners are interested in, you can predict demand, adjust your supplies and train up in new services so you're ready to take on as much work as you need. Set up keyword alerts in Google to get a notification when keywords you're interested in are mentioned in the media. You could set up alerts for keywords like 'electricians', for example.
At Rated People, we spoke to thousands of UK homeowners to find out how they're planning to improve their homes in 2021. We found that there's set to be demand for electricians to complete work aside from the typical domestic lighting and wiring, such as electric underfloor heating. Find out more about the most in-demand home improvements of 2021.
Operate efficiently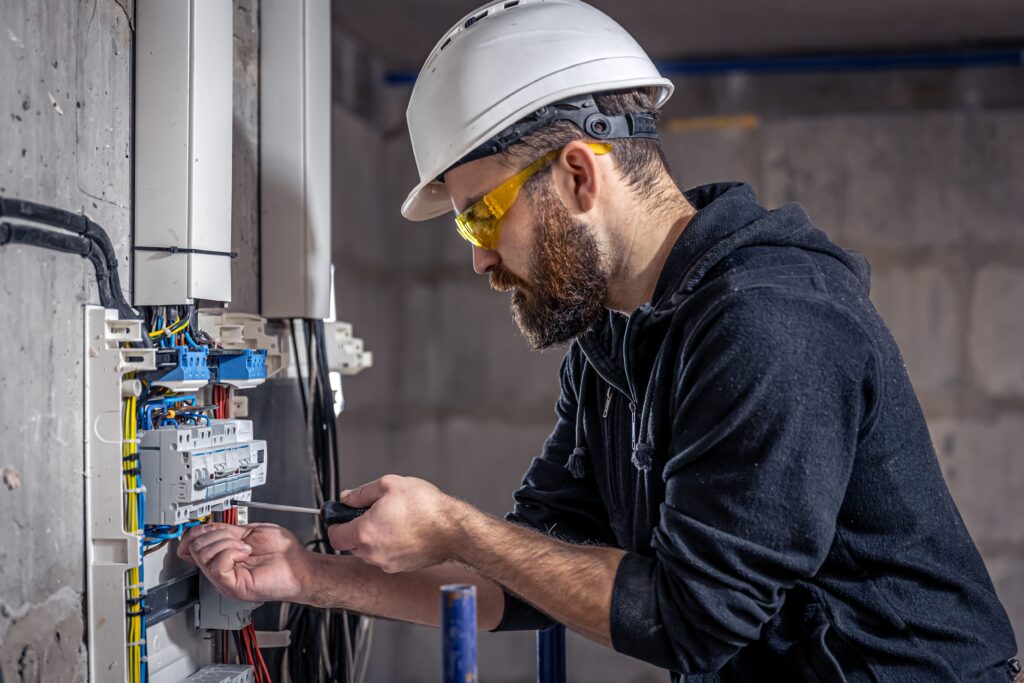 Electricians earn the most out of all trades on average (according to the 2020 UK Trades Salary Survey) but it's still important that you pay close attention to your expenses so you can make sure you're charging enough to cover the cost of materials, insurance and your salary, to name a few.
Create a simple spreadsheet that lays out how much money is coming in and out of your business. Then, you can use this info to adjust your rates as needed. Plus, your spreadsheet will show you areas where you can save money using our 8 money saving tips for tradespeople.
Be transparent with your customers
Clear and honest communication is essential for helping a job run smoothly. So, be honest when it comes to discussing the cost and timeframe of work, so the homeowner knows what to expect. If these things have to change down the line, it's more likely that the homeowner will be accepting of any increases because you've established honesty from the start.
It's also important to communicate clearly and in a timely manner – for more advice on this, check out our tips on how to provide great customer service.