Whether you're about to leave school or you're a seasoned worker looking to change careers, an apprenticeship is a great opportunity to earn money, a qualification and hands-on experience at the same time. So, if you're curious about whether an apprenticeship's right for you, check out the answers to 15 frequently asked questions below. Also, we've shared the best ways to find apprenticeship opportunities near you.
If you're an employer looking to take on an apprentice, check out Rated People's guide to apprenticeships for employers.
---
FAQs
---
What is an apprenticeship?
An apprenticeship is a one to five-year programme (depending on the apprenticeship level) where you'll have a contract of employment. In addition, you'll follow an approved study programme. So, your time will be split between doing a real job and studying for a formal qualification (at least one day per week) at either a college or training centre. Some apprenticeships offer additional qualifications too, such as a diploma.
---
Who can do an apprenticeship?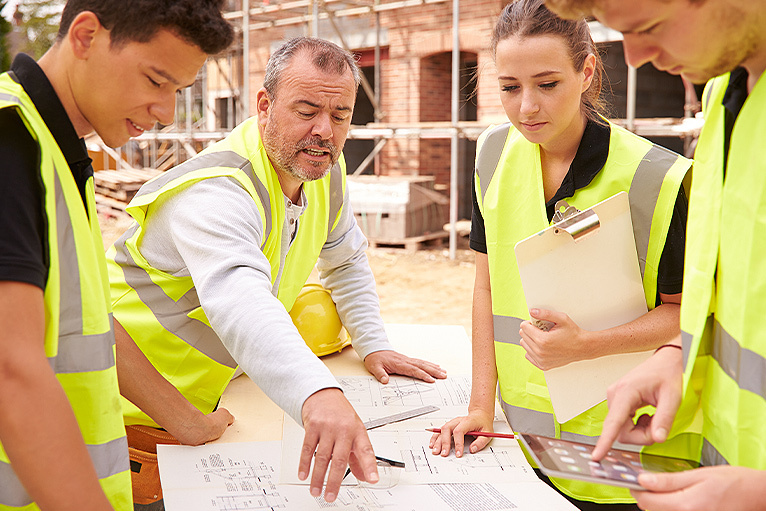 Anyone – there's no maximum age limit! You just need to be aged 16 or over, and not in full time education. If you're about to leave school, then you can still apply for an apprenticeship to start in the next academic year. Just make sure that you're aged 16 or over by the end of the summer holiday before the apprenticeship starts.
---
What are the benefits of an apprenticeship?
1. You'll earn money whilst you learn
You'll be paid for your normal working hours, as well as the time you spend at college as part of your apprenticeship.
The amount you'll get paid depends on your age and which year of your apprenticeship you're in. You can find the pay rates in the 'How much will I get paid on my apprenticeship?' section of this article.
2. You'll get a nationally recognised qualification
There are four levels of apprenticeships. All of them offer a nationally recognised qualification – some are even accepted internationally!
Intermediate apprenticeship (Level 2) – the qualification you'll get is equivalent to five GCSE passes at grades 9-4 or A*-C.
Advanced apprenticeship (Level 3) – the qualification you'll get is equivalent to two A-Level passes, a Level 3 diploma or the International Baccalaureate.
Higher apprenticeship (Levels 4-7) – the qualification you'll get is equivalent to the first stages of higher education, e.g. a foundation degree.
Degree apprenticeship (Levels 6 and 7) – the qualification you'll get is equivalent to a bachelor's or master's degree.
3. You'll get hands-on experience and practical skills
Around 80% of your apprenticeship will be spent at work. This is where you'll work alongside more experienced staff, including a senior employee who will coach you.
An apprenticeship is a great opportunity to pick up job-specific skills, because you'll get hands-on experience with tools, programmes and/or software that's used in the industry that you're in.
4. You could get national or international recognition and help others
There are plenty of apprenticeship competitions available, where you'll go up against other apprentices in your chosen industry. Examples include the National Apprenticeship Awards as well as sector specific awards, like the Screwfix Trade Apprentice competition.
There are awards dedicated to apprentices from under represented backgrounds too. One example is the Women in Construction Awards – check out previous winner Amy Eddleston's story.
You can also become an apprenticeship ambassador for your industry. In this way, you'll share your story and inspire other people and employers to consider apprenticeships! Get involved in the Young Apprentice Ambassador Network, as well your local ambassador network.
5. You'll have the same rights as normal employees
As an apprentice, you should have an employment contract which entitles you to the following rights:
Break(s) during the working day – at least one 20-minute break if you work more than six hours daily. It's usually unpaid and can be split up if needed.
Breaks during the working week – you're entitled to at least 11 hours of uninterrupted rest between finishing work and starting work the following day. You're are also entitled to a 24-hour period of rest in a seven-day period.
Statutory Sick Pay (SSP) – £95.85 per week (correct at the time of writing) if you're too ill to work.
Statutory maternity, paternity, adoption and shared parental pay and leave.
A minimum notice period, that your employer must give to you if your employment ends.
Protection against unfair dismissal.
The right to request flexible working.
A reasonable amount of time off to deal with any emergencies involving your dependants (partner, child, parent etc).
Statutory Redundancy Pay – apprentices can be made redundant. But, you'll get redundancy pay and support from your training provider or the National Apprenticeship Service to help you find another apprenticeship.
Apprentices can also claim benefits, such as Universal Credit, if they need to.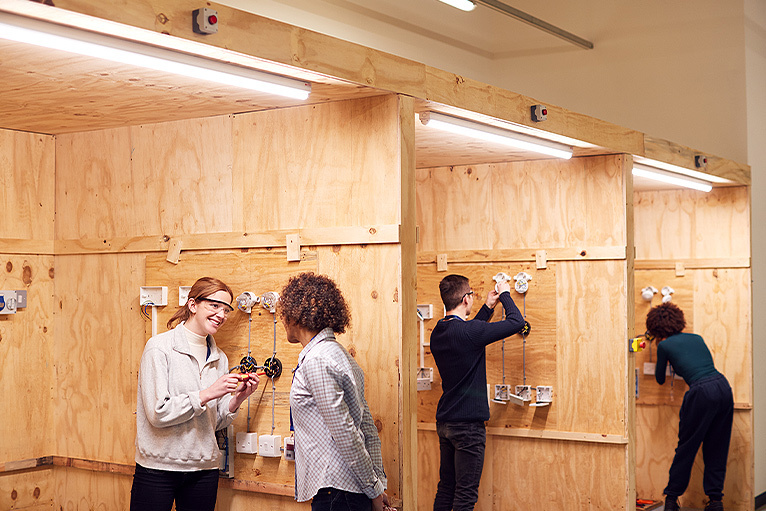 ---
Are there any entry requirements for apprenticeships?
Yes – and they vary depending on the apprenticeship's level. You must check the job description for the specific apprenticeship that you're applying for, as there might be particular qualifications and/or skills required.
| | | |
| --- | --- | --- |
| Apprenticeship level | Entry requirements | Approx. completion time |
| Intermediate (Level 2) | You'll need to show that you're able to complete the programme. | One year to 18 months |
| Advanced (Level 3) | Some industries ask for three or more GCSEs, but others don't. | 15 to 24 months |
| Higher (Levels 4-7) | At least five GCSEs at grades A-C plus Level 3 qualifications, such as A Levels or BTECs. | Three to five years |
| Degree (Levels 6 and 7) | Five GCSEs at grades A-C plus Level 3 qualifications, such as A Levels or BTECs. Some degree apprenticeships ask for specific grades, and for the applicant to have qualifications in subjects that are related to the apprenticeship. | Three to six years |
---
What can I do if I'm not eligible to do an apprenticeship, or I want to try out a job role or industry before committing to an apprenticeship in it?
If you don't meet the entry requirements for an apprenticeship, or you simply want to discover what the industry's like, then you can do a traineeship. It's an unpaid course with work experience that gets you ready for an apprenticeship or the workplace. You might get your travel and meals paid for during the course.
You can apply for a traineeship if:
You're eligible to work in England.
Unemployed, with little or no work experience.
Aged between 16 to 24 with qualifications that are lower than Level 3.
If you're aged 16 to 17 and are based in Wales, or in S5 or S6 and live in Scotland, then there are programmes available to give you a taste of your chosen industry and provide a foundation for a future apprenticeship.
---
How much will I get paid during my apprenticeship?
You're entitled to the apprentice rate throughout your apprenticeship. The rates are (correct at the time of writing):
16 to 18-year olds:
19+ year olds in the first year of their apprenticeship:
19+ year olds that have completed the first year of their apprenticeship:
National Minimum Wage for your age, which you can find on Gov.uk.
However, many apprentices get paid more than the apprentice rate. Phil, a heating and plumbing apprentice with Rated People member Dyno, got paid £12 per hour from his first day. Find out more about Phil's experience on our YouTube channel.
Apprentices earn more than university graduates in many sectors, too. We looked at data from TotalJobs and found that construction apprentices have a 21% higher starting salary compared to graduates. Visit our Trade Advice Centre to check out the rest of our research on career paths: apprenticeships vs. university.
---
How many hours will I work on my apprenticeship? Can I work overtime?
Apprentices work for a minimum of 30 hours per week, plus one day spent studying at college. You can work overtime, however, if you're under 18, then you can't work more than 8 hours per day (40 hours weekly). If you're over 18, then you can't work over 48 hours per week. There are some exceptions though, such as for jobs that require 24-hour staffing.
Apprenticeships can also be made part-time if your employer agrees. You'll need to work at least 16 hours a week minimum.
---
What trades apprenticeships are available?
From bricklaying to building surveying, there are hundreds of apprenticeships available in traditional hands-on roles, as well as technical, planning and supervisory roles.
Some examples include:
Traditional trades


Plumbing.
Plastering.
Roofing.
Welding.
Carpentry and joinery.
Painting and decorating.
Road and highways maintenance.
Security system installation.
Heating and ventilation installation.
Scaffolding.

Engineering


Electrical engineering.
Civil engineering.
Gas/heating engineering.
Railway engineering.
Mechanical engineer.

Property management, planning and project management


Facilities assistant/management.
Town planning, including technical support.
Site management.
Transport planning.
Quantity surveying.
Land buyer.
Construction management.

Support services within the construction industry


Accountancy.
Human Resources (HR).
Marketing/communications. Commercial/office/administration.
Customer service.
You can find a full A-Z of apprenticeships on the National Apprenticeship Service website.
---
Are there any government initiatives for apprenticeships available?
To encourage employers to take on apprentices, the government has invested £1.6 billion into providing funding and support for employers as part of its new Plan for Jobs 2020. Plus, the government extended and boosted some of these initiatives in the Budget on the 3rd March 2021.
The available opportunities include:
Apprenticeships
All employers get a £1,000 cash grant for hiring an apprentice that 16-18 years old. Or, the apprentice can be under 25 if they have an Education, Health and Care plan.
To support apprenticeships during the pandemic, the government is giving employers an additional £3,000 for each new apprentice they take on in England between 1st April 2021 and 30th September 2021. Employers can find out more in Rated People's guide to apprenticeships for employers.
Work placements
The new Kickstart scheme offers 6-month, paid work placements to 16-24-year-olds that are on Universal Credit and are at risk of long-term unemployment during the coronavirus pandemic. The government covers the total cost of the traineeship, including wages and overheads, so there's no cost to employers providing work placements through the scheme.
Traineeships
A traineeship is a skills development programme lasting between 6 weeks and 1 year, for people aged between 16 and 24 years old, or 25 years old if they have an Education, Health and Care Plan. The government is investing £11 million to triple the scale of traineeships during the coronavirus pandemic. Employers get a £1,000 cash incentive for each trainee they take on before July 2022. Find out how to get started with traineeships on Gov.uk.
Work coaching and advice
There will be 27,000 work coaches available, as well as a £32 million investment into the National Careers Service which will benefit over 250,000 young people.
Sector-based work academy placements
Triple the amount of sector-based work academy placements will be available in 2020 and 2021.
Employers who want to find out more about the coronavirus employer incentives available to them during the coronavirus pandemic can find more information in Rated People's guide to apprenticeships for employers.
The government is also investing £8.8 billion into new construction projects in both homes and public spaces across Britain. So, there are plenty of job opportunities for you to continue your construction career in once you've completed your apprenticeship.
---
Can I do an apprenticeship during the coronavirus (or COVID-19) pandemic?
Yes, lots of employers are still offering apprenticeships. This includes those in the construction industry, which is an essential sector in the UK. The industry is taking special steps to prevent the spread of coronavirus on site – find out how in our stories during lockdown from our tradespeople video below.
Of course, you must follow the government's advice on protecting yourself and others from coronavirus. Also, you need to follow any regional lockdown instructions from your local authority. Visit our Trade Advice Centre for more tips on how to keep safe from coronavirus whilst working.
---
What does an apprentice's day look like?
There's no 'typical day' for an apprentice – each day varies! However, you can expect to spend half of your week at work and one day at college, minimum. You'll also get either:
Day release – at least one day of study per week, or
Block release – a full week of study, alternating with weeks of work.
We spoke to some apprentices to find out what being an apprentice is like. Check them out below, in addition to some real-life apprentice stories on other websites:
---
How will I be assessed during my apprenticeship?
All apprentices take at least two assessments at the end of their training. This is to confirm that they can perform well in the occupation that they've been training in.
The assessments could be an observation of you whilst you're in the workplace. Or, a practical test, a written exam or interview.
---
What's the apprenticeship application process?
1. Create your CV and cover letter
Your CV is a written summary of no more than two pages. It lists your skills, education, experience and achievements. Follow the National Careers Service advice on how to write a stand out CV.
2. Submit your application
Visit one of the websites listed in the 'How can I find an apprenticeship near me?' section earlier in this article to do this.
3. Wait!
Make sure to make a note of the closing date for applications for the apprenticeship that you've applied for. This will give you an idea of when you should hear back from them!
Apprenticeships.gov recommends applying for more than one apprenticeship at a time, to increase your chances of securing one.
4. Interview
Whether it's face-to-face, over the phone or on Skype/Zoom – it's a good idea to prepare for your interview beforehand. Check out these tips on how to get ready.
---
What can I do after my apprenticeship?
Set up your own business
Lots of qualified tradespeople become self-employed after their apprenticeship – our less experienced tradespeople find about 60% of their job leads on Rated People. Plus, we regularly share lots of tips and tricks on our Trade Advice Centre to help small business owners succeed, such as 5 learnings for one-person businesses.
Secure a permanent position
65% of apprentices stay with the same employer, according to government research. Once your apprenticeship's over, it's likely that you'll be promoted to a role at a higher level.
Find a new job in a different company or switch job roles
Did you know that 85% of apprentices stay in employment after their apprenticeship? Once your apprenticeship's over, you'll have the freedom to move to a similar or related role at another company.
Complete another apprenticeship at a higher level
You can do more than one apprenticeship! For example, if you complete a Higher apprenticeship, then you'll be able to apply for a Degree apprenticeship.
Go to university
If you complete an Advanced (Level 3) apprenticeship, then you'll be qualified to apply for a foundation or undergraduate degree at university. Plus, an apprenticeship doesn't affect your eligibility for student finance. You can search for university courses on the UCAS website.
---
How can I find an apprenticeship near me?
There are apprenticeships available in big and small companies alike. If you're interested in working for a specific company, then visit their website to see their current apprenticeship vacancies.
If you don't have a specific company in mind, you can search for apprenticeships by keyword, distance from you and qualification level on the relevant government websites:
Plus, the Construction Industry Training Board (CITB) offers over 100 construction apprenticeships at Intermediate, Advanced and Higher levels across the UK. Visit the CITB website to find apprenticeship opportunities.
You can also search for more apprenticeships based on the sector you're interested in and your location on apprenticeships.gov.
---
If you're an employer and you're interested finding out how to hire an apprentice in construction, visit our Trade Advice Centre.
Still got questions about apprenticeships? Or are you simply in the process of applying for one? Comment below and let us know!