Having your van broken into or stolen can be a nightmare. Not only does it give you the stress of dealing with insurers and police, but it can also mean days – or even weeks – of lost work. Dan Powell of Honest John Vans explains how you can avoid becoming a victim.
Although van crime may be a fraction of what it once was, theft from and of vans remains a problem for thousands of tradespeople. Thieves are also getting smarter and more selective. So in this era of high-tech criminals, what can you do to keep the baddies away? Well these are your options…
1. Make sure your van's locked
Yes, we know it's obvious, but you'd be amazed at how many people forget to lock their van when unloading/loading or popping into the builders' merchant. However, it's all too easily done. You're in a rush, you've got handfuls of tool bags and it's raining. So you jump out of your van, go inside and forget that you've left it – with your phone, sat nav, wallet and iPod inside – completely unlocked. If you have a van with automatic folding mirrors it's a great visual way of checking whether it's locked or not, but nothing beats the reassurance of going out and double checking that you've locked it.
2. Don't leave valuables on display
Despite all of the notices in car parks, lots of builders will leave valuables on display. Tool bags, sat navs, wallets – they're all adverts for thieves that there's something worth stealing inside your van. Even if you have a bag with nothing in it – the temptation is still there for a thief – so hide it away. The criminal may get away with nothing, but you'll still have a broken window and all the cost and inconvenience of replacing it.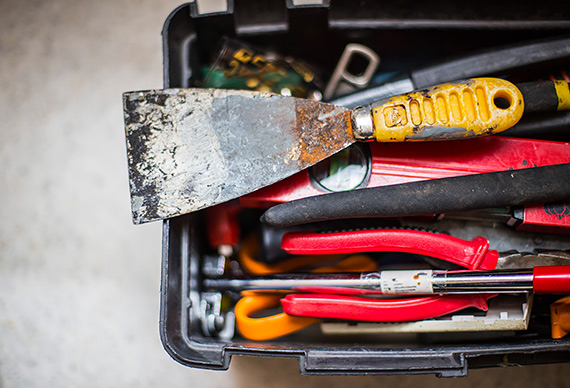 3. Invest in additional security
Back in the 1990s you wouldn't dream of leaving your van parked up without a steering or transmission lock – but these old, mechanical security devices have more or less died out. Having said that, they still have their place as a low-tech solution to high-tech thieves. Steering, handbrake and transmission locks still exist and they provide an extra obstacle for thieves to overcome. A Thatcham approved lock will help reduce your insurance premium too.
It's always best to take expensive tools and equipment out of a van where possible, but when out and about on a job that's not always an option. A secure storage system can really help deter thieves and give some peace-of-mind. Invest in a lockable secure tool chest and/or a lockable roof tube for safely transporting copper pipes.
There are various designs of van storage boxes on the market, starting from £100, including drawer systems, chests and even one designed specifically to keep tools safe in the back of a tipper or pick-up, which includes weather protection. There are also two sizes of lockable roof tube. Both are the same length at 3152mm, but with differing width and height to increase capacity.
Access 75,000 leads a month, build your reputation online and get over 200 discounts a year.
Enquire now
4. Protect your van's cat
The catalytic converter is an emissions control system located in the exhaust of your van. It contains various precious metals, including platinum and palladium. In recent years this has led to an increase in catalytic converter thefts, as criminals attempt to cash in by selling them for scrap. Thankfully you can buy a clamp that makes removing the 'cat' very difficult.
It completely covers the catalytic converter and is attached by aircraft-grade steel cabling to the chassis of the vehicle, making removal very tricky indeed. It's not particularly cheap to buy and fit (typically £175), but for tradespeople who have two or three vans, or for those who have fallen victim to the crime in the past, it's a worthwhile buy.
5. Don't leave your van keys by the front door
We've all heard the stories of people using coat hanger wire to fish van keys through a letterbox from a hallway table, yet most of us think it will never happen to us. Thieves will always go for the easiest route – and that involves having the keys. After all there's no need to force doors or break windows when they can simply get in and drive away. So don't leave your van keys on display at home or on site.
6. Make sure it has an alarm and immobiliser
There's an assumption that all modern vans have an alarm and engine immobiliser as standard but that's not the case. Cheaper and older vans will come with neither so it's worth investing in a decent alarm. A basic system will cost from £30 and will prevent the engine from running unless the correct key has been inserted into the ignition. This prevents the van from being stolen.
7. Trackers
A tracker might not keep a criminal from stealing your van, but it'll give you a much better chance of getting it and your tools back. There are various types of tracker for all kinds of budgets, ranging from basic GPS systems from eBay that can be fitted to the body of the van via a magnetic attachment to much more expensive bits of kit that will lower your insurance premium guide the police to your stolen vehicle.
A proper, professionally fitted tracker will be hidden away and wired into the van. If it's stolen then the owner contacts the tracker company and the police. At this point the tracker is activated and its signal can be traced by police, giving a much better chance of catching the criminal and retrieving the van.
8. Insurance
Last but not least is insurance. It's definitely worth spending money on some additional van security equipment, but making sure your van and all of its contents are properly insured will make life that much easier if your van is targeted. Always aim to get fully comprehensive cover and read the small print as not all fully comp policies are alike. Likewise, if you use your van to deliver expensive material then the load will not be not covered under a motor policy and you'll need additional Goods In Transit cover as well.
It's easy to forget about all the tools and equipment in a van when shopping for insurance, but making an effort to ensure everything is properly valued and covered is essential. Don't just go for the cheapest third-party cover – sometimes paying a little more will save you a lot of hassle should the worst happen.