For those of us who don't want to move but need more space, extending is often the answer. However, if you don't have room around your house or any potential to convert a loft, going down may be the solution. A basement conversion can be fitting out an existing cellar, enlarging it enough to be habitable or starting from scratch. However, there are several questions you need to ask yourself before starting your project.
Does it need planning permission?
While the current rules for basements are under review (see Planning Portal for more details), generally, converting an existing space won't require planning permission while digging a new one will. As habitable space, both will be subject to building regulations in relation to insulation, structural support and minimum height. You may also need permission from your neighbours, unless you live in a detached house – this is known as a party wall agreement and could also involve employing a party wall surveyor. This is because a basement conversion involves a shared wall and could potentially damage their house. It's a specialist job so you'll need to hire experts, such as an experienced architect, structural engineer and builder – or a conversion company.
This basement conversion has been used for a kitchen-diner that opens up onto the garden.
Image source: Matteo Bianchi Studio
Read more: how to get more space without knocking down walls
Will it be cost-effective?
This depends on whether you're converting an existing space or digging a new one (which can double the cost) and how much you need the extra room. If there are few other options or you live in an area where the property prices are typically high (making the new space more valuable), then the investment can be cost-effective. Simply digging and underpinning a new basement can cost up to £3,000 per square metre, and can be made more difficult by ground conditions, so it's good to know what's underneath your house before you start. If you're unsure, ask for a geology survey. You could also ask neighbours to find out if anyone has had a conversion locally or speak to local trades, to find out what issues they faced.
A basement makes a great location for a luxurious spa-style bathroom.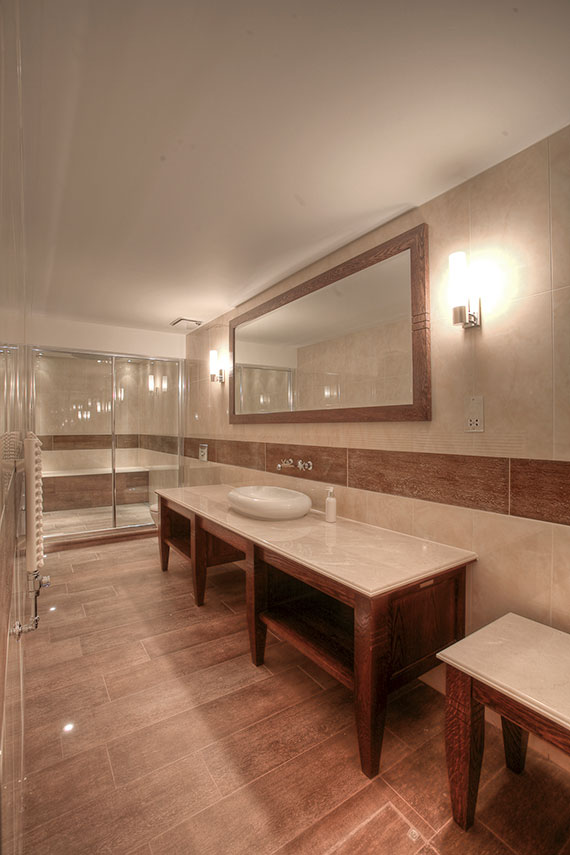 Image source: Design Republic
How can you keep the space dry?
Time was when basements were cemented in place without waterproofing, ending up becoming damp. However, a properly excavated, underpinned and tanked space should minimise this problem, and, along with heating and ventilation, prevent condensation forming. There are several techniques to make a basement watertight and which one you use will often depend on the water table level. If you live in an area with a high water table for example, your basement may be prone to flooding and require more than one form of waterproofing for an effective solution.
Most conversions use a cavity membrane system that allows the moisture to run behind it into a sump below the floor, which is then pumped away. It can also be tanked, like a wet room, or have external waterproofing. A quality damp proofing specialist will be able to make sure your conversion's watertight.
A basement is simple to turn into the ideal room for a wine collection.
Image source: Spiral Cellars
What are you planning to use it for?
Basements can be almost anything you'd like them to be but may be better suited to one function or another. If you're not able to include much natural light, for example, they may work better as bathrooms, guest bedrooms or cinema rooms (when darkness is a good thing!). However, if you're keen to create a light, bright space, artificial lighting is a great way to boost daylight from sun tunnels and lightwells. Remember that your ceiling may be lower than in other rooms, so avoid low-hanging pendants and opt instead for recessed spotlights, wall lights, track lighting and lamps, all of which an electrician can help you fit safely. Perimeter lighting around a dropped ceiling is a great way of mimicking natural light coming in at the edges of a room.
All a smart cinema room needs is spotlights, lamps and backlighting.
Image source: Qualitas Construction
Find more ideas on how to create more space without moving house.