It's safe to say that in the UK, we're all a little bit obsessed with space and creating more of it.
With recent research showing that in London, kitchens now account for a smaller proportion of the total living space in new-build developments and conversions than ever before*, it's no surprise. In the 1960s, the average British kitchen in a post-war new build was 8.8 sqm (95 sq ft). Now it can be as little as 6.5 sqm (or 70 sq ft), which is roughly half the size of a car parking space.
This has meant that designers have to keep coming up with new ways to make compact kitchens work harder than ever by not wasting an inch. Here are just a few ideas to use in your own design.
Continuing your cupboards up to the ceiling will provide valuable storage room for less-frequently used items, such as large platters or crockery that only comes out for special occasions. Similarly, why not put some drawers in your plinths – they're ideal for baking trays or shallow dishes? Inside your cupboards, it's worth adding some internal storage solutions, such as carousels, Le Mans or magic corner units or pull-out shelving. Usually made from wire, they'll push your budget up but will pay for themselves by increasing the amount of usable storage space, meaning you could even scale back the number of units in your kitchen. And there'll be no more scrabbling around the backs of cupboards on your hands and knees.
Think about your kitchen doors too, because there's more choice than just a standard flat front. Bi-fold doors on overhead units will open smoothly without needing as much swing room, while garage door-style tambour doors and sliding shutters simply roll up to reveal the inside. Pocket doors, which open before sliding into recesses either side of the cupboard, also mean you won't have doors in the way in a small area.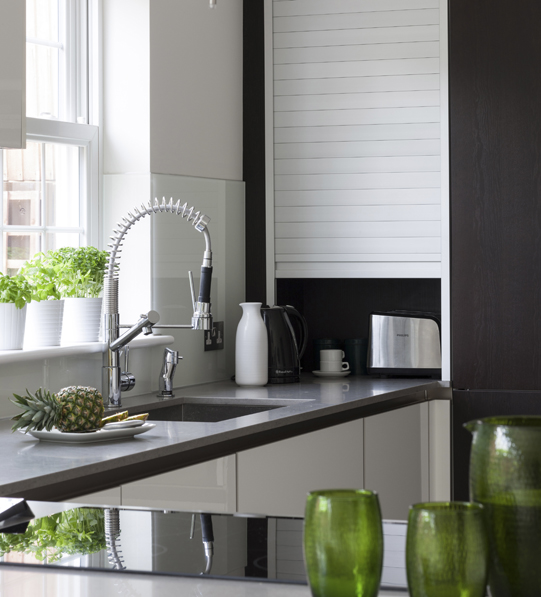 Another way of creating accessible room is to swap cupboards for drawers entirely. Most pull-outs can now extend fully, enabling you to see the contents at a glance, and come with adaptable interiors (e.g. pegs for holding plates steady) so items stay in place when the drawer is opened and closed. If you already have drawers, you'll find plenty of inserts available on the high street, at stores such as Ikea.
If your compact kitchen is part of a larger space, there's often room you can capture with a little lateral thinking. Try running units below a bay window for example, or include a breakfast bar in your design so you can remove the need for a dining table. A handy desk area built into your kitchen can double as a mini office or you could add matching cabinetry below a staircase to store small appliances or extra shopping. Using a separate utility room for your washer, dryer or freezer will also free up valuable space that can be used for cabinetry.
Now that you've super-sized your space, only include as many units as you really need or it may start to feel closed in and crowded. Swap out a wall cupboard or two for some wall art or floating open shelving to give your scheme a shot of personal style with colourful accessories and photographs.