Trade news
Rated People launch new campaign: "If you've got the skills, we've got the jobs"
6 September 2022
Rated People works to improve diversity in the trades industry
Facing one of the worst workforce shortages in history, Britain needs all the talent it can get right now – from builders to plumbers and carpenters to bathroom fitters.
But the trades industry is far from inclusive – it still uses outdated gendered job titles like 'tradesmen' as a collective term to describe ALL people, perpetuating inaccurate stereotypes and excluding anyone who doesn't associate as such. And this starts from a very young age in our country.
We, at Rated People, want to make it easier for more people, regardless of gender, ethnicity or sexuality to get into the industry and thrive. We're launching a nationwide brand campaign to highlight the need for greater diversity, inclusion and equity in the trades industry.
Our new TV advert states that "if you've got the skills, we've got the jobs", to highlight that the most important thing is how is how skilled you are, and nothing else.
To get the message across, the ad intentionally features tradespeople from a first-hand perspective, showing the work they're doing, and not who they are, or what they look like. Because no one judges a skilled pair of hands for who they are, they just care they're doing a good job, the 5* kind of job.
The campaign is supported by a series of out-of-home billboards, led with witty copy aiming to create awareness about the unconscious bias people may have when thinking about what tradespeople 'look like'. Again, the focus is on reminding people that what's important, and what people should care about in a tradesperson, is not what they look like or sound like, but how well they do their job.
Building work. It's a man's game.
Bit like football was.
Our doors are always open. (And the hinges have been incredibly well oiled.)
Quality finishes matter. Where you're from or what you look like doesn't.
What do you call a female electrician?
An electrician.
The campaign is supported by a radio ad, social media content, online displays, influencer marketing, and partnerships with Brand Ambassador Nic Hamilton, race car driver, The Register of Tradeswomen and Jewson, to further promote the diversity message.
The creative campaign development and media planning was done in-house, led by CCO Sandra Marichal and Head of Brand Communications Natalie White; supported by creative directors Romulo Freitas, Clarissa Ferreira, Alexandre Holder; video and radio production agency Bravespark; Media buying agency Walk-in-Media; Media distributor and incubator JC Decaux, PR Agency Propellernet.
Why we want to promote diversity
In short, it's the right thing to do.
We know that outdated gendered job titles like 'tradesmen' as a collective term for ALL people who work in the industry are still being used. This non-inclusive language is affecting our trades workforce today and the next generation. We want to make it easier for more people, regardless of gender, ethnicity or sexuality to get into the industry and succeed.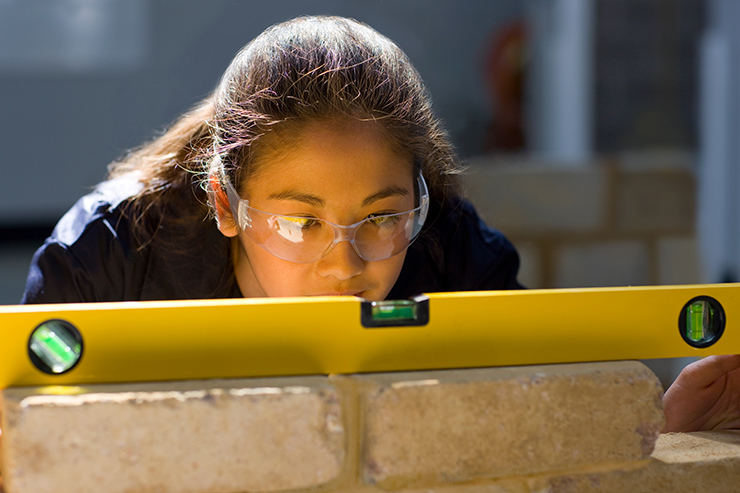 Amazing opportunities are available in the industry for everyone. We spoke to one such incredible tradeswoman, Amy, about how and why she got into the industry. You can read her story and how she's now helping more women get into the trade industry.
We also spoke to Nathan from In House Plumbing and Heating on how he got into the industry, why he did, and the challenges he's overcome to get to where he is now.
Why there is a need for change
There is still a perception among many that only men can work within the trades industry, and that is reflected in the language that's often used when referring to tradespeople. Our recent research reveals 80% of UK residents still use the term 'tradesmen' as a collective term for all people working within the industry.
And gendered language is also still being used in career advice in school. This non-inclusive language is affecting the next generation and it needs to change. Three quarters (73%) of 16-18 year olds heard the term 'tradesmen' within careers advice, but just one in 10 (11%) heard the term 'tradespeople' very frequently when receiving career advice at school.
The effect of this is that so many young people who don't fit the 'traditional tradesmen' stereotype never think of a trade profession as a viable career path – the industry and the opportunities in it are closed off.
Just under half (42%) of 16-18-year-olds also say they would be more likely to consider a career in the trades industry if more inclusive language was used.
So – we want to shake up the stereotype, change perceptions and show more young people it's not just the 'traditional tradesmen' who can be successful in the industry.
We spoke to a school leaver, who was recently in the process of making her career choices for the years ahead, about the career advice she received at school. Read about how a trade career was never communicated to her as a viable option.
Going a step further, calling for UK schools to improve career advice
With the PR campaign, we want UK schools to evaluate the quality of career advice and the effect that non-inclusive language is having on young people who are making further education and career choices. By increasing the UK's awareness of the issue, we also hope the research will help to open up the industry to more people who aren't 'stereotypical tradesmen'. Check out the research we've conducted amongst 3,000 people and what we found.
If you also want to see more inclusive language being used to describe those who work in the trades, we're also calling for change by making 16th September 2022 the first 'National Tradespeople Day' – renaming the antiquated 'National Tradesmen Day' to better reflect ALL the amazing people who work in the industry.
To find out more about the ways we can help you get into the industry, contact us here.
For any press enquiry, please email us here.