On average we decorate our bedrooms once every 29 months. That's every 2 to 3 years. With kids' rooms that could be even more frequent because their interests change constantly as they grow up.
So how do you choose children's room decor that actually lasts? We've got a few ideas!
Adaptability is key. As preferences change and trends come and go, it should be easy to switch up the feel of the room without needing a whole redecoration.
Our home improvement report found that neutrals are still popular and could add over £5,000 of value to your home, so it's a good option for the colour palette for your children's bedroom decor. Vintage furniture adds a similar value while keeping it classic.
To create a room that you and your little one love long-term, check out our other children's bedroom ideas.
Decide On A Colour Scheme That Grows With Your Kids
Choosing the right children's bedroom paint creates a solid foundation for the design. Keep it suitable for all ages so you don't find yourself redoing it every few years. Some adaptable children's bedroom paint colours include neutrals and gentle pastel colours. For children's wallpaper, using texture is a great sensory experience when they're young and remains stylish as they grow.
Find a colour scheme or wallpaper pattern that your child is unlikely to grow out of for decor longevity. For a stress-free transformation, hire a decorator to handle the painting for you.
FIND A PAINTER OR DECORATOR
Customise With Amazing Artwork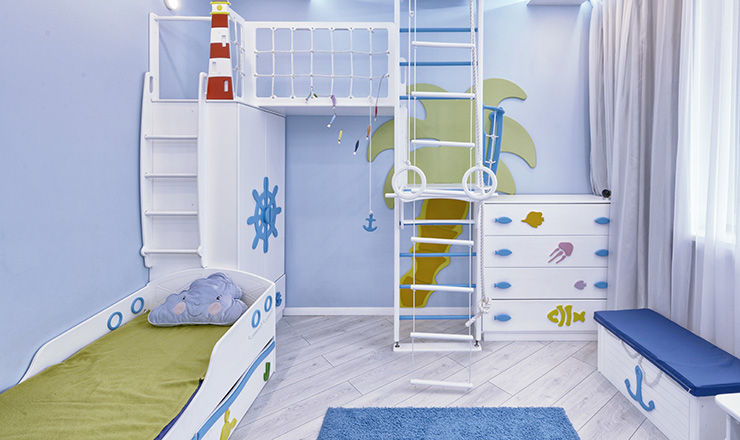 You can go all out with the artwork displayed in your kid's bedroom because that's easier and cheaper to switch out. A great temporary option for artwork in children's bedrooms is stickers. It keeps the decor fun and flexible.
Other children's artwork display ideas include posters and paintings. With posters, you can bring their favourite shows and movies into the room. Display their own paintings and creations to bring your child's personality to the space.
Ensure Easy Access For Kid Stuff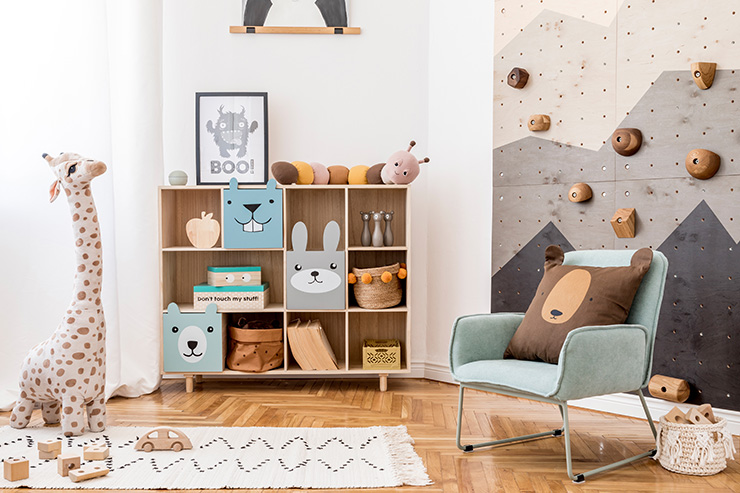 Kid-friendly storage is a must. Or they won't be able to get to their toys or put them away! Keep accessibility in mind from the start. There are some great ideas for bedroom storage available including hanging pegs for bags and coats, floating shelves and savvy storage solutions like an ottoman box or underbed drawers.
When considering small bedroom storage ideas, ensure that it's multi-use and it's easy for small hands to access.
Consider A High Rise Bed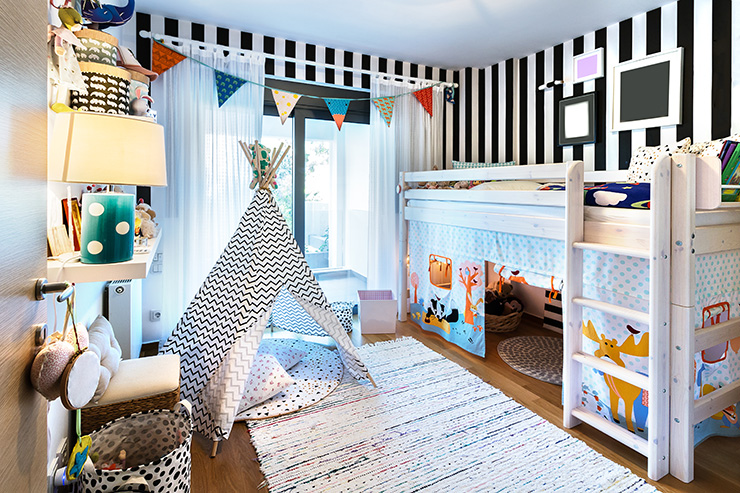 To really make the most of the space you have available, get a high-rise bed. This is a bed that is off the floor, freeing up play and storage space. A high sleeper children's bed gives you the freedom to design the layout of the room as you wish without worrying about making it fit around the bed.
You can really make the most of every inch of the room from when they're a little kid to a big kid.
Designing your child's bedroom with the future in mind allows you to invest in great decor now and enjoy it for years to come.
For a professional finish, find a vetted tradesperson to help with the decorating and furnishing of your kid's room.
FIND A TRADESPERSON