The Rated People Home Improvement Trends Report 2020
A guide to what's what in renovation and home design.
Our homes are constantly evolving to fit around family life, so to find out how UK homeowners are improving their homes in 2020, we analysed almost a million jobs posted on Rated People and spoke to homeowners and tradespeople up and down the country.
You can download the full Rated People Home Improvement Trends Report: 2020 here.
From huge spikes in people wanting to make their homes more eco-friendly, to millennials being more likely than any other generation to tackle big DIY renovation jobs – if you're looking for inspiration for a future project, or you're just curious to see which design features attract and repel the most buyers, here are five things we think will be big in 2020.
Design and renovation trends 2020
1. Open plan is evolving
It seems more of us are starting to prefer the idea of having a separate lounge to our 'hub of the home' kitchen diners. Jobs that involve putting a wall back in, to create separate living spaces, are up 350% in 2020 compared to 2019.
So, whether it's an adult-only zone to kick back and relax in when the kids have gone to bed, or it's a stylish room that blocks out the mess of everyday life, 2020 could be the year when open plan starts to evolve.
2. Bold isn't always best for potential buyers
When it comes to selling your home, our research has surprisingly revealed some of the most on trend design features from the last few years could in fact make potential buyers less likely to purchase your property.
So, if you're dressing your home for sale it's probably best to avoid anything that's too personal as it could make it harder for buyers to see themselves living there. For expert advice on how you can quickly and easily tone down any of these features to maximise your home's value, see a range of expert tips here.
At the other end of the scale, these are the features that buyers look for the most when house hunting.
Interestingly, six of the top 15 are outside the home, with a lawned garden, security system, paved patio, outdoor lights, bifold doors and decking, all working to increase the number of potential buyers for a property. And, although some of the these might seem like bigger and more costly jobs to complete, there are clever and cost-effective ways to achieve similar looks for a fraction of the price.
Head to our cost guides and tips section to find out how to maximise your home's value with minimal effort.
The 15 design features most likely to put buyers off
The 15 home improvements that attract the most buyers
3. Millennials are getting stuck into renovation to get onto the property ladder
Millennials are planning the most and biggest renovation jobs in 2020 compared with all other age groups.
They're also twice as likely as the average UK homeowner to tackle jobs themselves, like plastering, fitting a new kitchen, removing an internal wall and even building a driveway.
Compared with just 20 years ago, it now takes the average adult an extra eight years to be able to buy their first home.
So, one of the reasons for the renovation work could be that more millennials are finding cheaper properties in need of work to get onto the illusive property ladder – and rather than making do with woodchip wallpaper and questionable carpets, they're getting stuck into DIY to create the home of their dreams.
4. More of us want to make our homes more eco-friendly
Awareness of climate change and the damage that's being done to the environment is higher than ever in the UK. Many of us are already using less plastic, eating less meat, and recycling more, and now twice as many UK homeowners are planning to make their homes more eco-friendly in 2020 compared to 2019. And, with the Green Homes Grant announced in July 2020, that number looks set to soar.
It's not just homeowners who are focussing more on eco-friendly improvements either – 48% of tradespeople plan to introduce changes at work to become more eco-friendly in 2020. Common changes include upgrading to electric vehicles, recycling waste more efficiently, reusing old materials more, and moving towards using more conventional non-power reliant tools and machinery.
5. Safety and security are front of mind when it comes to home improvements
When looking at the jobs posted on Rated People that have seen the biggest spikes in popularity in the last three years, safety and security appear to be increasingly important for UK homeowners, with three of the top ten being around protecting our homes.
Fire alarm installation is the job that's seen the biggest spike in popularity – up by a massive 178%, CCTV installation isn't far behind with a 134% increase, and the installation of security gates and bollards is just inside the top 10 with a 72% increase.
Other jobs in the top 15 are to do with decoration, including decorative ironmongery and metalwork which has seen a huge 174% surge, and bathroom design which has increased by 69%.
Surprisingly, pebble dashing has seen a 69% increase, as have pond and water features, with a 64% increase. Building flat pack furniture has also seen a spike in uptake, with an increase of 61% over the last three years.
The Rated People Home Improvement Trends Report: 2020
To put together our guide on what's what in renovation and home design, we analysed a representative sample of 821,850 jobs of the 3 million posted on Rated People over the last three years, and conducted surveys of UK homeowners and tradespeople. We think it's a pretty compelling read for anyone interested in home improvement and interiors, and we hope you'll agree.
Expert tips: how to create the most sellable home
By Love Chic Living
We've teamed up with award-winning interior designer, Jen Stanbrook at Love Chic Living to create a comprehensive list of tips on how to maximise your home's value ahead of selling.
First up, here's how to fix the design features most likely to put buyers off, and then how to add some of the home improvements that are most likely to attract buyers.
15 design features most likely to put buyers off
Easy fix solutions:
Rooms painted dark blue
If you're worried about dark blue walls putting off potential buyers, but don't want to lose the bold colour completely, you can lighten the space by repainting just one of the walls in a lighter colour, preferably the one you see first as you enter the room. If you won't want to live with white, use a pale grey, but neutralise the space and your home should appeal to a wider audience.
Dark grey rooms
Give the illusion of a light, bright space by adding a colourful wall collage. Keep it cost-effective by rummaging through charity shops for an eclectic selection of frames and use postcards, prints and wrapping paper for savvy alternatives to expensive art.
No bath
It's not that quick or easy to install a bath, but if you can, go for it. Otherwise, create a floor plan design showing how a bath can be fitted into the room, or go one step further and show photos of how it used to look when the bath was in place. Don't forget to produce rough pricing for the work too. Creating the idea of a bath is the next best thing to actually reinstalling one.
Dark blue kitchen cupboards
Whilst it might be too expensive to replace dark blue kitchen cupboards and you might not fancy repainting them, you can make the whole room appear brighter and less overpowering by decluttering and removing everything but the kettle from the worksurfaces. Add a handful of accessories in natural materials, like a marble chopping board and large wooden fruit bowl and ensure the room is well lit to offset the darker cupboard shades.
Black taps / shower
As black fittings aren't to everyone's tastes, you can pick up a second-hand chrome tap for next to nothing – they're easier to replace than you think and can be swapped over in a few minutes. If you'd prefer not to play around with plumbing, think about getting a plumber in to quote.
Painted floorboards
If you have painted floorboards and can't afford to replace them with a new floor, then rugs are going to be your best friend. Choose a good quality neutral rug, but look in charity shops or through second-hand marketplaces for some great priced pieces.
Dark grey window frames
Soften a darker window frame on the interior of your home by using fresh, white blinds at the windows and brighten the windowsill with plants and indoor flowers. It's a cheap way to give the illusion of a softer window frame on the inside of your home and helps a potential buyer see how the darker frame won't affect the home interior.
Dark grey kitchen cupboard doors
As a potential buyer could be put off by dark grey kitchen cupboards, show them how vibrant and lively the space can be by adding plants. The injection of greenery will change the atmosphere and overall appearance of any room where dark colours have been used. It's inexpensive and whether you go for faux or real, use a variety of sizes and styles to draw the buyer's eye away from the feature that puts them off.
Original sash windows
Although original sash windows can look beautiful, some buyers may be put off by potential drafts and the cost of maintenance in the future. Your best bet is to ensure your windows are in great condition to show they aren't going to incur any immediate costs. Give them a fresh lick of paint and make sure they are all in good working order too – reassuring your buyers that old features make your home more desirable can help you seal the deal.
Wooden double glazing
If you have wooden double glazing, potential buyers can worry about upkeep and costs. If you can produce evidence, possibly receipts that show when they were originally installed and when the wood was last treated, you can make them more confident that this feature of your home won't end up costing them money.
Patterned floor tiles
Not all buyers will appreciate the decorative appeal of patterned floor tiles, so play down their appearance. You can tone down the pattern by adding plain cotton rugs in light, fresh colours. Remove other clashing patterns from the rest of the room too, so the overall effect is one of calm and neutral decorating.
Tiled floor in living spaces
Potential buyers are often concerned about warmth and comfort in a potential new home, and a tiled floor in a living room can be off putting. Put their minds at ease by turning the heating on before the viewing and add some cosy and fluffy carpet in some areas – rugs or offcuts will work wonders.
Copper taps on kitchen sink
Copper accessories are very popular in home interiors at the moment, even though they might not be to everyone's tastes. To make this look more appealing, coordinate with other copper pieces like a vase, utensil holder or even a copper kettle and toaster. Rather than change these items, style your home to make them more integrated in the overall space and give the buyer the vision of how great they can look.
White metro tiles in bathroom with dark grouting
Dark grouting can potentially look unhygienic to some, so whilst a homeowner can feel that it looks stylish and on trend, others can be put off by it. They can also feel that changing it will cost a lot of money, when in fact it's an inexpensive and relatively quick job to update the grouting with a more standard white colour. Many people can do this themselves, making it a cheap way to attract more buyers.
Open plan layout
An open plan layout was a huge trend a few years ago, but many people love the idea of separate rooms to give them more living options. If you do have an open plan layout, work hard with your styling and positioning of furniture to create defined zones and areas. Use plants, bookcases and screens to 'hide' one area from another and give the illusion of different rooms; buyers will feel less intimidated by the one large room.
Top 15 home improvements that attract the most buyers
How to replicate easily and on a budget
Downstairs toilet
The downstairs toilet is every family's dream, particularly if they have younger children, so keep those potential buyers happy by showing them you value their needs. If you can install a toilet in a downstairs cupboard, under the stairs for example, it's well worth the investment. It will cost around £2k but add about 5% to the value of your property. Costs can be saved if you buy units like a 2 in 1 sink and toilet combination – they're great space savers as well as recycling water.
Built-in storage
Storage is key in any home and buyers love to invest in a property which can accommodate them and their belongings easily. If you have space to create some built-in storage, it's worth doing. Think about where you can add the most impactful storage – perhaps adding a window seat with in-built storage. Ask a carpenter to build some cupboard storage in living room alcoves, or create hallway storage for shoes and coats. The more thoughtful storage areas you can include the better.
UPVC double glazing
Whilst it's not always cheap to replace windows and install UPVC double glazing, brand new windows can really help to attract more buyers. One cost-effective way to achieve this is to upgrade the windows at the front of your home only. Another solution if you want to ensure your heating bills are reduced, is to install window film to single glazed windows at around £40 per kit to create a quick fix double-glazed effect.
Separate shower cubicle
Not all homes have the space for a separate shower cubicle, so make the most of the shower area that you do have. Replace the shower curtain with a stylish shower screen, install a new, larger shower head and invest in neat and clever storage. Making your existing shower look more impressive, clean and bright will really impress a potential buyer and detract from the lack of a separate cubicle.
Lawned garden
Buyers with children love a lawned garden and whilst it can be an extra expense to completely lay a new lawn, there are some great ways to achieve a similar result without spending a fortune. If you have a patio garden, section up the space and layer over artificial grass. If you have a larger space, and you'd prefer the real thing, add ready to lay turf in small sections rather than the whole lot. This is a more affordable way to inject instant colour and softness which buyers will love.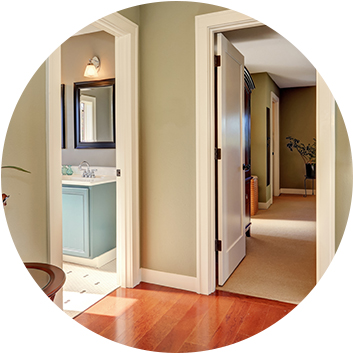 Separate living spaces
Not every buyer loves an open plan space, so if your home is designed in this way, it's a good idea to create the illusion of separate rooms so they feel they have a choice. If you've removed doors in the past between two rooms, put them back. If you have a large open plan room, it's a good idea to section it up and create privacy with screens. Large room dividers can also double up as storage and display units which is another box ticked!
Security system
There are many products on the market that help secure your home if you don't want the expense of a fully fitted home alarm system. You can create a more secure home by installing individual lights and cameras which send alerts to your phone at a fraction of the cost of an official house alarm. The additional technology may also impress your potential buyers and give you an edge against other homes for sale.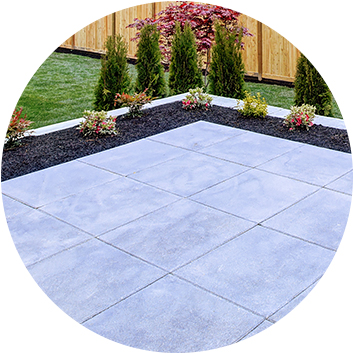 Paved patio
Whilst many potential buyers love the idea of a paved patio, there's a great alternative to the more expensive patio tiles. Create an area outside the back door where you can place a large and colourful outdoor rug. They are some great examples available now and are a very cost-effective way to design an outdoor eating and relaxation area, that a new buyer will love.
Outdoor lights
There is a huge range of great value, and stylish, solar powered outdoor lights which can be fitted anywhere in the garden. Adding sensor-controlled wall lights is a great security feature, and decorative garden lights come in all shapes and sizes and really bring the outdoor space to life. There's not always a need for more costly hard-wired lighting when solar lighting offers so much versatility and choice.
Underfloor heating
Giving an impression of underfloor heating will help buyers feel more comfortable with the cooler parts of your home. If you have cold tiles for example, you could cover them with stylish, yet budget friendly vinyl flooring, either tiles or on a roll. It's much warmer underfoot than cold tiles, is durable and is available in some great colourways and patterns.
Marble work surface in kitchen
There are several ways to recreate the look of marble worktops – the most obvious is choosing a marble effect worktop like Corian from high street retailers. Marble laminate is also a good option, but if you're hankering after the real thing, there are so many places to get hold of second-hand options. From specialist yards to individual lots being sold on second-hand sites – see what's out there before and speak to different kitchen specialists before making a decision about which to go for.
Kitchen island
A kitchen island provides a great area to congregate with the family or dinner guests, but not every kitchen has the space to accommodate one. Be clever and creative by giving the illusion of an island with a portable shelving and worktop unit like a butcher's block. There are many available in different styles and sizes; they can be moved to the side of the room when not in use but provide extra storage and worktop space when required.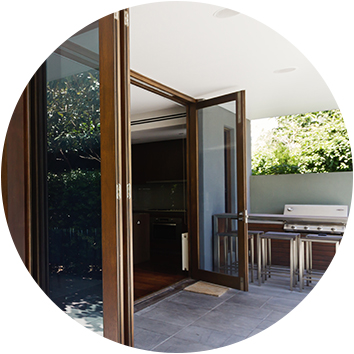 Bi-fold doors to the garden
Installing a set of bifold doors in our homes isn't always practical or cheap, but by making the most of the windows and doors you already have, you can achieve a similar look. Ensure they're clean and bright, use blinds not curtains for clean lines, and if possible, consider replacing a window with French windows – although these aren't quite the same as full bifolds, buyers will love the feeling of bringing the outdoors in.
Decking
If you don't want to install a large timber decking, you can keep costs down by using either PVC or composite decking alternatives. Creating just a small area of decking outside the backdoor and styling it to show buyers how they can relax and entertain in their gardens, is well worth the investment and the time without needing to go the whole hog of a full deck.
White window frames
If you have white window frames, ensure they are clean and fresh – enticing the buyer from the first impression of your home is key. If the frames are tired and worn, you can revitalise them yourself, removing all old, peeling paint and giving them a fresh lick of new paint. It's an inexpensive way to really brighten the outside of your home.
If you're looking to sell your home in 2020, or just curious about ways to update the design – we can help you find local builders and tradespeople.