My story: working as a tradeswoman
One of our main stories in this year's trends report is about the low representation of women within the trades industry.
There are so many reasons why there are so few women in trade jobs – from poor careers advice at school, to how tradespeople are represented in our culture and mainstream media. But, it's 2022 and it's about time this changed.
So, here we hear first hand from an inspirational Rated People tradeswoman, Kalece Okusanya, on the biggest challenges she faces as a tradeswoman, and what she thinks needs to change to enable more women to work in the industry.
Kalece Okusanya
Kalece Okusanya is a tradeswoman with 6 years' experience, and the owner of Suave Property Care – a painting and decorating business that offers high quality decorating, flooring and general maintenance throughout London and the surrounding areas.
Kalece studied business at college. She got into the trade industry by accident when she volunteered on a project when she was younger. She didn't plan on being a painter but she now loves mixing her hands-on work with her financial planning and people management skills that are needed to run a business.
Key challenges tradeswomen face
Kalece says the main challenge is that clients just aren't used to seeing a young black woman in the industry.
She says she's often challenged on her knowledge and expertise, and when she's explaining to a client what can and can't be done on a job, she thinks they would respect her judgment more if she were a man.
In the past, clients have tested her to see how much she knows. And once when she was demonstrating how to tackle a specific job to a more junior painter, a plasterer decided he knew best and proceeded to take over explaining the required technique. When Kalece informed the plasterer that she was managing the job and she owned the company, he was shocked.
You need to dig deep
Kalece knows it can be daunting for women working in the trades industry – she says she's experienced people who have tried to intimidate her as a tradeswoman:
"Sometimes people like to make you think you don't know what you're doing, and mentally and emotionally, this can be exhausting. As a tradeswoman, there have been times when I've had to dig deep to find the motivation to come to work because sometimes you have to fight harder to prove yourself and gain the recognition you deserve as a woman in the industry."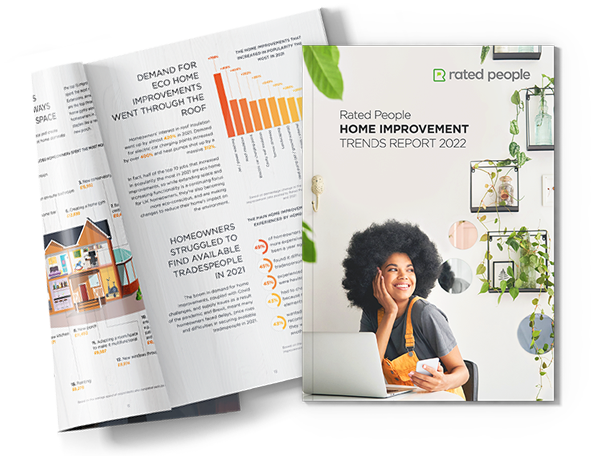 For insights on the biggest trends in renovation and home improvement, take a look at the Rated People Home Improvement Trends Report 2022
Kalece feels very confident in her expertise and knowledge. She adds that things have already started to change for the better – now, she doesn't feel like she has to work any harder than others to prove herself because she's a woman. But there's still a lot more that needs to happen to redress the gender equality in the industry.
There should be more women doing what men do
Kalece wants to see more women working in trades. She says that no matter what industry you're in, you should see more women doing what men are doing. In her opinion, better representation is key to making a difference, like showcasing women that are in trades now. She thinks that there needs to be more encouragement for young women to learn a trade, because it is 2022 and it's shocking that the representation of women is still so low in the industry.
Let your work do the talking
For anyone who's leaving school and thinking about career options, or for anyone who might be considering a career change, Kalece says focus is key:
"Be very clear about what you want in the industry and always be professional – let the work and your conduct do the talking and don't overcompensate for things. Just apply yourself."