While sticking rigidly to the latest trends in fashion may leave you with a wardrobe full of granny chic and neon, taking note of the upcoming kitchen designs is a real plus. The newest looks have timeless style and longevity at their heart, meaning that not only should they fit effortlessly into your home, they'll help to create a scheme that will look good for years to come. Here are just a few key kitchen design trends of 2016 to watch out for.
Matt finishes
Glossy cabinetry still has plenty of devotees thanks to its light-reflecting qualities that make it a winner in a small room. However, sophisticated semi-matt and matt finishes are gaining steady ground. Many are fingerprint-proof practical and irresistibly tactile, plus when they're paired with the latest on-trend neutrals, such as warm greys, and a handleless design, the result is effortlessly elegant. They're also great for creating subtle contrast – try mixing matt units with a natural wood grain or glossy worktops. Understated matt or honed finishes on work surfaces look just as stylish, especially with natural stones, such as granite, when a polished finish feels too formal.
Image source: Burbidge
Metallics
You can't have missed the craze for copper but since its warm welcome into the kitchen it's been joined by a host of subtle metallic finishes that add shimmer and sparkle to a design. As well as incorporating sheet metal and hardware in stainless steel and nickel, the latest schemes now include sprayed metalised and micalised surfaces in golden and pewter tones, with burnished and patinated finishes. Balanced with white, greys or even inky indigo blues, with coordinating handles or hinges, metallics are an easy way to create a focal point in a larger space without dominating it. Affordable and glamorous, this Metallic Anthracite kitchen is finished in metallic acrylic gloss for a decadent sparkle.
Image source: Caple
Texture
A love of textured kitchen surfaces has been growing for a few years but given the large amount of ranges launching with concrete, wood and cement doors or lookalikes for 2016, it's safe to say the trend has well and truly landed. Rather than flat fronted, the latest faux designs, such as Leicht's concrete-effect doors, are beautifully textured to mimic different materials and are hard to tell apart from the real thing, while actual concrete, wood and cement come with protective lacquer so they're as practical for everyday use as almost anything else. Best of all, they can be styled whichever way you like – with statement exposed lighting for an urban, industrial feel or with classic painted cabinetry for a more grown-up feel.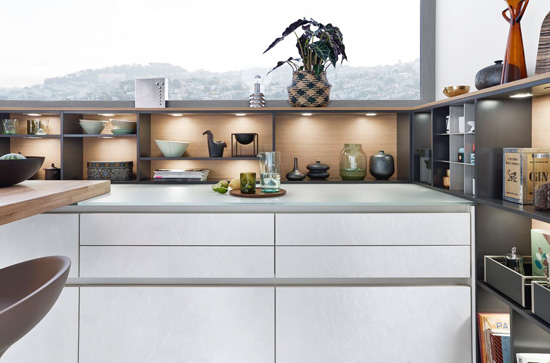 Image source: Leicht
Living space luxe
An extension of the open-plan living idea, kitchen units are increasingly beginning to resemble lounge and dining area furniture. As well as designs incorporating similar shapes and curves, luxurious materials and finishes are being used in the relaxing and practical areas to form a continuous aesthetic, uniting the two. In some spaces, it's hard to tell where the kitchen ends and the other zones begin, with shelving doubling for recipe books and displaying items, and storage lending itself to whatever needs accommodating. Expect to see more interchangeable units in 2016 that could as easily be used for storing pans or crockery as they could for anything else.
Image source: Kitchens International
Ready to give your kitchen a trendy new makeover? Post a job on Rated People in our kitchen specialist category to receive quotes from our qualified and trusted tradesmen.