Art is a great way of lifting walls out of the mundane and it's by far one of the easiest ways to inject instant personality into a room. The fab part –art can literally be anything from contemporary prints, framed book covers, flea market finds to old family snaps.
I think one of the reasons we steer away from art walls at home is that creating a collection can feel daunting. Not only that the art world is a snooty old business but as you will see from above, it can literally be anything. I'm forever hanging prints, cards, magazine covers and clustering them on walls all over my pad – it's a fab way of documenting your life!
Art wall inspiration
Art lifts a space out of the mundane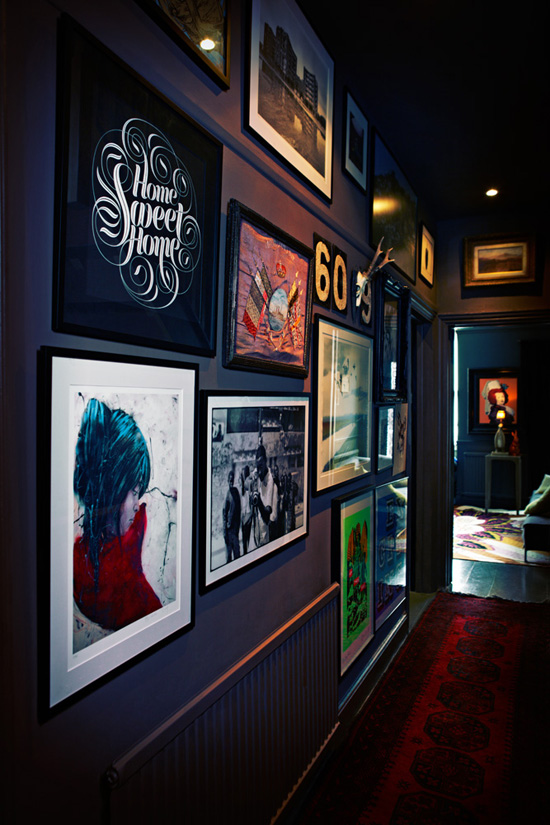 Not just that but art increases linger time – which is retail spiel for how long someone takes to transition from one space to another. Walk into my sister's pad who has littered her hallway with art from top to bottom and rather than race up the stairs you actually want to linger, hang out and take it all in!
Art is a real conversation starter; it has a back-story, tells a narrative and brings a space alive. The only tip I can give you is buy only what you love, from experience it's the only way it will stay with you forever.
Saloon style-art versus gallery-esque art
There are so many different ways of hanging art. In a row (super gallery-esque) in a higgledy-piggledy fashion otherwise known as saloon style, or simply propped or leaned against a windowsill, console or even the floor!  The trick is that if the art doesn't warrant hanging on its own (i.e. relatively cheap flea market finds) then saloon style art is the way to go. When you are looking at a cluster of art on the wall the eye is drawn to the installation as a whole rather than concentrating on one or two pieces; one of the reasons I am such a fan of saloon style hanging!
There is no specific formula on how you should hang art – all I would say, the more causally it's hung the more relaxed your space will feel. I don't get hung up making sure everything is perfectly aligned and I mix mediums all the time. Sketches hang out with watercolors, oils with prints, and photos with letters. The same goes for the frames, you don't have to worry about matching – the more magpie your approach the more tantalizing your walls!
Shopping for art – my little black book
It can be intimidating shopping for art but as I said, you don't need the hugest budget to start a collection. I have found some of the coolest pieces here at home at flea markets and auction houses. Below are a bunch of online galleries and art fairs to help kick start your collection:
It is a huge leap of faith buying from the web, but if the company is reputable, usually the piece when it arrives, is even more impressive than online!
Buying a student's work is a great way of starting your collection and New Blood Art is a cool resource for such work: www.newbloodart.com
Art fairs are fab because you get to see such a variety. Check out The Affordable Art fair held in London. The prices go up to about £4000 but saying that, you can also find stuff for £40: www.affordableartfair.com. Out of London, try the Brighton art fair: www.brightonartfair.co.uk
Prints are fab but I would advise going for limited edition originals as the price you've paid for it will go up as soon as the artist has sold the whole edition – so you really won't lose out on your investment – providing of course the print run is small and not thousands! Check out: www.artforsale.co.uk
When I mention Saatchi I can here you all thinking way out of league but the gallery's expertly curated mix of art is fabulous.  You can get a print in a limited edition of 100 for £75! www.saatchionline.com
Finally Getty, Getty is one of the world's greatest photographic libraries. You can buy the most stunning photographs unframed for around £65 with images framed from £95 to £500! www.gettyimagesgallery.com
Happy hunting!
If you don't feel confident hanging artwork yourself then why not call in a handyman to complete the task for you? Post a job on Rated People in our handyman category to receive quotes from recommended handymen in your area.