The way that we use water in our homes plays a big part in how eco-friendly we are and how high our water bills are. In order to treat and distribute water for us to use, water companies in England and Wales release the same amount of greenhouse gas emissions as 1.5 million cars annually. This has led to many of them committing to reducing their emissions. You can do the same, and cut your water bills at the same time, by making your home water efficient.
Start off small but strong with 5 changes that'll save water in different areas of your home on a daily basis, below.
---
Skip to: Kitchen · Garden · Bathroom · Utility/laundry room · WC/toilet room
---
Save around 1.4 litres in the kitchen every day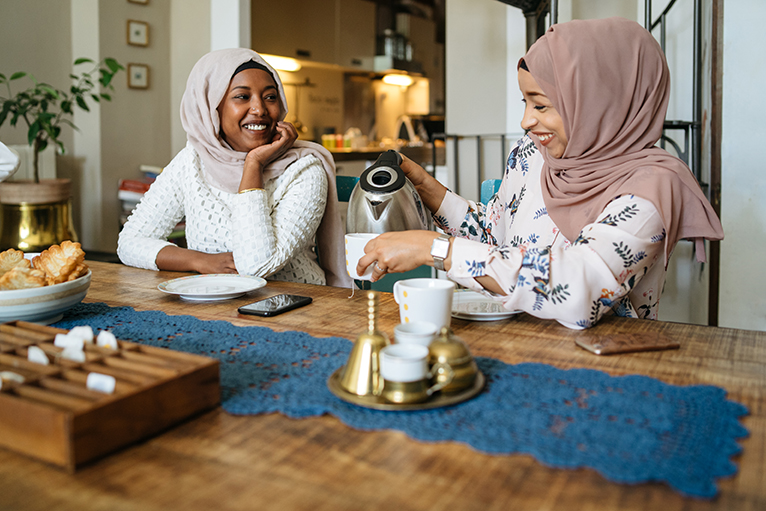 We're a nation of tea lovers so it's no surprise that kettles are one of the biggest culprits for wasted water in the kitchen. Research has found that on average, we boil double the amount of water than we actually need to make a cup of tea. With each tea drinker knocking back an average of four 350ml cups every day, that results in each of us wasting around 1.4L of water on a daily basis!
It might seem obvious but making a conscious effort to fill your kettle up to the amount needed, rather than all the way, will mean you'll use less water. Plus, your kettle will use less energy as there's less water to heat up and it'll boil quicker too, so you'll get your tea faster, and that's never a bad thing. Just make sure to descale your kettle regularly to get rid of any worries about limescale at the bottom of your mug.
Save roughly 15 litres in the garden every minute spent watering it
Do you have a garden hose or sprinklers to help you keep your garden in good health? You're using around 15 litres of water every minute that they're switched on. Depending on the size of your lawn and the number of plants and flowers that you have, that can really add up.
Rainwater harvesting provides you with free water that's better for your garden than tap water is, due to its lower pH. It's worth it in the UK too, as the average roof collects enough water to fill 150 water butts yearly! Plus, it'll provide you with adequate water in case of a hosepipe ban.
A water butt connected to a drainpipe is a simple way to collect rainwater. If you don't want a water butt taking up space, then there are roof-mounted systems available, too.
Find out which rainwater systems work best to make your home more water efficient, in our blog post: The ins and outs of rainwater harvesting.
Save 32 litres or so in the bathroom every day
If everyone in a family of four cut one minute off a 10-minute shower, they could save up to 11,648L of water every year. That's 32L or so a day.
4 minutes is the optimal amount of time to spend in the shower. You can get a stick-on shower timer; many water companies give them away for free. If you're a fan of shower karaoke, try using music as a timer seeing as the average song is about 4 minutes long.
Check out more bathroom water saving tips.
Save 50 litres in the utility/laundry room
Underfilling your washing machine obviously wastes water. On the other hand, overfilling it could mean your clothes will come out dirty or with detergent marks on them. That's 50L of water wasted (the average amount used each cycle) as you'll need to wash them again.
The drum should be about 80% full for a full load. A good way to make sure you've filled it to the right level is to put your hand in the drum. There should be about a hand's worth of space between the top of the drum and your washing.
Looking at buying a new washing machine? It's now easier to find an energy efficient model and therefore create a more water efficient home. New-style energy labels that show the water consumption of the model are now provided with washing machines in the UK. Read more about energy labels and how they're changing.
Washing machines will be cheaper to run from this summer as tighter energy efficiency standards come into place. This'll cut £75 off your energy bills every year and make washing machines easier to repair if they break down. Find out more about the Right to Repair law.
Save up to 400 litres in the WC/toilet room every day
You might not spot a toilet leak if you're not looking for it. It's something to beware of, though. A leaky toilet wastes up to 400 litres of water every day and you might not even know it's happening. That makes for a pricey future water bill!
An easy way to check for a silent leak is to drop some food colouring into the cistern. If there's food colouring in the bowl after about half an hour, then you might have a leak. You could have a go at one of the DIY fixes in our guide to common plumbing problems and how to fix them. If DIY's not your forte, hire a plumber to fix the problem. You can find 24-hour plumbers on Rated People.
---