Gas appliances are common features in our homes. And it's not just about boilers, there are hobs, ovens, BBQs and fireplaces to think about too. But getting these appliances serviced, repaired or replaced often slips our minds. That's where Gas Safety Week steps in, raising awareness that if an appliance develops a fault, there's the risk of a gas leak, fire, or carbon monoxide poisoning, and that's why your annual gas safety check is so important.
Find a vetted gas/heating engineer to complete the job on Rated People.
Five simple steps to keeping your home safe and warm
Gas Safety Week is an annual safety week coordinated by Gas Safe Register, the official list of gas engineers who are legally allowed to work on gas.
By taking care of your gas appliances properly you are taking care of your home and your loved ones. Here are five simple Gas Safety Week-recommended checks to keep you and your family safe.
1. Check your gas appliances every year
Register for an annual email or text reminder on StayGasSafe.co.uk. Then, you can connect with a vetted gas and heating engineer on Rated People to complete the job!
If you're renting, then your landlord is legally responsible for arranging your annual check.
2. Remind your friends and relatives
Some people might be unaware of the risk or could be unable to arrange their own gas safety check.
3. Check your engineer is Gas Safe registered and qualified for the type of gas work that you need doing
Find out if a Rated People tradesperson is Gas Safe by checking the 'Trade Certifications' section of their profile. Plus, they should have a valid Gas Safe ID card that you can ask to see when they arrive to do the job.
On the back of their ID card, you'll be able to see which type of gas work the tradesperson is qualified to do.
4. Check for warning signs
According to the Gas Safe Register, the top four signs that your gas appliances aren't working safely are:
A lazy yellow flame instead of a crisp blue one.
Pilot lights regularly going out.
Black marks on or around appliances.
Increased condensation on windows.
If you're renting, then your landlord must fix any unsafe gas appliances – it's the law! So, let them know if you have concerns about any of the gas appliances in your home.
5. Install a carbon monoxide alarm
Check that it's marked with EN50291 and displays the British Standards' Kitemark.
It's also important that you know the six main symptoms of carbon monoxide poisoning, so that you can seek medical help immediately, if needed. The symptoms are headaches, dizziness, breathlessness, nausea, collapse and loss of consciousness. Read more about how to deal with gas leaks on our Homeowner Advice Centre.
The best time to check your gas appliances
The 1st October is the most popular day that UK homeowners turn their boilers on after summer – so gas and heating engineers will no doubt be booked up to fix or check gas boilers! Beat the rush and get your gas boiler service now to make sure you're ready for autumn and winter.
Don't be tempted to cut corners and do a DIY gas safety check – it could have serious health and safety consequences. Plus, it's illegal for people that aren't on the Gas Safe register to attempt to install or repair a gas appliance.
It's also important to check that your vents or chimneys aren't blocked to stop draughts coming in too, because gas appliances need ventilation to work safely.
Time for a new boiler?
Is your boiler efficient and could you save money on your energy bills? If you're getting a new boiler, you'll need a Gas Safe engineer to install it. They can also help you figure out which gas boiler is best to buy, the most efficient and where to buy one.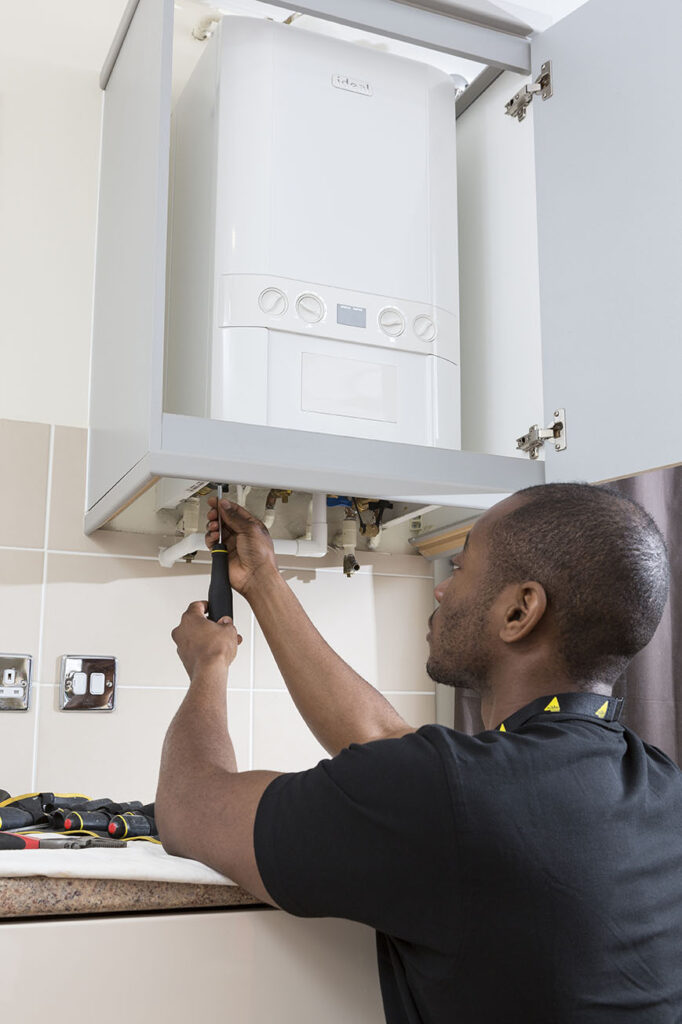 Gas safety advice for homeowners – from the professionals
Here are some thoughts from some of our Gas Safe registered engineers on the most important things that homeowners should know to make sure their property is gas safe.

"You should get your Gas Safety certificate every year for gas fires, boilers and all other gas appliances. Sometimes they're neglected for so long they become dangerous."
Robin @ RK Gas Safe
"Many homeowners don't know that their boiler needs to be serviced every year for the manufacturer guarantee to stay valid."
Keith @ K Marsh Plumbing & Heating Ltd
"Heating accounts for about 55% of what you spend in a year on energy bills, so an efficient boiler makes a big difference."
Tim @ TS Gas & Electric Ltd
"If you need a gas repair to be done, you should get it fixed correctly and safely by a professional Gas Safe engineer. Never attempt or risk a cheaper alternative or cut any corners."
Dee @ EcoHome Boilers Ltd
"Having a carbon monoxide appliance alarm installed in your home is one of the most important ways to make it gas safe."
Find out how one of our Rated People tradespeople, PGS Plumbing, make sure that they provide a quality gas service in our guide to hiring a Gas Safe engineer.
---
Booked your annual gas safety check? Find out what will happen during your service in our guide to gas safety checks and servicing.
If you're still looking to hire a Gas Safe engineer to complete your annual check, we've got plenty available on Rated People – find a vetted gas and heating engineer near you.