Think about where you spend the most time in your kitchen. By the hob? The fridge? Surprisingly, it's probably around your sink area, whether you're using it to wash, drain or soak. A sink that's too small or a tap that dribbles or sprays everything in a one-metre radius won't just be an annoyance, it'll make cooking in your kitchen less enjoyable. Consider your kitchen sink and taps carefully and they'll work in perfect harmony with your design for years to come.
Size, bowls and depth
Your sink should suit the way you prefer to use your kitchen. For example, I have a single-bowl sink with a smaller bowl built in next to it, which as practically everything goes in the dishwasher, is more than enough. However, if you wash up, or often soak large dishes, a double-bowl model would be a better choice. Alternatively, a prep sink located elsewhere in the kitchen can be a huge help if you frequently cook with vegetables, prepare a lot of fruit or more than one person is cooking in the kitchen at a time.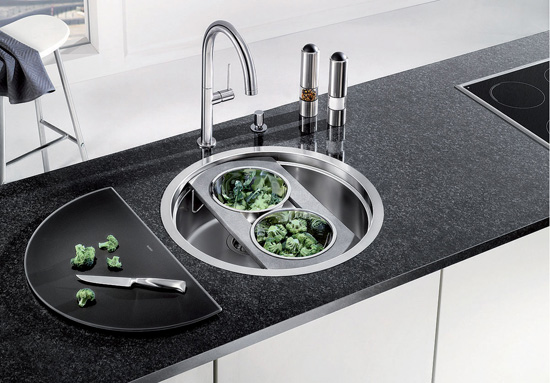 Materials matter
Stainless steel is the go-to choice for sinks thanks to its practicality, but it's not your only option. Ceramic or fireclay are low maintenance, and durable too, though it's still best not to drop heavy objects in them. Acrylic and quartz composites are another good choice, especially if you're opting for worktops in the same material. There are also sinks made from coloured granite composite, which tend to be branded (e.g. Silgranit, Fragranite) and are low maintenance, hygienic alternatives to steel.
How your sink is installed will affect your choice of worktop. Laminate surfaces, though fantastically functional in almost every way, aren't compatible with undermounted sinks (i.e. set below the worktop) as the core material of the laminate would be exposed which allows water to seep in. Solid wood has a similar problem, but this can be fended off by regular oiling to keep it watertight. If you're not sure if they need oiling, drip a couple of drops of water on them – if it pools, they should be fine. Inset sinks that sit above the worktop, can be paired with any type of surface.
Tap features
Not just a dispenser of hot and cold water, a modern kitchen sink and taps come with a whole host of extras. Pull-out sprays, which are great for rinsing down the sink and washing vegetables etc. are now available on a range of models. But, you may find that they need a minimum bar pressure to work properly. Plus, a shallow prep bowl may not be able to cope with their water power.
Filter taps, which require a unit with changeable filters to be located below the sink, transform your faucet into one that also dispenses chilled, filtered water. Or, you can find standalone filtered water taps. Upgrade to a boiling or steaming hot water tap and it could replace your kettle, as you can locate them anywhere in your kitchen with a drip tray. They'll also need a tank to be sited below the worktop, so remember to leave room for it in your plan.
On a practical level, tap design has also evolved to make turning them on and off far simpler. Levers are a common option (great for nudging on when you have messy hands), while automatic sensors, like the ones found in hotels and restaurants, are also now available, so you may never have to touch the tap at all.
For help installing your new kitchen sink and taps, post your job on Rated People in our kitchen specialist category to receive quotes from our qualified and trusted tradesmen.