Technology can help transform the way you work and how your business operates. However, sometimes it's hard to know what kind of tech is out there and which app or laptop will best suit your needs. Read our advice below, so you can choose the right technology for you and your business.
Cloud technology
Uploading things to 'the cloud' means storing data – files, photos, videos – online. The advantage of the cloud means that you can free up memory space on your phone, tablet or laptop. The cloud also acts as a way to back up files. It also creates a digital storage system (of invoices and business documents for example, which you may otherwise store physically) that you can access anywhere, anytime.
Storage providers such as Google Drive, Dropbox and Box also have mobile apps, so you can access your own account securely on any/multiple devices. They allow you to share private files and folders between colleagues or customers. Plus, you can set up your account so it automatically updates documents or synchronises folders.
Storing data in the cloud is a good way to keep it safe from data loss caused by human error, technical failures, cyber attacks and more. Find out why in Data backup: A guide for small and medium-sized businesses.
Finance apps
There are lots of great accounting apps out there, including QuickBooks and Sage One, which can help you create and keep track of invoices, manage expenses and help you with your tax return.
If you're not currently keeping digital records of your expenditure, income etc. and using digital software to submit your VAT returns, then you'll need to do so to be compliant with HMRC's new Making Tax Digital for VAT rules. If your turnover is over £85,000, then these rules come into place from April 2021. Tradespeople with a turnover below £85,000 will need to follow the rules for their first return starting on or after April 2022.
Project management apps
Basecamp, Trello and Asana are three examples of popular mobile and desktop friendly project management apps. You can set up a personal or basic account for free, but you need to pay for business/multiple accounts. They're great for assigning work, keeping track of multiple projects, attaching due dates and communicating with team or project members. We recommend trialling the free version of each and working out which interface you find easiest to use.
Useful apps
CMD Wizard is handy for anyone working in the construction industry. It helps tradespeople comply with the Construction (Design and Management) Regulations 2015 (CDM 2015). It's available to download on both Google and Apple devices.
Listen to Taxman is a salary and tax calculator and is useful for keeping track of how much tax you owe. It's also a good resource for tax rates and allowances.
Find more useful apps to consider for your trades business in our 'Tipped for success: 5 learnings for one-person businesses' advice.
Digital payment technology
The UK has been quick to adopt digital payments. The use of physical money is now at an all time low, which means it's time to adapt your business if you are reliant on cash.
Digital payments make tracking and paying invoices quick and easy, especially if you have a separate business bank account. (If you're looking to open a business bank account, use MoneySupermarket's comparison table).
The majority of banks now offer a free app, so you can keep track of your finances via your phone. Customers can pay you on the spot via their app, using your mobile number that's connected to your bank account, or using your bank details. There are also other ways customers can pay you. Examples include PayPal and Apple or Google Pay which use a credit or debit card. These are all secure payment systems. So, you won't miss a payment if your customer doesn't have cash to hand.
We've recently teamed up with Shieldpay to offer Protected Payments to Rated People customers. It's a great new way to pay and get paid for work, bringing security and control to transactions. Learn more about Protected Payments.
Tablet, desktop or laptop?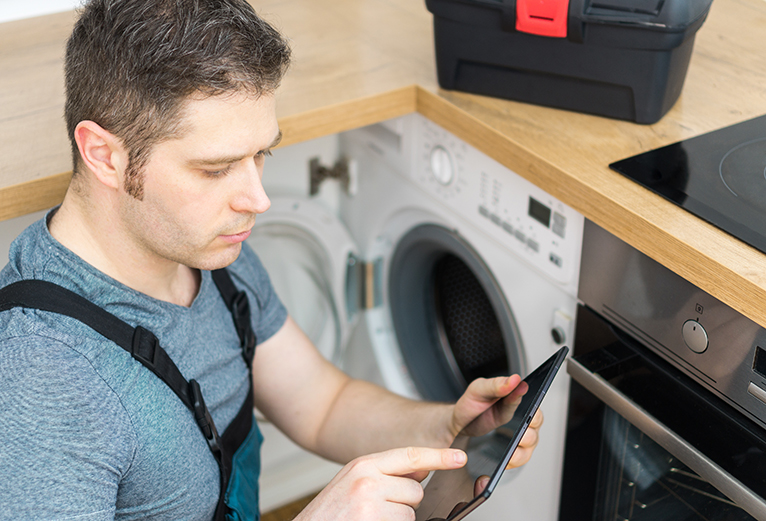 New technology is getting smaller, lighter and more powerful. More and more businesses are choosing to buy tablets or larger smartphones, instead of laptops or desktop computers. These smaller and lighter devices are practical for carrying around. Plus, they're easy to get out and show customers designs or spreadsheets.
Many tablets are now hybrids, so you can use a mouse, pen or external keyboard with them when you're sat down. However, they're not useful for everyone. Tradespeople who need to use design software or are heavy computer users would be better off choosing a higher-spec laptop or desktop. Check out Tech Advisor's best tablets and laptops.
It's easy to manage your leads using the handy Lead Tracker on our Trades app. Discover how on our Trade Advice Centre.