2020 has been a testing year so far for the vast majority of businesses across the country. The economic impact of the coronavirus (COVID-19) lockdown has been significant, with the Chancellor, Rishi Sunak, stating it's "very likely" the UK is in a "significant recession" and the Organisation for Economic Cooperation and Development predicting a slump of 11.5% for the UK's GDP this year – the worst of all developed countries.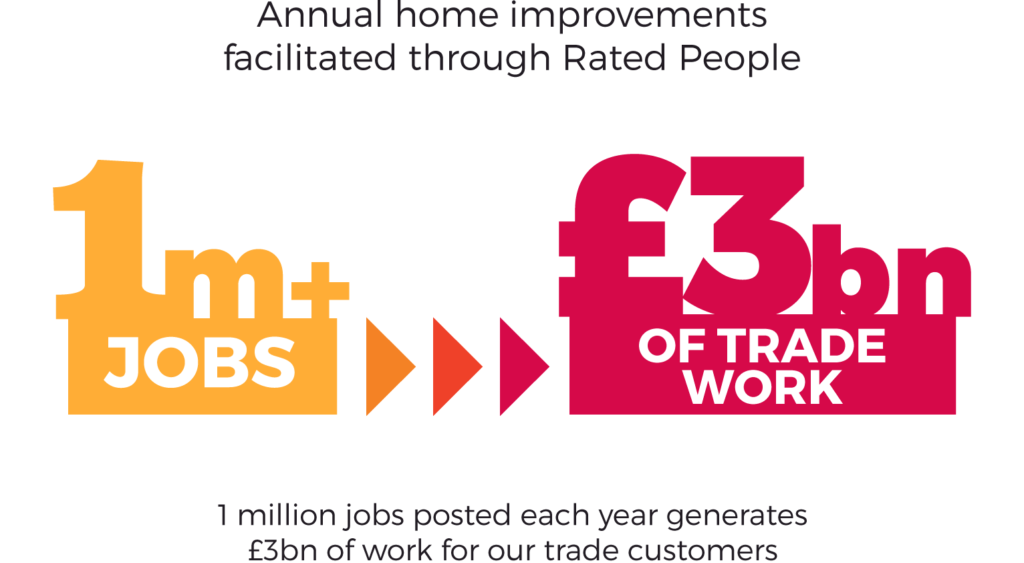 As bleak as it all sounds, I can't help but feel optimistic. As CEO of an online home services business which sees over 1 million homeowners post jobs for skilled trades businesses each year, generating £3bn of work for our customers, I can confidently say that the industry is well-placed to be the engine of the UK economy's recovery.
Trades make up nearly 20% of the UK's businesses, accounting for around 1 in 12 jobs, and they're currently one of the few sectors fully open for business. At the same time, people have been working from home and their social space has been restricted to their homes and gardens.
The savings people are making on their commutes and leisure activities like eating out are being invested back into their homes. At Rated People we're seeing a strong desire from homeowners to reimagine their spaces, using them in new and different ways to meet the changing needs of this moment. This work is able to happen thanks to the construction industry continuing to operate in line with new health and safety requirements.
Reimagining homes and gardens
As we entered lockdown, home improvement and repair jobs fell by around 50% across the UK, with interior trades like painting and decorating, tiling and bathroom fitting being hardest hit and plummeting by 70-80%. As the weeks went on, we saw homeowners become more confident about having work done and we're now seeing jobs 9% up on pre-lockdown levels.
From sprucing up gardens (sorting trees, paving, decking, garden walls and more) in readiness for more socialising, to transforming second bedrooms into offices to make homes better suited to remote working, we're seeing thousands of homeowners rethink their spaces to adapt to their 'new normal'. They're also taking the opportunity to tick off things that may have been on their wish lists for a while. Aside from outside spaces, we're transforming our kitchens and embarking on loft conversions too – key projects that are always popular with homeowners looking to get more value from their properties or ensure their spaces are geared up for their lifestyle. Some parents are wanting to create kitchens that are ideal for family mealtimes, while others are looking to create their own private spaces in converted attics away from the rest of their families.
Even where homeowners don't necessarily need to make adjustments to suit changes in their current environments, spending more time at home than ever before has inevitably lead to a longing for a change of sorts, after quite literally staring at the same four walls for long periods of time! Tiling is up 25% year on year and floor fitting is up 19%. We're even seeing a steady stream of work to install swimming pools despite the UK being infamous for its unpredictable weather. We've had 177 swimming pool jobs posted over the last 3 months – over 2 and a half times the normal volume, indicating that over 3,500 homeowners across the country have added a pool to their space since lockdown began.
Trades businesses are moving online to thrive

Of course, home improvement plans wouldn't become reality without the help of professional trades businesses. Business owners who may have relied on word of mouth or other sources of work before coronavirus hit, have discovered that there's a real benefit to being online when it comes to business resilience and reaching new customers during challenging periods.
As an online service covering the whole of the UK, Rated People has fortunately been able to identify where homeowners wanted to get work done across all regions, and bring it to tradespeople to help keep the lights on at a time when finding new clients and generating income was seriously challenging. Our trades customers are always in control of how much work they want to do on the platform, allowing them to keep going during this difficult time. Tradespeople's personal profile pages and the information they contain, such as reviews, have also helped sell their skills to homeowners who might like to hire them. I'm proud to say that since going into lockdown we've managed to bring over 27,000 jobs to gardeners, 13,000 to plumbers and 12,000 to builders to name but three trades in a list of 30+ offering over 200 types of jobs.
This momentum to go online is reflected in the growing numbers of tradespeople looking to register with us. On Wednesday 10th June, we had the strongest single day in our entire 15-year history for trades businesses signing up with us. June is tracking to be the biggest month ever. With online becoming much more attractive, it's resulted in peaks that we'd normally expect to see in January at a time when work from other sources can be harder to come by and there's a real "new year, new start" mentality in play.
Alongside new work opportunities, we've also seen and responded to a need for other ongoing support during the time of coronavirus. There has been appetite for content that brings together the latest government advice and informs tradespeople about how to go about operating their business, for example the financial support available from the government and working safely in people's homes, or on a construction site. Tradespeople have been heading online, not only to find work but to seek out advice relevant to the successful running of their businesses.
The consumer landscape is changing

Part of the impetus for going online can be attributed to the changing landscape of how consumers are purchasing goods and hiring services like trades businesses. Business owners need to be where their customers are. With many physical shops closed for business for weeks on end, online shopping has been saving the day. Consumers are adapting faster than ever and now realise with just a few clicks, goods and services can turn up on our doorsteps in just a few days. The founder of online electricals retailer AO.com, John Roberts, has said he believes the coronavirus pandemic has condensed five years of online shopping behaviour changes "into only five weeks". To keep sales coming during lockdown, smaller businesses across multiple industries have fought back by setting up websites to offer click and collect or postal delivery services for the first time. Facebook has even launched a new shopping platform.
Within the UK home services market, we're seeing this accelerated move to online. The UK home services market is worth around £50bn and is predicted to reach £59bn by 2022*. 17% of consumers use an online platform like ours to find a trades business to carry out their improvements, with 42% saying they would consider doing so**. In April alone, there was a 25% increase in online home expenditure in the UK, which we are seeing translate into the highest consumer traffic volumes on Rated People this year.
Tech companies, like ours, are quick to adapt, and consumers have picked up that going online is an easier experience for connecting with available, local vetted trades businesses to get their projects done. We've also been able to provide services like Protected Payments, offering homeowners a means to pay tradespeople securely for work with no face-to-face contact in an industry long dominated by cash in hand.
What will the future hold for home services?

Taking the current trend for moving online, together with businesses around the world exploring more permanent remote working options, I see an ever-increasing number of homeowners looking to get more from their homes and turning to online services to realise those projects. It's unlikely that we'll see large numbers of homeowners going abroad for the remainder of the summer holiday period and more likely that growing numbers will be opting for staycations and either going on a break within their own countries or simply remaining at home.
Given these trends, what we like and dislike about our homes becomes even more important to us. Home services is one of the lucky industries going from strength to strength and helping to drive a faster economic recovery. Rated People is committed to helping homeowners enjoy their spaces a whole lot more by matching them with the right tradespeople, and to helping our trades business customers not just recover, but thrive.

Adrienne Minster
CEO, Rated People
* Home Services includes maintenance and repair of dwelling and alterations, improvements to dwelling, home improvements contracted out, bathroom fittings, purchase of materials for capital improvements. £59bn assumes similar annual CAGR from 2018 to 2022 to be at the same levels between 2016 to 2018.
** Company filings (Rightmove, HomeServe), Liberum broker research, Barclays April 2020 consumer spend report.