Home security tips written by Keytek® Locksmiths
Many of us feel our safest when we're in the comfort of our own home. But devastatingly, hundreds of homes are targeted by burglars every 40 seconds in the UK! Here at Keytek® Locksmiths, we get calls daily from our customers telling us they need us, as they have unfortunately been burgled. There are a few things you can do to prevent yourself from making that call, however. Discover our top tips to keep your home as secure as it can be from being targeted by burglars below!
Moving home
Congratulations on your new home! You've signed the paper work, exchanged contracts and have got a date set… Now it's time to call a locksmith! Did you know the most important thing you should do when moving into a new home is change the locks? Shockingly, more than half of homeowners don't change the locks when they move into a new property. You never know how many keys are out there in what could be the wrong hands.
Are you in the process of looking for a new home?
If you haven't quite found the home for you yet, then ensure you do the following:
1. Research the local area's crime stats
Simply enter the postcode of the property onto the police website and it'll show you the crime stats in the area. Click on the map for a more detailed view.
2. Visit frequently
You should visit the area your prospective property's in multiple times in a day. Is it as quiet during the day as the evenings? What's the traffic like during rush hour?
3. Talk to the neighbours
If possible, chat to your neighbours to get a feel for the area. This'll hopefully give you a feel for whether you'll have noisy neighbours or not, too.
4. Check doors, windows, gates, fences etc.
Check out the quality of the doors and windows and any fences surrounding the property. These things can all be replaced if the quality is not up to scratch, but this should be reflected in the amount you're willing to pay for the property in the first place. You should also factor in the amount of time it will take to order and fit these.
5. Look at insurance
Finding a good quality insurer will take some time, but it's worth it. You can't buy a property without home insurance and you don't want to be caught out with big expenses should your home get burgled.
Keytek®'s lock guide
There are so many lock types available on the market, but unless you work in the locksmith field or have an interest in locks, it may seem incomprehensible. Check out our simple guide below, which will help you discover which lock you need for your door and to ensure you meet your home insurance policies.
British Standard
To comply with most home insurance companies, your locks need to be British Standard. A British Standard lock will have had to undergo rigorous testing to ensure it's of the highest quality, and will be the best it can be against faults and tampering. You can check to see if your locks are British Standard in two ways:
1. Identify the BSI Kitemark
The BSI Kitemark looks like a heart with an 'S' inside of it. This symbol will be engraved onto your lock.
2. Locate the BSI Number
If you can't find the BSI symbol, look for the identification number, which is BS3621.
Mortice locks
Mortice locks are often found on wooden doors and require a key to unlock and lock from the exterior and the interior. They also go by the names of deadlock and sashlock. The difference between a deadlock and a sashlock is the use of a handle that operates a latch within a sash lock.
Advantages of mortice locks
Harder to force open than cylinder locks.
Affordable, easy to replace and maintain.
BSI mortice locks are insurance compliant.
Disadvantages of mortice locks
Don't lock automatically.
Can't be fitted to doors less than 35mm thick.
Night latches
Night latches are more commonly known as 'Yale Locks', which are used in conjunction with an additional lock – usually a mortice lock in the home. There are a few variants of night latches, including:
1. Standard night latch
These offer minimal security, but include an automatic locking feature as well as the ability to lock the latch into place using the snib.
2. Deadlocking night latch
A deadlocking night latch allows you to lock and unlock the night latch from the outside. This means that the door cannot be opened from the inside if the outside has been locked, as there's no internal keyhole.
3. Auto deadlocking night latch
With this night latch, the latch automatically deadlocks when closed and a key is required to unlock it again.
4. Double locking night latch
The most secure night latch, which is also approved by British Standard BS3621 and BS8621. As the name suggests, you are able to lock and unlock this night latch internally and externally.
Advantages of night latches
Automatic locking features ensure the door remains locked at all times.
Has the ability to deadlock the latch which prevents the function of the external keyway.
Disadvantages of night latches
More often than not, an additional lock is required to ensure it's up to security and insurance standards.
Automatic locking features mean you can also lock yourself out easily.
Rim Cylinder
A rim cylinder is usually used in conjunction with a night latch, to provide the external mechanism to lock and unlock the door.
Advantages of rim cylinders
British Standard rim cylinders offer more protection.
Has the ability to change rim cylinder without the whole night latch.
Aesthetic finishes.
Disadvantages of rim cylinders
They are able to be picked with ease if not British Standard.
Needs to be used in conjunction with a mortice for security.
Multi-Point Locking Systems
Multi-point locking systems are most commonly found on uPVC doors. They have a minimum of 3 locking points, with the most secure having 5. The multi-point locking system is engaged when the handle is lifted on the door.
Advantages of Multi-Point Locking Systems
High security, as the locking points connect the door to the frame making it harder to force open.
Only one cylinder is needed with a multi-point locking system.
Disadvantages of Multi-Point Locking Systems
Replacing the mechanism can be costly.
Unreliability. If the multi locks have not been engaged, it is less safe.
It may be stiff to begin with and difficult for some to get used to.
Euro Cylinder
Euro cylinders are most commonly found on a uPVC door in conjunction with a multi-point locking system.
Advantages of Euro Cylinders
It's possible to replace the cylinder without the multi-point locking system if needed, which keeps costs down.
High security keys mean that only the owner can request new keys to be cut on the higher security range.
Euro cylinders are able to adapt to include a thumb turn on the internal side of the door for quick escape. However, we do not recommend a thumb turn if it's within easy reach of a window.
Disadvantages of Euro Cylinders
Subject to lock snapping*
*Lock snapping is a technique where burglars apply enough pressure to the lock to remove the outside and leave the mechanism exposed. However, you can prevent this by installing high security anti-snap locks.
Make your home look unattractive (to burglars, that is)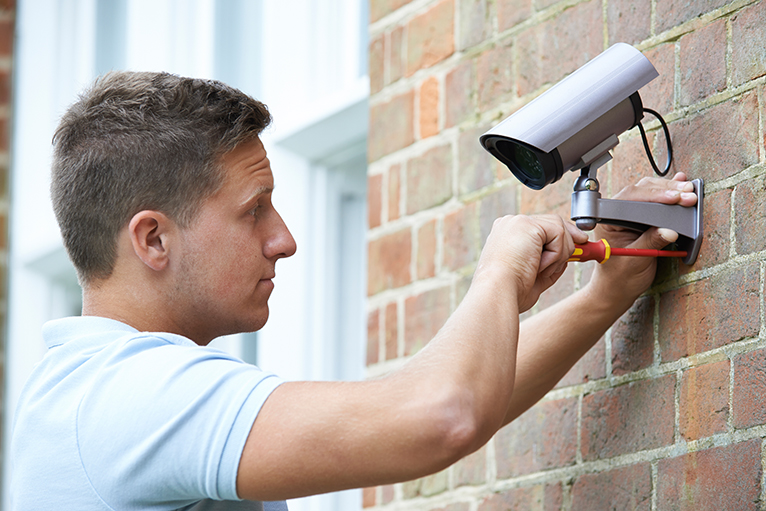 Did you know around 47% of burglaries are unplanned? This means a burglar who happened to be walking past has spotted an opportunity or something worthwhile to steal. This is why it's so important to ensure the perimeters of your home are as secure as can be. Take a look at what you need to consider below:
Secure the perimeter
Ensure your fences, gates, walls remain in good condition. This is the first indicator to potential burglars that your home is well looked after and secure.
Upgrade your locks
As we mentioned in our lock guide above, it's worth investing in high security locks such as an anti-snap lock. Find out more on anti-snap locks.
Check your doors over
Ensure your doors are correctly aligned and that there's no sign of weakness or damage.
Check your windows
Check the seals on your windows and consider placing sash jammers to them for a quick and easy upgrade to their security.
Add security lights
No burglar wants to get caught in a bright light for everyone to see. Ensure you place them in the dark corners of your garden so that there is no place to hide.
Out of sight, out of mind
Never leave anything expensive in sight of the windows. A burglar can't be tempted by what they don't see.
Remove keys away from windows and letterboxes
Never leave your keys close to windows or within reach of letterboxes. Burglars use a technique called 'fishing', which entails using a long wire with a hook on the end to hook up your keys and grant themselves access to your home or car. Once you've locked up, we recommend taking your keys to your bedroom with you and storing them away in a drawer.
Never leave a spare key outside
Under the plant pot, under the mat, a special key hiding stone. No matter what – never leave a key hidden outside for an emergency. If you've thought of a great hiding place, chances are a burglar has too. Plus, if they gain access via a key, your home insurance is more than likely to become invalid. Try a key safe or leave a copy with a trusted neighbour. There are even smart locks available these days, which grant you access to your home via your smartphone. They have features such as temporary keys too, so you can give your dog walker access for a limited time.
Add a security camera
Nowadays, there are plenty of security cameras on the market that work with your smart devices. These smart security cameras include two-way audio and push notifications every time motion is detected. This helps police trace down burglars and will even help you notice whether someone has frequently snooped around your property. Hopefully, this will help you catch them before they have a chance to damage or steal your property.
For a more in-depth look into how to secure your home, take a look at our comprehensive Home Security Guide. We elaborate on all elements of your home security from your doors and windows to conservatories, sheds, garages and more!
Help! I've been burgled!
We're sorry to hear that your home has been targeted by a burglar. We know this is an extremely stressful situation, but try to remain calm and follow the steps below:
1. Make sure you're safe
If there's a chance the burglar is still in your home, do not confront them. Go to a safe location such as a neighbour's home. If you are sure that your home is safe, follow step two!
2. Don't touch anything
It's tempting to find out how the burglar may have entered your home, but you shouldn't touch anything as this could tamper with any evidence left behind.
3. Call the police
From a safe location, call the police. They will be able to advise you on the next steps. Usually, they'll come round within a few hours if the burglar has already been and gone. They may take evidence and a statement from you.
4. Call a locksmith
Once the police have done their part, it's time to call a locksmith. Keytek® Locksmiths will ask you why you need our services, ensure the police have been and gone (so as not to tamper with any evidence), provide you with a quote and then arrange for someone to come round at a time that suits you.
On every job, Keytek® Locksmiths offer you a free home security check, including checking the quality of your locks and whether you would like to upgrade to a higher security lock, such as the anti-snap locks we mentioned above.
5. Contact your insurer
Once you have arranged for a locksmith to visit, it's time to contact your insurer. It's a good idea to find out the expenses your home insurer will cover. Don't forget to let them know you've changed your locks and of any home security changes.
6. Upgrade your home security
It comes as no surprise that homeowners often look to upgrade their home security once they have been burgled to help prevent it from happening again. Keytek® has a fully comprehensive Home Security Guide.
Keytek® Locksmiths Top Tips!
In summary, check out our 5 top tips below to begin upgrading your home security today!
1. Upgrade your locks
We know we've said it 100 times before, but the most important thing to do when you're moving house or have lost your keys, is to change your locks to British Standard. You should also consider upgrading them to high security anti-snap locks.
2. Secure the perimeter of your property
Secure your gates, fences, maintain your bushes and add security lights where need be.
3. Check your insurance
Ensure your insurance covers everything you need should you be burgled. Whilst doing so, ensure your door and locks meet your insurer's requirements.
4. Never leave a key in sight or outside
It takes seconds for a burglar to hook your keys through your letterbox or window, or to find the spare hidden outside. Always keep them hidden out of reach and out of sight.
5. Call a locksmith
Always call a locksmith when you are moving home, upgrading your locks or if you have been burgled. Did you know that on every call out, Keytek® Locksmiths provide homeowners with a free home security check? Free information, advice and suggestions on ways you can upgrade your home security to keep you and your family as secure as can be!
About Keytek® Locksmiths
Keytek® Locksmiths have been established for over 20 years, as well as providing security for homeowners Keytek® also are your one stop shop for all things security related. Check it out on keytek.co.uk.
Did you know we also have our own purpose-built training facility where we train our locksmiths to the highest standards? Find out more about the Keytek® Academy.
---