There's no denying that replacing a kitchen is a big project. It's often left until last in a whole property revamp, yet its importance in your home can't be overstated. Faced with a greater than ever amount of choice, it's easy to become overwhelmed and make snap kitchen design mistakes and decisions that you could end up regretting for years to come. Here are just a few to sidestep.
Kitchen Design Mistake One: Replacing like for like
It's easy to accept that layout that's already in your home is the right one but rethinking the kitchen can be the key to unlocking more room for storage, workspace and a better flow. Picture the room as a blank slate, remember that services, such as water and power, can be moved and think about what you want from your design. For example, you could block up an unused door or move a window to gain runs of units. There's no need to even put it in the same room – converted garages, first floors and extensions can all become kitchens with more space, increased natural light or a better view. This extension creates far more useable space for a gorgeous two-tone Linley kitchen. Check out some more kitchen extension ideas on our Homeowner Advice Centre.
Image Source: LINLEY Fitted Cabinetry
Kitchen Design Mistake Two: Not including enough, or the right type, of lighting
No matter the size of your kitchen, you'll need different kinds of lighting and enough of it – task to prep food by (e.g. undercabinet, such as downlights from Betta Living, below, and shelf lighting), general for everyday use (e.g. overhead pendants and spots) and mood for accentuating features of the kitchen or for ambience in the evening (e.g. plinth and cornicing lights). Often overlooked, lighting within drawers and cabinets is also a great idea – meaning you can see what's inside at a glance and never lose items at the back.
Image Source: Betta Living
Kitchen Design Mistake Three: Not including enough workspace
Being worktop-poor is one of the biggest issues I have with my own kitchen, often using the induction hob as extra space (it beeps forlornly when I put things down on it that aren't magnetic) for dishes when baking or cooking a large meal. I pine for large stretches of uninterrupted worktop, so if you can include this, I recommend it. Site it where you need it the most – close to built-in ovens for hot dishes, next to a sink for washing fruit and vegetables and beside cupboards, so putting away shopping is a cinch. If you're above or below average height, ask for your worktop to be higher or lower to avoid backache as you're using it. Or opt for a sliding worktop, like this version from Neil Lerner. Depending  on your kitchen size and preferences you can also consider kitchen designs for small kitchens or kitchen designs for cooking.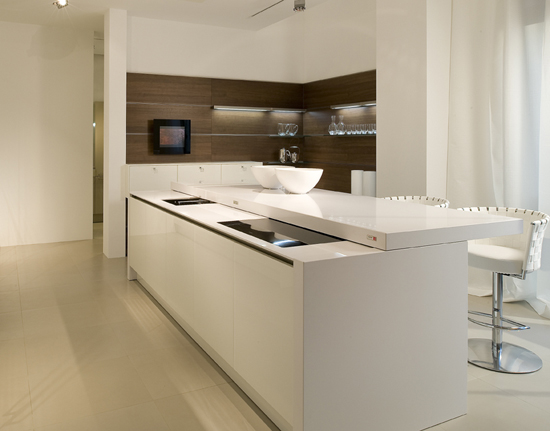 Image Source: Neil Lerner
Kitchen Design Mistake Four: Buying appliances on good looks alone
My own dishwasher is too dinky for my dinner plates (I didn't measure them before I bought them) and a freezer that can only just squeeze in a small amount of shopping. I can't stress enough that gorgeous appliances must also suit your lifestyle. So, when you're buying a fridge freezer, think about the division of space for fresh and frozen food – especially relevant in American-style models that don't always come with a large frozen section.
Similarly, invest in an extractor that's powerful enough to whisk away steam and smells from the room. You'll need to work out how many cubic metres your kitchen is (multiply the room's length x width x height to get the capacity, then multiply by how often you want the air changing per hour) then buy a model that can extract that much (e.g. 540m3/hr). You'll need to think about how close your extractor should be to your hob and how wide it needs to be to extract efficiently (both can vary by the hob's fuel type). This Silla hood by Blanco by Gutmann has a high extraction rate of 1200m3/hr, LED lighting and an edgeless body for easy cleaning.
Image Source: Blanco UK
Planning to change the design of your kitchen but not sure where to start? Post your question on our Ask an expert forum and get professional advice from kitchen specialists in the UK.
If you already know what you want doing, post your job for free and up to 3 local kitchen fitters will provide you with quotes.