Alongside heat pumps and other renewable energy home upgrades, solar panels are a popular option for homeowners that want to reduce their carbon footprint and cut their energy bills. With 57% of us wanting to become more eco-friendly in 2021 (according to the Rated People Home Improvement Trends Report: 2021), solar panels could become a more common sight around the UK. Find out whether they could work for your home and the benefits they bring, below.
What are they?
There are two main types of solar panel. Solar electricity panels capture the sun's energy and turn it into electricity for your home. They're commonly known as solar PV panels (photovoltaics).
On the other hand, solar thermal panels capture the sun's energy, but convert it into energy that heats up water for your home instead. These panels are made of either flat plate collectors or evacuated tubes (glass tubes).
What's the installation process?
An installer that's accredited with the Microgeneration Certification Scheme (MCS) is best placed to complete the installation. MCS is a quality assurance scheme for tradespeople installing low-carbon energy technology. So, you can be sure that your solar panel installer is working to high standards.
In-roof
In-roof (or integrated) solar panels are installed by removing some of your roof tiles and fitting the panels in their place. The panels sit flatter against your roof than on-roof ones do. But, they are often more expensive to install.
On-roof
On-roof solar panels are installed by fitting anchors onto the roof. The panels are then mounted onto the anchors. This is the most common type of solar panel installation.
Can solar panels be installed on all types of roof?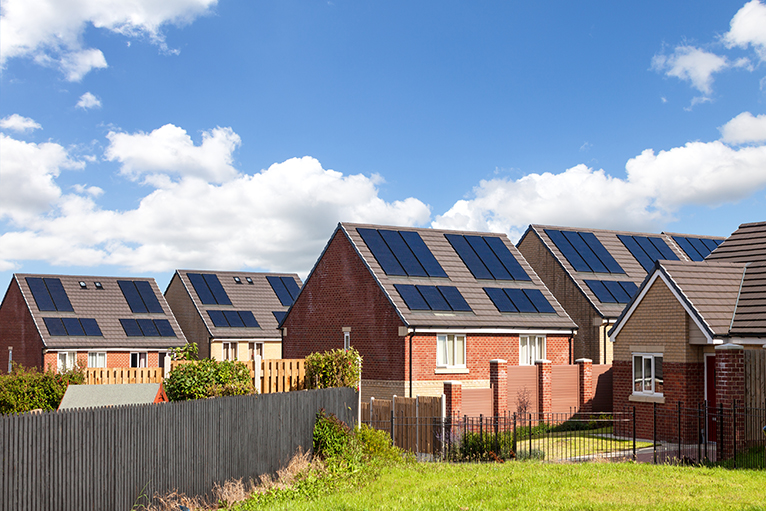 They can be installed on many types of roof, including concrete tile, clay tile, metal and flat roofs.
Concrete tile roof
If you have an older roof, some of the tiles may break during the installation process and you'll need to pay to replace them.
Clay tile roof
Some installers won't fit them on clay roofs because the tiles are often very fragile, but it's worth speaking to a couple to see if they're willing to do the work.
Metal roof
One benefit of fitting them on a metal roof is that they'll help to keep your home cool during hot weather.
Flat roof
They can also be fitted on flat roofs. However, it's important to make sure that the panels are tilted high enough to capture the most sunlight.
Do I have to install solar panels on my roof?
An alternative to on or in roof mounting is to mount your solar panels on the ground in your garden or on a wall. This is a good alternative if you can't have them fitted on your roof or need a larger surface area to capture more sunlight than your roof can. According to the Renewable Energy Hub, ground-mounted solar panels cost around the same amount as roof-mounted ones.
How long do they take to install?
This varies from house to house, but most installations only take one day.
Do I need planning permission?
In most cases, you won't need planning permission, if the panels don't stick out too far off your roof. This is because they're usually considered a 'permitted development'. However, if your home is a listed building or within a conservation area, then you'll need to contact your Local Planning Authority to get planning permission.
In any case, it's best to double check with your local authority before installing anything.
How much money can I save annually?
Solar PV panels could save you between £220 and £330 every year, depending on your electricity use (according to the Energy Saving Trust).
The Energy Saving Trust also says that replacing your current heating system with a solar thermal heating system can save you around:
£60 a year, when replacing a gas system.
£65 a year, when replacing an oil system.
£70 a year, when you're replacing electric immersion or coal heating.
£100 a year, when you're replacing an LPG system.
How much do they cost to install?
Research by TradesmenCosts.co.uk for Rated People found that solar thermal panels cost between £4,000 and £5,000 to install. Solar PV panels cost around the same (£4,800), according to the Energy Saving Trust.
Is installing solar panels a good investment? Is it worth installing them in the UK?
Solar PV panels last between 40 and 50 years, plus many models will offer a warranty to ensure good performance during this time. Solar thermal panels last for an average of 25 years. Both options will likely pay for themselves over time, making them a good investment for many properties.
Solar panels can still generate electricity or heat on cloudy days. So, they're a viable option for UK homes, despite the inconsistent weather! They're growing in popularity too. In The Rated People Home Improvement Trends Report: 2021, we found that homeowners posted 168% more solar panel jobs on our platform in the run up to 2021.
What government funding and grants are available?
Domestic Renewable Heat Incentive (RHI)
You may be able to claim quarterly payments over 7 years if you install certain renewable heating systems. The scheme closes to new applications on 31st March 2022. Read more about the domestic RHI on the Ofgem website.
Reduction in VAT
If you're over 60 or receiving certain benefits, you'll pay a reduced VAT rate of 5% on certain energy-saving products that you get installed in your home. Find out more on Gov.uk.
How to find the best solar panel installers
Find a vetted installation specialist by posting your job on Rated People.
---