As the nation prepares for a lockdown free Christmas, home burglaries are set to be on the rise.
In London, home burglaries increase up to 25 percent around the festive season compared to the rest of the year. So, it's important that you take extra steps to protect your home during this time.
Thieves aren't only after expensive gadgets and presents, but festive food and drink too. Whether you're away for Christmas and New Year, or just popping out for the evening, make sure it's only Santa Claus who pays your home a visit!
Here are our top tips to keep the real life Grinches from entering your home:
Make your home looked lived-in
Ask a friend or neighbour to pop by and check on your property while you're away, to give the impression you're still there. This could be useful if you're expecting any deliveries – notes or parcels left on your doorstep will alert burglars to an empty place. If someone you know can't pick up scheduled parcels, try and get them delivered elsewhere.
Lights help to scare off burglars when it gets dark, so invest in some timers to use with different lamps around your home. Install motion sensor lights at the front, back and sides of your property to put off intruders.
Looking to fit security lights? Get a quote from a skilled Rated People electrician.
FIND AN ELECTRICIAN
Install CCTV
CCTV is a great way to deter opportunists, especially if you feature it on the outside of your property where it's clearly visible. Trespassers are less likely to attempt a break-in if they can see an external security camera.
Technology has improved in recent years, so CCTV is cheaper to buy and easier to install than ever. It's simple to make your place safer with the addition of a single night-vision camera that's connected to your smartphone. If you're already kitted out with a smart home setup, you can integrate a group of top-rated cameras to your network.
If you need advice or help setting up CCTV, find an expert on Rated People for the job.
Upgrade your alarm system
If you don't already have an alarm system, invest in a simple solar or battery powered alarm to reduce the risk of someone breaking in.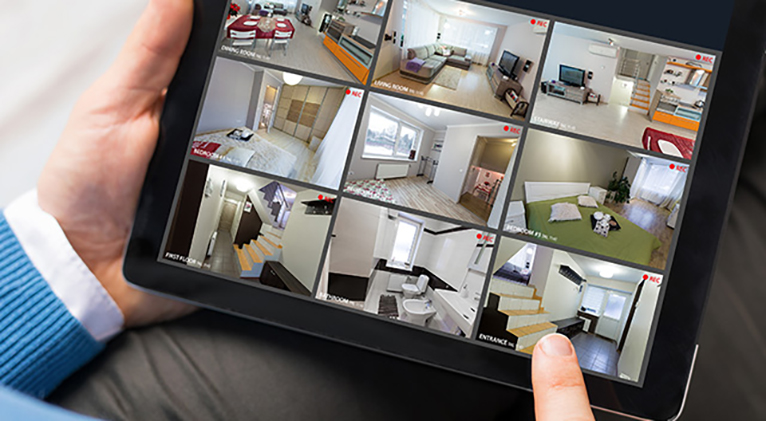 If you already have a wired system, but want to feel safer over the Christmas period – connect your alarm to your smartphone, a monitor or camera. Some people don't like the idea of monitoring their own system, so another option is to upgrade and use a professional service company to monitor your home for you. Doing so can help to take the pressure off while you're on holiday.
Looking for support? Find a security specialist on Rated People.
FIND A SECURITY SPECIALIST
Check all your locks and windows
It may sound obvious, but it's worth triple checking that all your windows and doors properly close and lock. Burglars will try their luck, even with the smallest windows. Old locks and windows are most vulnerable, so think about replacing hinges, installing deadlocks and strengthening glass in any doors that feature glass panels.
Professional locksmiths and security experts can help you identify weak spots and advise how to protect your home from break-ins.
Find a locksmith or security expert in your area.
FIND A LOCKSMITH
Keep your Christmas tree away from the window
We love to decorate our tree to help get us in the festive spirit. However, flashing lights and lots of presents on show for passers-by to see can attract the wrong sort of attention.
Keep your home active
If you're planning to go away over the Christmas period, or simply have a busy schedule, make sure that, from the outside, it always looks like someone is home.
The biggest obstacle for thieves is a busy household!
Leave hallway lights on
Keep a car or bins on the driveway
Ask a neighbour to move any piled-up post
Secure entrances
Over the festive period, back gates, garages and fences are mainly out of use due to the cold weather. This can cause them to loosen up and become unsecured.
To avoid letting loose entrances make you more likely to be burgled:
Ensure you've checked the locks or replaced them with new ones so entrances aren't easily accessible
Double check that you've covered any holes in your fences or replaced broken parts
Install security
Adding CCTV to the entrances of your home can significantly reduce the chance of thieves breaking in. Cameras are the best way to monitor the inside and outside of your home when you are away. Installing cameras can be pricey, so you could always install a fake camera to scare away any potential burglars! Research has shown that the presence of a camera can act as a deterrent to any thief.
Don't leave spare keys in obvious places
This is the first place thieves will look in order to access your home, so don't get caught out while you're away over the festive period! Invest in a secure and concealed lock box if you must leave a spare key while you're away. 
Invest in home insurance
If you want to have extra peace of mind, investing in home insurance could be a good option so that you can protect the items that matter to you most. It's hard to replace heirlooms and sentimental objects, and insurance can remove some of the worry if the worst should happen.
Now you know more about how to keep your home safe over the holidays, Rated People would like to wish you a very happy Christmas!
FIND A TRADESPERSON
---