It's time to welcome in the British Summer Time! OK, so that's one less hour in bed on a Sunday morning. But, it's more than made up for with the gift of an extra hour's daylight in the evening.
Winter is, more often than not, a case of battling the elements and never more so than when the UK's gardens (and fences… and roofs!) are tested by storms. But you'll probably have noticed the first signs of spring starting to appear over the last few weeks.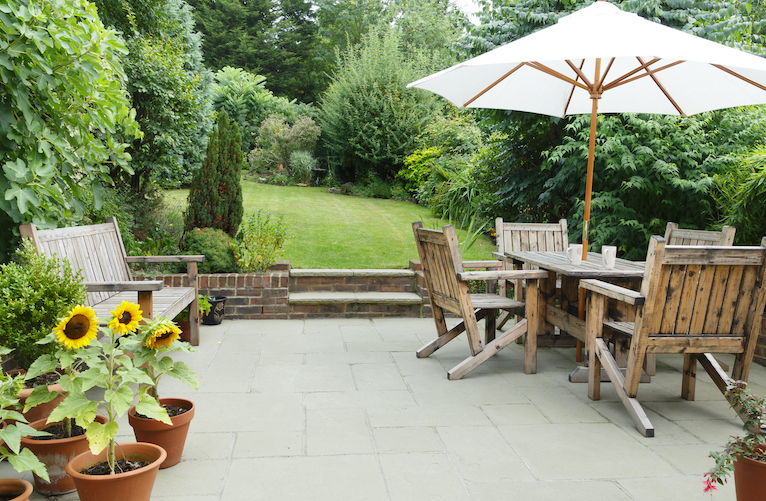 So put that extra hour of daylight to good use and make sure that you've laid the groundwork for a blooming summer garden, with our quick spring garden jobs.
4 quick garden jobs
1. Tidy up
Spruce up your garden by tidying away the last of the fallen leaves and getting rid of any weeds. The work you do now to tidy up your garden will give it a clean, blank canvas to fill with beautiful colours and lush foliage in the months to come. Plus, creating a space for those leaves and grass cuttings is one of the first things you should do before hiring a gardener or landscaper.
2. Prep your soil
Mulching or composting will fill your soil with nutrients before the start of the growing season. If it's workable, dig down to at least 5cm. Then, work in the best fertiliser you can get your hands on to really feed the soil and give your plants everything they need to grow happy and healthy.
Find a local gardener and get the best out of your garden. Get a free quote now!
FIND A GARDENER
3. Put plant supports in
Get your plant supports in place by early Spring (around end-March/April time), before the first shoots start to show. That way, your plants will grow up through them. Trying to wrestle plant supports into place afterwards is not only awkward, but it can leave your garden looking a little scruffy with the supports exposed, rather than neatly covered. Supports give your plants an anchor, and also guide them on where to grow, which helps keep your garden neat and tidy. Typically, conical rings will do the job. Peonies, hydrangeas and delphiniums are common flower candidates. Expect them to cost you around £5-£15 depending on the size and type.
4. Get pruning
Don't be afraid to give some plants, such as roses or early-flowering Clematis, a pre-summer prune to give new shoots a chance to grow. It's also a good time to cut back any remaining dead foliage – check out this list of what and how to cut back. Just don't forget to wear some sturdy gardening gloves to avoid cuts from sharp twigs or thorns.
Tending to your own garden isn't just relaxing. It's also immensely satisfying when you see the fruits of your work quite literally bloom. While you might like carrying out the quick garden jobs, for bigger jobs (or even bigger gardens for that matter) you can save yourself a lot of time, trouble and expense by getting in a pro gardener.
Things to bear in mind when hiring a pro:
Look for good ratings and reviews from other homeowners and make sure to question them so you're confident they know their stuff. All gardeners on Rated People have their own individual profile pages, where homeowners who have posted a job through us can leave them a review. A good gardener will take into account things like gutters and drainage, being able to see the overall picture and not just the job in hand.
Have an idea of what works for you before contacting gardeners. Are you the seriously green-fingered type who's likely – or able – to spend a lot of time maintaining your garden? Or will you need plants and flowers that won't need too much attention?
Check whether any quotes for the work include waste disposal. If not, know where you stand with your local council taking it away.
Talk to your gardener throughout the lifecycle of the job. Discuss whether you'd like any features such as stones, bird-feeders or ornaments. Also, ask for their recommendations on what would work well in your garden for your size and budget. Bear in mind the lifecycle of your garden and plan for the year ahead, to keep it looking nice all year round. Even if winter seems a long time away, it's worth considering evergreen plants and seasonal flowers now. If you'd like some advice before you hire a professional, ask one of our registered gardeners in our Ask an expert section.
Get more gardening advice including attracting insects to your garden and working with a small garden.