Historically, people have always done their best to keep furniture in good nick for as long as possible. These days though, with mass-produced, cheap furniture being so easy to get hold of, a lot of us have lost our instinct to fix instead of throw. So, broken chairs, worn out sofas and wonky tables usually end up at the tip. Some people never lost their inner instinct to 'make do and mend', but over the past ten years or so, fixing up old items became a lot more popular – and the term 'upcycling' was coined.
Let's take a look at what upcycling is, how you can get involved and some cheap upcycling project ideas, below.
What is upcycling?
Upcycling is the art of repurposing or fixing up old furniture, clothing and other items – but furniture upcycling is the most well known and loved form of it. Lots of people upcycle their own furniture to save money, but many people have taken it up as a hobby or a way to make money.
Why choose to upcycle?
Why bother spending time revamping your mum's old armchair when you could pop to the shops for something modern, cheaper, and with easy-to-follow assembly instructions?
You'll create something unique – Anything you upcycle will be completely unique to you, which is ideal if you're picky with your furniture.
It's cheaper – If you're smart with the materials you use to upcycle, you can save a lot of cash.
It's environmentally-friendly – Re-using what you have instead of buying new will reduce damage to the environment, since you won't be using new resources or throwing anything away. If you were planning on donating old furniture to charity shops instead, fixing any issues beforehand is important. The Charity Retail Association has recently warned that many charity shops are full, so unsellable donations may be turned away.
It can be fun! – Turning something old and gross into something new and stunning can be good fun, and lots of people find it really satisfying. Just don't forget to take before and after pictures.
How do you upcycle furniture?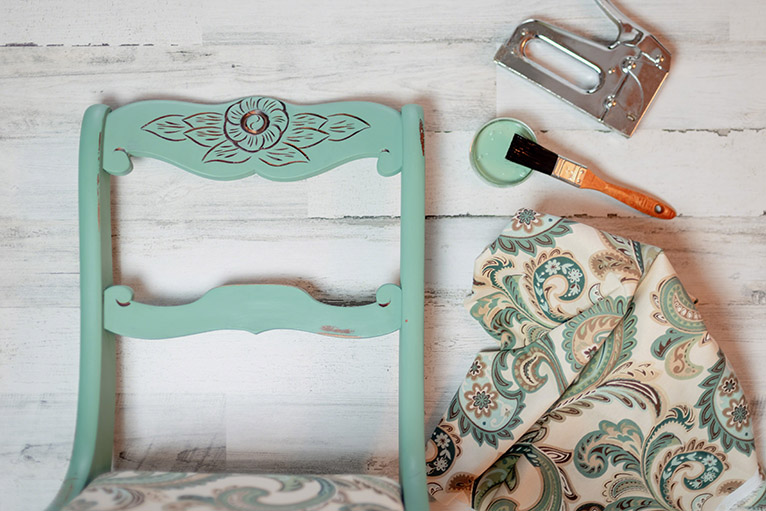 When it comes to upcycling furniture, you have a lot of freedom with how you choose to do it. There are some basics to think about before you get started though.
1. Find your furniture
If you don't have a piece of furniture that you could upcycle in mind, there are loads of places you can find the perfect piece for your project. Get searching in these places:
Charity shops.
Facebook Marketplace and Buy and Sell groups.
Car boot and jumble sales.
Auctions.
Some upcyclers have been known to find their furniture in skips or at the side of roads, but this isn't for everyone!
2. Get your supplies together
Any good DIY project needs good supplies, and upcycling is no different. The supplies you'll need depend on the type of furniture you're working on and the parts you need to replace. Think about fabrics, paints, wood, screws and nails and where you can get spare parts if you need them.
Try to use second-hand materials if you can, but it isn't the end of the world if you can't.
3. Break out the tool box
Make sure you have the right tools for the job. Try to use what you already have instead of buying new tools you'll only use once. Friends might be happy to lend you tools you don't have (if you have a good borrowing track record), so ask around. If you're planning to upcycle a lot, we'd recommend having these tools to hand at a minimum:
Hacksaw.
Hammer.
Pliers.
Screw puller.
Electric drill and screwdriver.
Mini clamp.
Sanding block.
Avoid a massive upfront cost by buying and replacing tools as you take new projects on.
4. Get inspired
If you don't have that mythical creative flare, there are hundreds of places you can find inspiration. Here are a few of our favourites:
6 upcycling project ideas
Just getting started and don't have a clue what to do? Here are some of the best beginner projects that are low cost and low fuss:
Using old rugs to upholster a bench.
Creating outdoor furniture with tires.
Upholstering an old chair or sofa.
Making a clock with a vinyl record.
Turning old containers into fun plant pots.
Re-finishing, painting or staining old wooden furniture.
Plus, check out 9 more upcycling ideas if you're hungry for more inspiration.
So is upcycling just a trend, or is it here to stay?
Upcycling is only getting started and it's set to become much more popular in the future. As well as being something most people can enjoy, it just makes sense to bring back the mentality of re-using and re-purposing.
---