We all know that recycling is good for the environment but upcycling isn't as widespread. The process of making something new out of something old is one worth paying attention to, as it's possible to reduce our waste while producing something that will visually improve our homes. I'm all for re-using materials, whenever possible, whether that's indulging in a spot of DIY or making smarter purchasing choices by supporting companies that source reclaimed wood.
9 Stylish upcycling ideas
Baseball lamp
Keen sports players will love the idea of making use of old baseball bats. While it's more of an American sport, maybe we can make use of old rounders bats or cricket stumps from children's play sets. The aluminium bat complements the walnut and perfectly finishes off the herringbone lampshade.
Decanter light fixture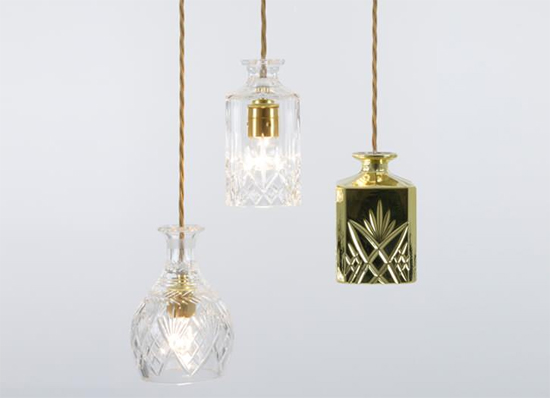 Image Source: upcycle magazine
Decanters make perfect beside-table accessories, but have you thought about putting them to new use as light pendants once empty? Any colour would work well, but the classic clear and metallic shades make them ideal for more contemporary interior design schemes.
Coffee side table
This one's not so easy to replicate but you can appreciate the idea nonetheless! Designer Matt Johnson asked his friend for slices of his silver leaf maple tree that was felled in a storm in the 1970's. The table's supported by tapered legs of wood and steel and the unsymmetrical design makes for a quirky talking point.
Chair meets dishes
On first glance, there's nothing too unique about this chair, apart from the fact that the back has a contrasting panel that separates from both sides of the furniture. Look closer though and you'll discover that the three round circles in the middle panelled section are actually kitchen dishes, repurposed in a DIY mosaic. If you'd like to update your plates to tie in with a new kitchen colour scheme, why not save the old ones from going in the rubbish?
From drawer to hanger
Image Source: 2nd Funniest Thing
This is possibly the easiest upcycling method going. An old drawer front has been rescued and made over to finish up wall worthy. The white paint stops the bag and coat hanger from sticking out like a sore thumb on the wall and the concept is simple yet brilliant. We're always looking for more storage in our homes.
Coffee table pallet
Believe it or not, this coffee table is the result of sanding and painting a wooden pallet. The smooth and shiny surface comes from securing a plexiglass plate on the top on the structure. It's the icing on the cake for this creative DIY job.
Bike sprocket candelabra
Can you tell what this is? Funnily enough, simple designing can enable ordinary objects to look completely different. As a result, the dullest of objects can make for the most interesting home decorations. If your bike is a former prized possession, its welded parts could give you a brilliant candelabra to brighten up your side-table.
Decking as garage siding
Image Source: upcycle magazine
This garage siding was decking in a former life. It blends in seamlessly with the rest of the outbuilding. If you've got spare decking lying around – or maybe a fence panel – you could save yourself a trip to the skip, while you gain eco-credentials in the process.
Tyre ottoman
Last but not least, we've got the ottoman constructed from used car tyres. Old plastic wrappers are wrapped around discarded pieces of wood before they weave in and out of the rubber. Depending on how much weaving is carried out, it's possible to completely cover the tyre so that it's no longer recognisable. This is one of my favourites. Time consuming yes but it's bound to be comfortable to sit on!
Have you caught the upcycling bug? Which of these nine projects do you find the most interesting? Let us know by commenting below or sending us a tweet @RatedPeople.
For help redecorating, post a job on Rated People in our Painter / Decorator category to receive quotes from our qualified and trusted tradesmen.