When a room's décor needs refreshing, many of us pick up a paintbrush and give the walls a fresh new colour. To add another level of interest to your home that repainting simply can't offer, why not install wood wall panelling? It's a timeless feature that comes in a range of styles, whether you're going for a contemporary look or a vintage aesthetic.
Get inspiration for the different ways you could install wood wall panelling in your home and garden by taking a look at our 12 ideas, below.
1. Slimline wood wall panelling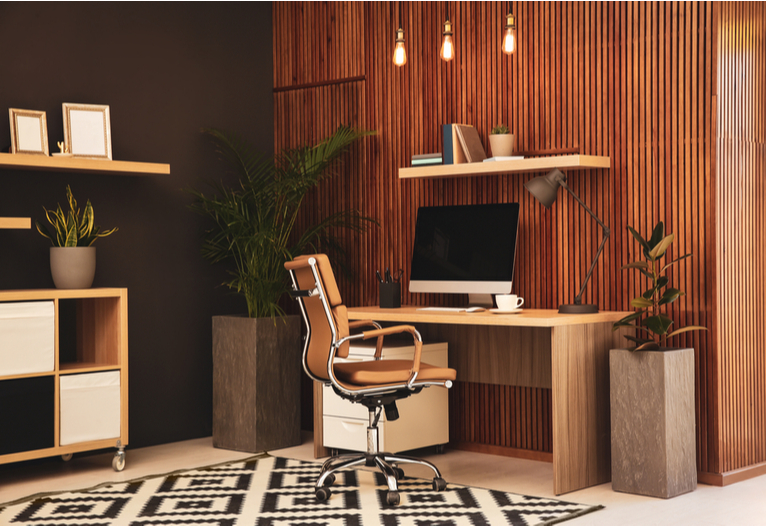 Slimline wood wall panelling is clear proof that wall panelling isn't outdated. The narrow slats offer a minimalistic vibe, whilst the rich tone of the wood brings warmth into the space. It's the perfect way to add personality to traditionally boring spaces, like a home office. Painters and decorators often choose to use tongue and groove wall panels for an easy installation process. 
FIND A CARPENTER
2. Headboard wall panelling
Replace a normal headboard with a wooden wall art panel as a unique alternative. It's a great solution to fill up a wall in a room with a high ceiling.
FIND A PAINTER AND DECORATOR
3. Picture frame wall moulding
Intricate picture frame mouldings with swirls and spirals were common in period homes, as we've seen in the Bridgerton series. In modern homes, the mouldings are stripped back, in minimalist shapes such as squares and rectangles. You can even use the moulding to frame artwork and architectural features.
4. Board and batten panelling
Attach strips of wood to a wall to create simple, yet beautiful, symmetrical wall panelling. You could create a feature wall by extending the pattern across the entire wall or apply it across all four walls, stopping at dado rail height.
5. Mix and matched panelling
Contrast is key when it comes to interior design – it adds depth to the room. Place a smooth wood wall panel against a rough brick wall in the living room to contrast textures. In the kitchen and/or bathroom, this could look like a tiled splashback installed on top of a wood panelled wall, or a continuation of beautiful floor tiles onto a wall with wood panelling.
FIND A PAINTER AND DECORATOR
6. 3D wood wall panelling
Add depth to a room with 3D panelling that catches the eye. There are plenty of shapes to get creative with, including honeycomb, triangular and rectangular options. Plus, there's also the option of choosing 3D panels made from eco-friendly materials such as bamboo pulp and recycled cardboard for an alternative look.
7. Ceiling wood wall panelling
Wood panelling on the ceiling is the perfect finishing touch in rooms with wood flooring. By repeating a texture multiple times in the room, it'll add continuity, which is a design principle many interior designers strive for.
Acoustic wood wall panels help to soundproof rooms too, making them a good choice for bedrooms, media rooms and hobby rooms.
8. Wood partition wall panelling
Many of us are adding privacy back into our homes by installing partition walls to reverse open plan layouts. Create a cut-out in the wall and attach panels of wood inside in a tone that matches the wooden furniture you already own, to perfectly complement your existing interior design theme.
FIND A HANDYMAN
9. Skylight or fireplace wood panelling
Your skylight or fireplace is a standout feature in itself, but you can make it even more of a focal point by installing a wood panelling surround.
10. Living wall wood panelling
Weave wood panels in between patches of plants to section off different plants on a vibrant living wall. It's the perfect way to bring greenery indoors or make use of all the space in a small garden.
11. Wood wall trim panelling
For an understated wood effect, add a wood trim to a wall. Peel and stick panels are a quick and relatively cheap way to achieve this style.
12. Balcony wall panelling
Horizontal wood panelling elongates a small balcony, making it seem like you've got more outdoor space than you really do.
If you need a hand installing wood wall panelling safely and efficiently, a vetted painter and decorator is best placed to help you out.
FIND A PAINTER AND DECORATOR
---