The society papers are filled with anticipation for the event of the season: Netflix's romantic drama, Bridgerton, will soon be back on our screens! Whilst season 1 inspired many of us to adopt the Regencycore interior design aesthetic, the most dedicated fans out there are going a step further, by searching for ways to mimic the extraordinary gardens of the ton in their own outdoor spaces. That's after mourning the fact that Regé-Jean Page (The Duke of Hastings) won't be returning in season 2, of course.
Transform your garden into a space that'll rival even Queen Charlotte's royal estate, with our top 5 period-style garden features, below.
A vibrant pergola
The folly is the one of the show's most memorable locations. But, we aren't all lucky enough to have a garden with ample space for such a building. A pergola is a stylish (albeit less grand) alternative that not only brings practical value, but also offers a unique focal point.
Extravagant floral arrangements are commonplace in a Bridgerton style garden. So, hang baskets of bright flowers on the overhang of your pergola and place reclaimed antique urn planters alongside it. You can also grow climbing plants, like wisteria, up the posts.
It's also the perfect shelter for garden seating or a bench – essential for a mid-soiree rest!
FIND A TIMBER FRAMED BUILDING SPECIALIST
A distinctive water feature
Soothing as can be, the sound of running water in your garden will help you to de-stress as you sit in the fresh air. Opt for a fountain, rock waterfall or reflecting pool in an ornate design to add a subtle touch of Regency.
A water feature will also attract birds and other wild visitors to your Bridgerton style garden, which is often a welcome sight, especially in the mornings.
FIND A WATER FEATURE SPECIALIST
Beautifully manicured shrubs and hedges
A courtyard garden is fashionable whether you're going for a full-on Bridgerton style garden, or simply adding antique touches to a contemporary design. Clean lines are necessary when it comes to this style. Use potted topiary plants in clearly defined, geometrical shapes to section off different areas of your garden. Another option is to plant box hedge plants alongside key features, like the garden path. This will provide a sense of separation without devoting all the space to a courtyard.
FIND A LANDSCAPE GARDENER
Many historical British properties set the standard when it comes to courtyard garden design. So for more visual inspiration, turn to the UK's favourite National Trust gardens.
Intricate wrought iron gates
Nothing says "Bridgerton" more than swirling, spiralling patterns (known as scrollwork) crafted by a talented blacksmith or metalworker. Whilst scrolls can be spotted in almost every corner of the typical high society home, you can be more tasteful in your choices by implementing scrollwork on your driveway gates instead.
Install gate piers, which are pillars either side of the gate, to add even more elegance to your entrance. You could even sit urn planters atop, adorning your gate with fragrant flowers.
A gated driveway improves your home's security and privacy. Plus, it's a low maintenance option, requiring just a wire brush, water and a touch of paint to get it sparkling every so often.
FIND A SECURITY GATES SPECIALIST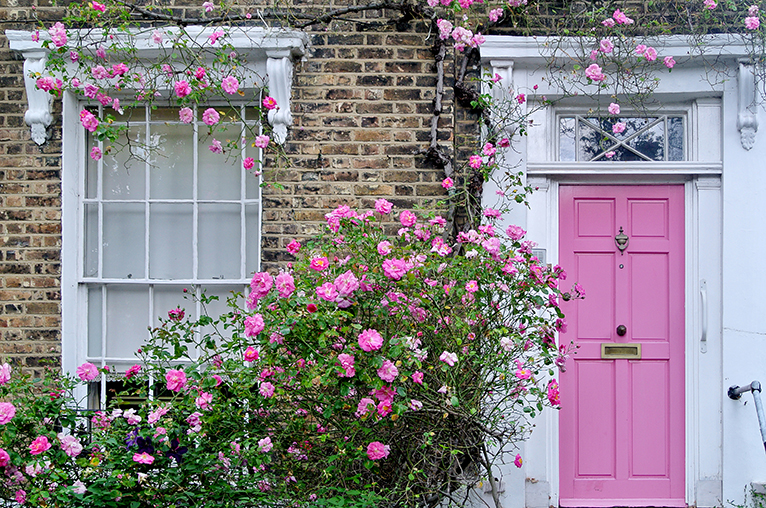 Those of us without driveways can still benefit from the beauty of floral displays when creating a period perfect home exterior. If you've got security fencing, plant the flowers of your choice in over-fence and railing planters. Then, match the rich hues to the colour of your front door to bring the whole look together. Make sure you pick a sophisticated front door colour – after all, your front door colour says a lot about you!
Enchanting garden lights
Remember the spectacular lightbulb canopy and Roman candle fireworks featured in Daphne's dream at the start of episode 3, season 1? Well-designed garden lighting makes your space feel luxurious. It's also one of the top garden features recommended by Ricky from Pride Landscape and Design. Find out why in our video on how to make the most of your garden all year round.
FIND A GARDEN DESIGNER
---