It's officially Netflix's most popular series to date, but the Regency era drama, Bridgerton, has dominated more than just our TV screens. The delicate Bridgerton home, the grandiose of the Queen's throne room and the extravagant Featherington residence have all inspired a new interior design trend in UK homes: Regencycore.
If you're craving more of the Regency aesthetic whilst you're waiting for Season 2, why not add some elegance to your abode using the these period-style home design features – with a modern twist?
Enchanting wisteria plants
The show opens with a shot of the classic Bridgerton home, draped in a fragrant and bright climbing wisteria plant. In recent times, some people have avoided planting wisteria on the exterior of their homes, due to the plant's strong roots which have been known to damage brickwork.
For a more manageable option, plant wisteria on a sturdy structure that faces the sun, like a metal fence or pergola. You can also grow it in a large container. Whatever you choose, just make sure to give your wisteria a regular pruning to keep it under control.
The Royal Horticultural Society recommends Chinese wisteria (wisteria sinensis) for walls, Japanese wisteria (wisteria floribunda) for pergolas and American wisteria (wisteria fructens) for large containers.
A gardener can advise you on the best place to grow wisteria and help you take care of it.
Regal four-poster bed
It wouldn't be Bridgerton without an alluring bedroom, and a four-poster bed is arguably the most prominent feature of a period bedroom. Nowadays, four-poster beds are also available in a range of modern styles. Think streamlined, boxy frames that create a bold statement without too much extravagance.
If you'd prefer to keep some of the traditional style of the Duke and Duchess's Clyvedon Castle, then add curtains, netting or a bed canopy for a luxurious finishing touch.
A handyman can put together a flat-pack four-poster bed in no time.
Stylish wall mouldings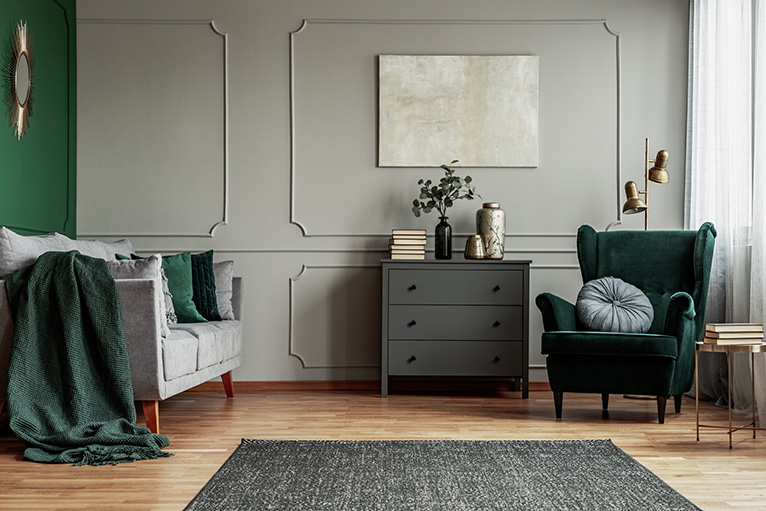 Beautifully intricate wall mouldings are featured in homes throughout the ton. These days, the contemporary alternatives on offer are much more common. They're easier to install and repaint should you wish to change your colour scheme.
One of the most popular style of wall trimming available is panelling. It's even the UK's third most popular interior design trend of the year, according to The Rated People Home Improvement Trends Report: 2021! Picture frame wall moulding is another fashionable way to add some interest to a room.
A carpenter can craft and install wall trimmings to fit your décor style.
Antique style furniture
Modern vintage furniture often takes inspiration from some of the most recognisable features of the empire style: carved legs, paw shaped feet and colourful embroidered upholstery. You don't need to go all in though! Choose an armchair, chaise lounge or loveseat with one or two of these features to add a subtle hint of Regency into your space.
Prefer to make a statement? A gilded carved mirror placed above a sink, fireplace or dressing table will easily give a regal feel to a plain wall.
Eye-catching paint and wallpaper
Choosing the right colour palette was an important consideration in the Regency era, and it said a lot about your standing in society! Bridgerton's production designers even went as far as assigning each of the show's families their own colour. The Bridgertons' signature Wedgwood Blue was popular during the Regency period. Meanwhile, the Featheringtons' choice of green reflects their vibrant household. On the other hand, both Lady Danbury and Simon Basset often choose a fiery red palette.
Vertical stripes were also popular throughout high society's homes. Take the striped settees found in both Featherington and Bridgerton residences, for example. When they're done well, stripes can become a beautiful focal point of any room. If you'd rather avoid the time and effort of wallpapering a whole room, check out 5 alternative wallpaper ideas.
A painter and decorator can transform your home with a fresh coat of paint or wallpaper.
Sophisticated lighting
What's a Regency-inspired room without an impressive chandelier? A chandelier can complement many modern interior design styles, whether that's cottagecore, hotel style or otherwise.
A row of Regency-style wall lights can also add some sparkle to a hallway. Or, they're useful if you have low ceilings that would be overwhelmed by a chandelier. An electrician can install various types of lighting fixtures.
---